Feds charge Osiris ex­ecs with cook­ing the books as stock price soared
In­vestors might re­mem­ber how in­ter­est in the stock of the lit­tle re­gen­er­a­tive med biotech Osiris Ther­a­peu­tics $OSIR hit a fever pitch in the sum­mer of 2015, with shares top­ping $21 as CEO Lode De­bra­ban­dere tout­ed a 78% spike in rev­enue, com­pared to the same pe­ri­od in 2014. The com­pa­ny was staffing up, in­tro­duc­ing a new prod­uct and was on a roll, by his ac­count.
But the SEC said late Thurs­day that a sig­nif­i­cant part of their suc­cess was an il­lu­sion.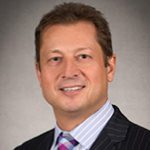 Lode De­bra­ban­dere
De­bra­ban­dere, for­mer chief fi­nan­cial of­fi­cers Philip R. Ja­co­by Jr. and Gre­go­ry I. Law, and chief busi­ness of­fi­cer Bob­by Dwayne Mont­gomery have all been charged by the SEC with cook­ing the books.
As that case was rolled out, Ja­co­by was plead­ing guilty to mak­ing false state­ments to au­di­tors, ac­cord­ing to a re­port from Reuters. In do­ing so, he agreed to a prison sen­tence of 4 to 10 months and a fine of up to $5 mil­lion. Law's at­tor­ney, mean­while, said his client was not guilty and pre­pared to fight it out.
Ac­cord­ing to a state­ment from the SEC, just af­ter CEO C. Ran­dal Mills left to run the Cal­i­for­nia In­sti­tute for Re­gen­er­a­tive Med­i­cine in 2013, the ex­ec­u­tive crew en­gaged in some cre­ative ac­count­ing prac­tices in 2014 and 2015 to bur­nish the num­bers. The com­pa­ny is small, but has a high pro­file in its field.
The feds say the num­bers game at Osiris in­clud­ed: "(A)rti­fi­cial­ly in­flat­ed prices, back­dat­ed doc­u­ments to rec­og­nize rev­enue in ear­li­er pe­ri­ods, and pre­ma­ture­ly rec­og­nized rev­enue up­on de­liv­ery of prod­ucts to be held on con­sign­ment," ac­cord­ing to the SEC. And they were al­so us­ing "pric­ing da­ta that they knew was false and at­tempt­ed to book rev­enue on a fic­ti­tious trans­ac­tion, among oth­er ac­count­ing im­pro­pri­eties."
The com­pa­ny — which ap­point­ed new CEO and As­traZeneca vet Lin­da Pal­czuk to run the com­pa­ny re­cent­ly af­ter re­tain­ing Ernst & Young to re­state its num­bers for 2015 and 2016 — agreed to pay a $1.5 mil­lion penal­ty.
The fed­er­al lit­i­ga­tion against the four ex­ecs re­mains un­der­way, with the stock trad­ing for a frac­tion of its 2015 high.
"As al­leged in our com­plaint, Osiris Ther­a­peu­tics false­ly por­trayed to in­vestors that its rev­enue was grow­ing so rapid­ly that its per­for­mance was con­sis­tent­ly ex­ceed­ing ex­pec­ta­tions," said Julie Lutz, di­rec­tor of the SEC's Den­ver Re­gion­al Of­fice. "Cor­po­rate cul­tures can­not be so fix­at­ed on high­er rev­enues that they use il­le­gal ac­count­ing gim­micks to meet the fi­nan­cial num­bers they de­sire."