Image: David Walt, Todd Golub, Rahul Dhanda, Feng Zhang, Deborah Hung. SHERLOCK
---
One of the more dramatic dynamics in the academic CRISPR world involves the Broad Institute and the University of California, where Feng Zhang and Jennifer Doudna, two pioneers of the field, have their labs respectively. As the dust starts to settle on their patent dispute regarding therapeutic uses of the gene editing tech, a new storm is brewing in the diagnostic applications of CRISPR.
Zhang and eight other leading experts in CRISPR, synthetic biology, diagnostics and infectious diseases have pulled back the curtain on Sherlock Biosciences, a startup aimed at providing "better, faster and more affordable" ways to detect genetic signatures of disease.
The company stands on two foundational technologies: SHERLOCK, or Specific High-sensitivity Enzymatic Reporter unLOCKing, was developed by Zhang and collaborators including co-founders Jonathan Gootenberg and Omar Abudayyeh. Pairing CRISPR with the Cas13 enzyme, the technology utilizes a guide RNA to find a genetic sequence, where Cas13 not only cuts the target but begin shriveling other RNA nearby, creating a signal that can then be presented in observable forms — such as a line on a paper strip.
"Any one technology out there had some really valuable attributes in molecular diagnostics but SHERLOCK brought all of those together," Rahul Dhanda, a co-founder and diagnostics veteran who took on the CEO role, told me. "It had speed, so you didn't have to wait days for an infectious disease result; it had affordability, which meant that you can do oncology testing in a way that let everybody participate in those results; and it had simplicity, which means that you can reach people to do testing that couldn't do it before in decentralized settings."
First invented in 2017, an enhanced version of SHERLOCK was described in a paper published last February alongside another explaining DETECTR, a similar tool that deploys Cas12 and a fluorescent molecule for detection.
Doudna of UC Berkeley, who led the work on DETECTR, debuted Mammoth Biosciences shortly thereafter with a group of grad students, some of them from her lab. When we last heard from them, Mammoth was working with a $23 million round and backing from Mayfield, NFX, 8VC as well as Apple's Tim Cook and Grail founding CEO Jeff Huber.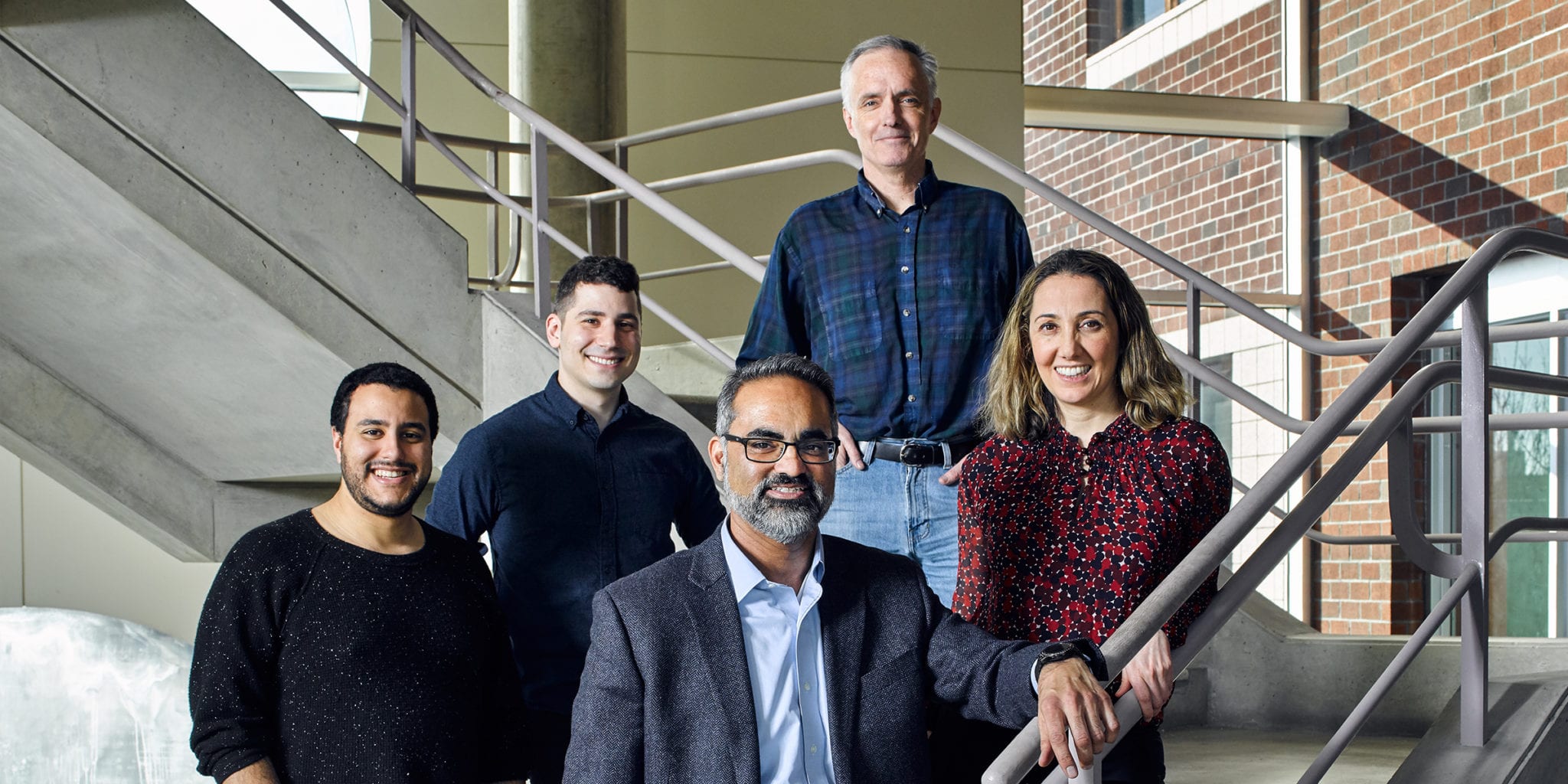 Image: Omar Abudayyeh, Jonathan Gootenberg, Rahul Dhanda, James Collins, Pardis Sabeti. SHERLOCK
While comparisons with Mammoth might be inevitable, Dhanda says he's "very confident" on the patent side and has faith in Sherlock's multi-platform approach to engineering biology.
"Now I've been in the industry 20 years, I know how to navigate this field; it's a nuanced enough field that experience matters," he added. "I would say that when I think about who we should be focused on as competition, those are the large players, the established multi-billion dollar diagnostic companies out there, and those are the companies that we intend to build strong partnerships with if we can find the right complement to our goals and theirs."
Sherlock now has $35 million in the bank — half of it in the form of a grant from the Open Philanthropy Project, which also provided an additional investment. As it explores applications in infectious diseases, precision oncology and food inspection, it is on the lookout for "selective partnering" while advancing development programs and designing new assays on its own, the company said. So far, that has involved everything from pharmaceutical companies looking for companion diagnostics to antimicrobial developers seeking help with clinical trials to consumer health players in search of at-home testing. Agriculture and bioprocess testing are among the possibilities, too.
Dhanda is still raising cash for Sherlock's Series A, which will also help fund the second platform in Sherlock's arsenal: INSPECTR (INternal Splint-Pairing Expression Cassette Translation Reaction). James Collins at the Wyss Institute was credited for the tech, which comprises two halves of a coding region that fuse to create a signalling protein when the target is present, basically replicating how a cell would generate a protein.
In the coming year, Dhanda is also planning to hire 6 to 10 people to ramp up the R&D work currently handled by 10 staffers.
Other co-founders include Todd Golub, Deborah Hung, Pardis Sabeti and David Walt — illustrious academics who make up a team "like none other."
---
The best place to read
Endpoints News

? In your inbox.

Comprehensive daily news report for those who discover, develop, and market drugs. Join 47,700+ biopharma pros who read Endpoints News by email every day.

Free Subscription
---
---
---