Flow of US biotech VC dol­lars on track to match record 2018 lev­els — Chi­na? Not so much
With the third quar­ter of the year be­hind us, the US pri­vate biotech ecosys­tem has some sol­id num­bers to cel­e­brate — and some fog to clear out as it looks out the glob­al win­dow.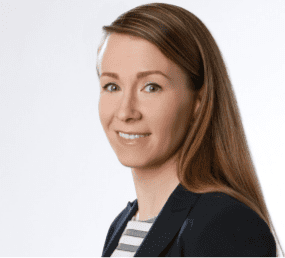 Kather­ine An­der­sen
While the over­all vol­ume of deals and their sizes may not sur­pass red hot 2018 lev­els, Pitch­Book an­a­lysts see the deal count on pace to match the record, eas­i­ly tow­er­ing over the nine years pri­or. An ef­fer­ves­cent IPO mar­ket and sev­er­al high pro­file ac­qui­si­tions helped keep en­thu­si­asm high; in fact, this has been the most lu­cra­tive year for over­all VC ex­its in a decade, the da­ta com­pa­ny and the Na­tion­al Ven­ture Cap­i­tal As­so­ci­a­tion not­ed in their quar­ter­ly Ven­ture Mon­i­tor re­port pub­lished Tues­day.
Is bio­phar­ma in a bub­ble? No, ac­cord­ing to Kather­ine An­der­sen, SVB's head of life sci­ences and health­care re­la­tion­ship bank­ing. But brace for an off-cy­cle as slow­ing economies and con­tin­ued geopo­lit­i­cal noise cast their shad­ows.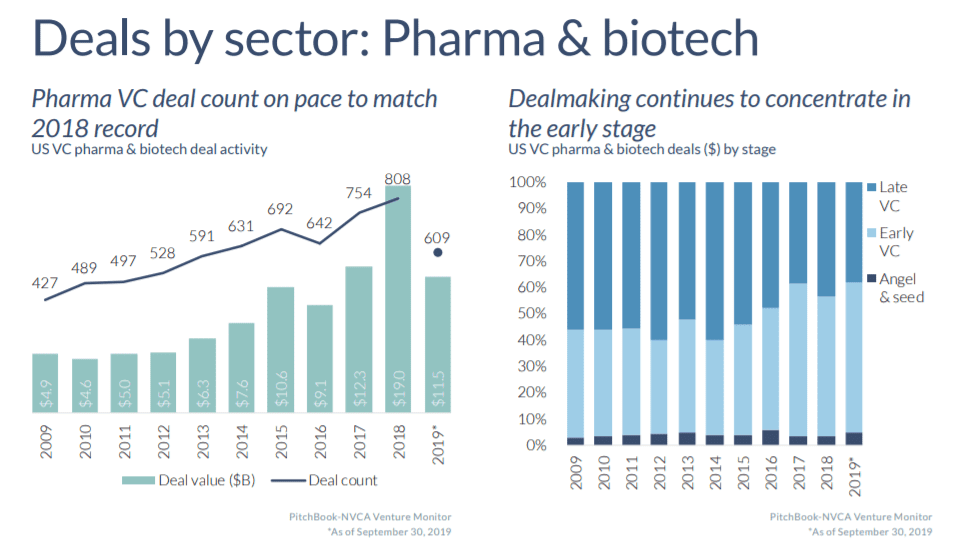 So far, with 609 VC deals on the books, bio­phar­ma has col­lec­tive­ly raised $115 bil­lion in 2019. And ear­ly-stage fi­nanc­ing, gen­er­al­ly clas­si­fied as Se­ries A or B, con­tin­ues to take up a slight ma­jor­i­ty of that since over­tak­ing late-stage VC deals in 2017.
Deal sizes, though, have resided some­what from last year's peak.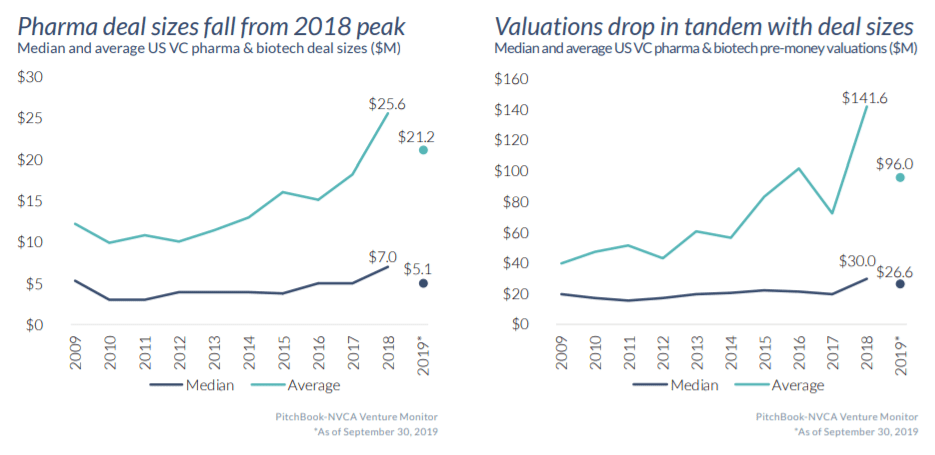 On the oth­er hand, we've seen a good run in biotech IPOs and buy­outs — some­thing that Pitch­Book didn't quan­ti­fy ex­cept for point­ing out that VC ex­it for all-fe­male found­ed com­pa­nies has reached a decade high of $2.4 bil­lion in val­ue (among 28 deals).
Pitch­Book's analy­sis, of course, on­ly in­volves US VC firms. But the Chi­na ques­tion is clear­ly loom­ing over every­one's head, and An­der­sen de­vot­ed much of her com­men­tary in the re­port to the top­ic. As Amer­i­can reg­u­la­tors turn up their scruti­ny on for­eign (but es­pe­cial­ly Chi­nese) mon­ey, she ex­pects to see small­er in­vest­ments from Chi­na mark­ing a sharp drop from a re­cent surge.
On an an­nu­al­ized ba­sis, we're pre­dict­ing about a 35% de­cline from 2018 to 2019 in Asia's to­tal syn­di­cat­ed in­vest­ment in­to the US and Eu­rope across all health­care sub­sec­tors. That is part­ly due to more strin­gent CFIUS scruti­ny and a slow­down in the Chi­nese econ­o­my. Look­ing ahead, the fu­ture im­pact of CFIUS de­pends on who is viewed as a na­tion­al se­cu­ri­ty threat.
As far as US play­ers go, An­der­sen ob­served that the heavy­weights are play­ing a larg­er role in shap­ing the in­dus­try, with the top 15 crossovers back­ing 41% of all US bio­phar­ma deals in the first half of 2019.
"We al­so no­ticed an emerg­ing trend in which many large, cor­po­rate-on­ly eq­ui­ty rounds ex­ist­ed as part of col­lab­o­ra­tions or with op­tions to buy," she said.
Charts: Pitch­Book-NVCA Ven­ture Mon­i­tor