Fo­cused on da­ta and drug de­vel­op­ment, Soft­Bank hunts new $1B biotech deals — re­port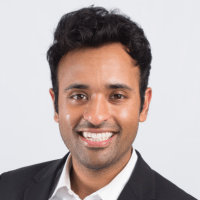 Vivek Ra­maswamy
Soft­Bank's mam­moth $1.1 bil­lion in­vest­ment in Vivek Ra­maswamy's Roivant Sci­ences won't like­ly be its last in biotech.
Quot­ing sources fa­mil­iar with the deal, Bloomberg is re­port­ing that the Japan­ese group's glob­al $100 bil­lion eq­ui­ty fund has be­gun a re­cruit­ment cam­paign for sci­en­tists with an eye to back­ing more com­pa­nies that use new da­ta tech­nol­o­gy to iden­ti­fy drugs with sol­id de­vel­op­ment po­ten­tial.
One of the com­pa­nies that Soft­Bank has re­port­ed­ly been in touch with is Benev­o­len­tAI, one of a small clutch of com­pa­nies that us­es ar­ti­fi­cial in­tel­li­gence to spot­light new drugs. In Roivant's case, some of Soft­Bank's mon­ey will be used to back up a fledg­ling new com­pa­ny which will ex­pand the biotech group's abil­i­ty to hunt down side­lined ther­a­pies with over­looked po­ten­tial.
Ra­maswamy has made a busi­ness in spawn­ing biotechs with ther­a­pies tak­en off the shelves of some big play­ers, and with GSK, Bio­gen, Eli Lil­ly, Alex­ion and oth­ers all look­ing to re­vamp their pipelines, there will like­ly be a slate of new star­tups com­ing out of ma­jor play­ers' R&D groups.
Ac­cord­ing to CB In­sights, Benev­o­len­tAI has a start­up val­ue of $1.7 bil­lion, high­light­ing the sky-high hopes this field has sparked. The Lon­don pa­pers have re­port­ed re­cent­ly the com­pa­ny is adding dozens of new staffers to build their tal­ent pool in bioin­for­mat­ics and drug dis­cov­ery. Bloomberg notes that there's no guar­an­tee of any al­liance be­tween the AI play­er and Soft­Bank.