Fo­cused on new deals, Bio­gen bags a PhI­II drug for is­chemic stroke with $120M up­front
Bio­gen's busi­ness de­vel­op­ment team has been on the march.
The big biotech has struck a deal to buy a Phase III drug for is­chemic stroke for $120 mil­lion up front, look­ing to over­see the late-stage pro­gram aimed at ex­pand­ing its port­fo­lio of neu­ro­science drugs.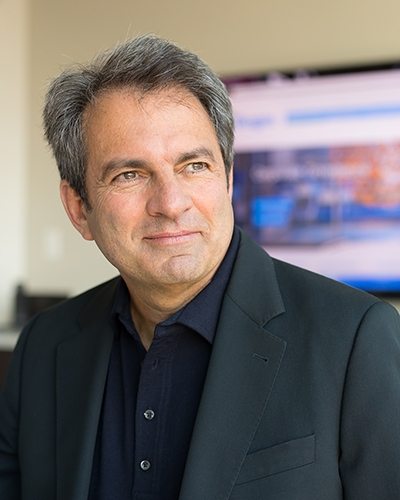 Michel Vounatsos, Bio­gen
Bio­gen bought the drug from Rem­e­dy Phar­ma­ceu­ti­cals, which com­plet­ed the mid-stage ef­fort and gath­ered or­phan and fast track sta­tus for Cirara. The drug tack­les SUR1-TRPM4 chan­nels, hit­ting a path­way in­volved in brain swelling, or cere­bral ede­ma. And it will now be put along­side na­tal­izum­ab, a Bio­gen ther­a­py now in Phase IIb for in­flam­ma­tion re­lat­ed to is­chemic stroke.
Rem­e­dy isn't back­ing away, though. It will help fi­nance the pro­gram for large hemi­spher­ic in­farc­tion, a se­vere form of is­chemic stroke and al­so stands to earn a slate of un­spec­i­fied mile­stones if the ef­fort proves suc­cess­ful.
Here's what Rem­e­dy found in Phase II that at­tract­ed Bio­gen's at­ten­tion:
Of the 77 pa­tients in the pri­ma­ry analy­sis, there were 19 deaths with­in the first 30-day pe­ri­od, 6 of 41 in the CIRARA group (14%), ver­sus 13 of 36 (36%) in the place­bo group (p=0.03), cor­re­spond­ing to a re­duc­tion in mor­tal­i­ty of 60%. With­in the 90-day fol­low up pe­ri­od, there were a to­tal of 20 deaths, 7 of 41 sub­jects in the CIRARA group (17%), ver­sus 13 of 36 (36%) in the place­bo group (p=0.06), a re­duc­tion in mor­tal­i­ty of 53%.
"In the pre­vi­ous Phase II GAMES-RP study," not­ed Baird's Bri­an Sko­r­ney, "CIRARA failed to show a ben­e­fit on the pri­ma­ry end­point of pro­por­tion of pa­tients achiev­ing an mRS score of 0-4 at 90 days. How­ev­er, Bio­gen is more in­ter­est­ed in the po­ten­tial ben­e­fit on mor­tal­i­ty and in­flam­ma­tion, in­di­cat­ing that both ad­ju­di­cat­ed neu­ro­log­i­cal mor­tal­i­ty and death from ede­ma saw sta­tis­ti­cal­ly sig­nif­i­cant re­sults in Phase 2 ver­sus place­bo. Though the cur­rent Phase III de­sign calls for use of im­prove­ment in mRS at 90 days as the pri­ma­ry end­point again, Bio­gen in­tends to meet with the reg­u­la­to­ry au­thor­i­ties and po­ten­tial­ly al­ter the study de­sign, if nec­es­sary, in or­der to ini­ti­ate a Phase 3 study in 2018."
Dur­ing JP Mor­gan new­ly named Bio­gen CEO Michel Vounatsos sig­naled that he was ready to start do­ing some deals to help re­lieve an­a­lysts' fret­ting about the com­pa­ny's pipeline and prospects. Bio­gen scored big with Tec­fidera un­der the old George Scan­gos regime. But the fran­chise drug is com­ing un­der in­creased pres­sure and Bio­gen has been putting a lot of its eggs in the Alzheimer's bas­ket, where the pay­off is high and the risk of fail­ure even high­er.
This deal with Rem­e­dy isn't near­ly enough to re­solve wor­ries about the pipeline, but if it can repli­cate the pact with more late-stage ac­qui­si­tions, Vounatsos will be ready for his next JP Mor­gan close­up.
Bio­gen clear­ly has high hopes for its lat­est ad­di­tion to their Phase III pipeline.
"Build­ing on our lead­ing po­si­tion in mul­ti­ple scle­ro­sis, spinal mus­cu­lar at­ro­phy, and Alzheimer's dis­ease re­search, we see a com­pelling op­por­tu­ni­ty in stroke where we can lever­age our core ex­per­tise in neu­ro­science to make a ma­jor dif­fer­ence in pa­tient care. CIRARA rep­re­sents a po­ten­tial break­through stroke treat­ment that ac­cel­er­ates our ef­forts to build a port­fo­lio of new ther­a­pies for neu­ro­log­ic dis­eases," re­marked Michael Ehlers, the ex­ec­u­tive vice pres­i­dent of R&D at Bio­gen, in pre­pared text. "We be­lieve the da­ta sup­port­ing the po­ten­tial of CIRARA are com­pelling and that CIRARA can be a first-in-class ther­a­py that gives physi­cians the abil­i­ty to mean­ing­ful­ly im­prove pa­tient out­comes in an area where ef­fec­tive treat­ments have been few and far be­tween."