For sale: Boston Chil­dren's team touts a new CRISPR de­liv­ery sys­tem for triple-neg­a­tive breast can­cer — plus — af­ter test­ing it in mice and cells
A team of in­ves­ti­ga­tors at Boston Chil­dren's has de­vel­oped a new de­liv­ery ve­hi­cle for CRISPR that amps up its abil­i­ty to elim­i­nate a key tar­get in triple-neg­a­tive breast can­cer — which they've demon­strat­ed in mice and tu­mor cells. And they have it up for auc­tion now in the hot on­col­o­gy field.
En­gi­neer­ing their way around the car­go lim­i­ta­tions and cell pen­e­tra­tion chal­lenges of cur­rent­ly used CRISPR de­liv­ery tech, the re­searchers used a new soft par­ti­cle de­liv­ery plat­form that they em­ployed to hone in on tu­mor cells us­ing an­ti­bod­ies to guide them to ICAM-1 mol­e­cules.
Once at the site, the sci­en­tists say they knocked out the onco­gene Lipocalin 2 — which dri­ves metas­ta­sis in pa­tients — with an 81% rate of ef­fi­cien­cy in tu­mor cells. And they al­so scored high on mice.
"Us­ing a soft par­ti­cle al­lows us to pen­e­trate the tu­mor bet­ter, with­out side ef­fects, and with big­ger car­go," says Peng Guo, the study's first au­thor. "Our sys­tem can sub­stan­tial­ly in­crease tu­mor de­liv­ery of CRISPR."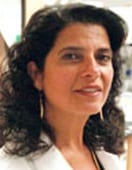 Mar­sha Moses Boston Chil­dren's Hos­pi­tal
"Our sys­tem can de­liv­er sig­nif­i­cant­ly more drug to the tu­mor, in a pre­cise and safe way," adds Mar­sha Moses who co-led the project. And bur­nish­ing the val­ue, the sci­en­tists say it can be par­tic­u­lar­ly use­ful in pe­di­atric cas­es and de­liv­er­ing oth­er drugs.
Vi­ral sys­tems now em­ployed can threat­en off-tar­get im­pact, which rais­es safe­ty is­sues. And they can't go big on the car­go. So sci­en­tists have been hard at it look­ing for new de­liv­ery ve­hi­cles that can do it bet­ter.
Their work mar­ries two of the hottest fields in R&D: gene edit­ing and on­col­o­gy. And in case you missed the sub­tle sales mes­sage, their state­ment blunt­ly notes that they are al­ready in li­cens­ing talks "with a num­ber of com­pa­nies in­ter­est­ed in the tech­nol­o­gy."
So­cial im­age: Shut­ter­stock