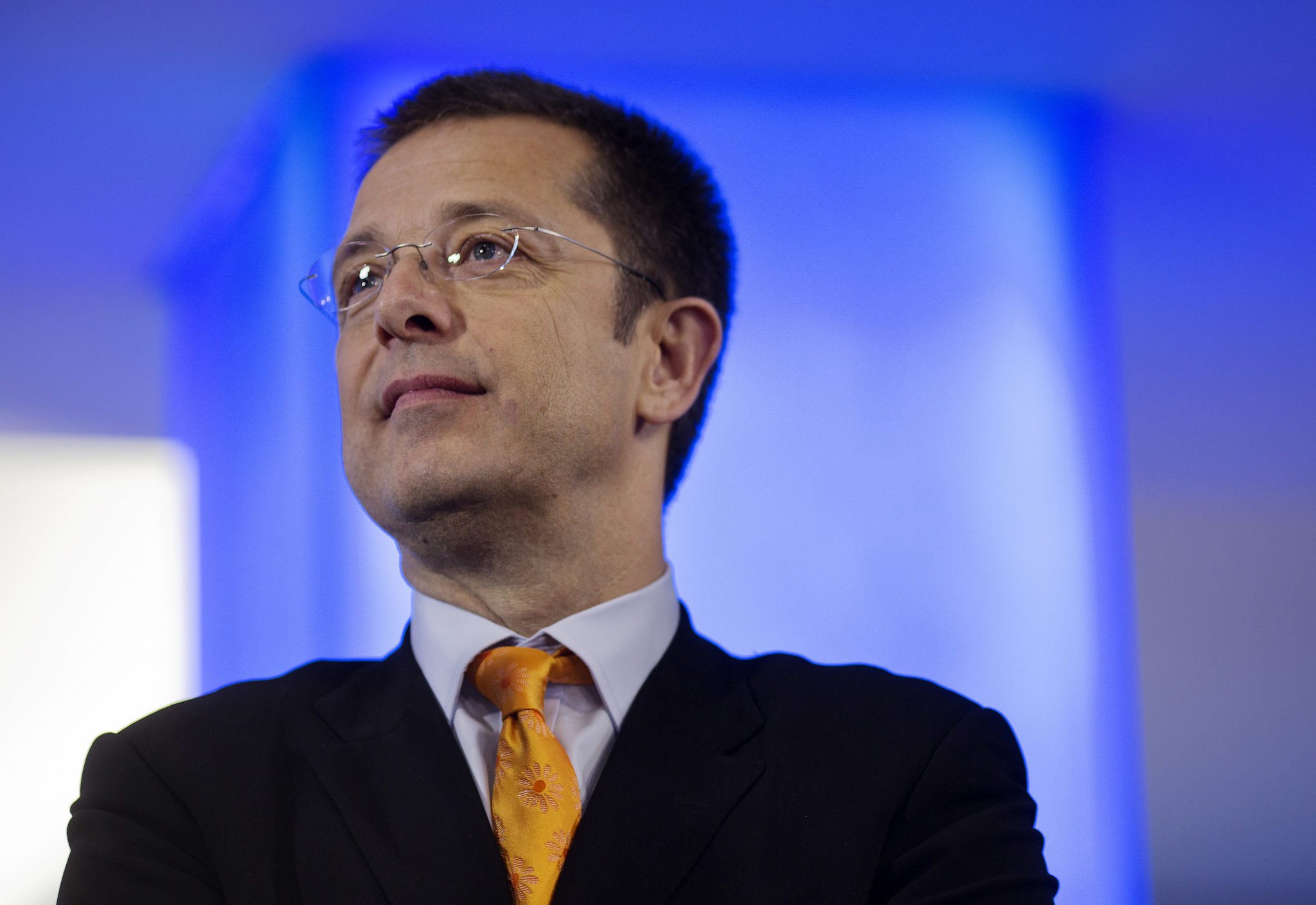 Hans Bishop, Grail CEO (Victor J. Blue/Bloomberg via Getty Images)
For­get the IPO, Il­lu­mi­na is near­ing a buy­out of $1.9B liq­uid biop­sy start­up Grail — re­port
Grail, the $1.9 bil­lion, Jeff Be­zos-backed liq­uid biop­sy start­up, may not be go­ing pub­lic af­ter all.
Wednes­day morn­ing, a week af­ter the biotech filed for an IPO, Bloomberg re­port­ed that Il­lu­mi­na was clos­ing in on a deal for the vaunt­ed spin­out. Grail spun out of the se­quenc­ing gi­ant in 2017 and sub­se­quent­ly land­ed just un­der $2 bil­lion from big-name in­vestors on the promise of de­vel­op­ing a blood test to de­tect can­cer far ear­li­er and less in­va­sive­ly than cur­rent­ly pos­si­ble.
Giv­en the cash that has al­ready poured in­to the Cal­i­for­nia biotech and how near they ap­par­ent­ly are to mak­ing their test com­mer­cial, the dol­lar fig­ure for such an ac­qui­si­tion would have to be con­sid­er­able, al­though Il­lu­mi­na al­ready owns 14.6% of the com­pa­ny. It was not clear how much Grail in­tend­ed to raise in its IPO. They had pen­ciled in $100 mil­lion in their ini­tial fil­ing, but it was wide­ly viewed as a tem­po­rary place­hold­er for a much larg­er fig­ure.
Grail, which is in a race with well-heeled Thrive and a few oth­er small­er biotechs to de­vel­op the first ear­ly can­cer blood test, dis­closed in their S-1 that they had al­ready test­ed their tech­nol­o­gy on over 100,000 peo­ple — far more than had pre­vi­ous­ly been dis­closed — and were eye­ing a com­mer­cial launch for two sep­a­rate prod­ucts in 2021. They ac­knowl­edged that it could take longer to get pay­er re­im­burse­ment.
For Il­lu­mi­na, the deal would be the first ma­jor ac­qui­si­tion since the FTC shot down their $1.2 bil­lion buy­out of se­quenc­ing ri­val PacBio in Jan­u­ary. The com­pa­ny has been known to buy out com­pe­ti­tion — the FTC called them a "mo­nop­o­list" in a PacBio de­ci­sion — but it has in re­cent years in­creas­ing­ly moved in­to a new space: di­ag­nos­tics. It's signed con­tracts with com­pa­nies such as Adap­tive Biotech­nolo­gies and is now work­ing with Gink­go on an am­bi­tious se­quenc­ing-based Covid-19 test­ing plan.
Ac­quir­ing Grail would give them the ar­guable fron­trun­ner in the in­dus­try's clos­est di­ag­nos­tics race.
Such a deal would like­ly pay off hand­some­ly for a hand­ful of ear­ly in­vestors who went in big on the com­pa­ny's tech­nol­o­gy. That in­cludes Bob Nelsen's Arch Ven­tures, which owns 63.7 mil­lion shares, J&J's ven­ture arm, which owns 50 mil­lion. Found­ing CEO Jeff Hu­ber and co-founder Rick Klaus­ner own 34 mil­lion and 27 mil­lion shares, re­spec­tive­ly.