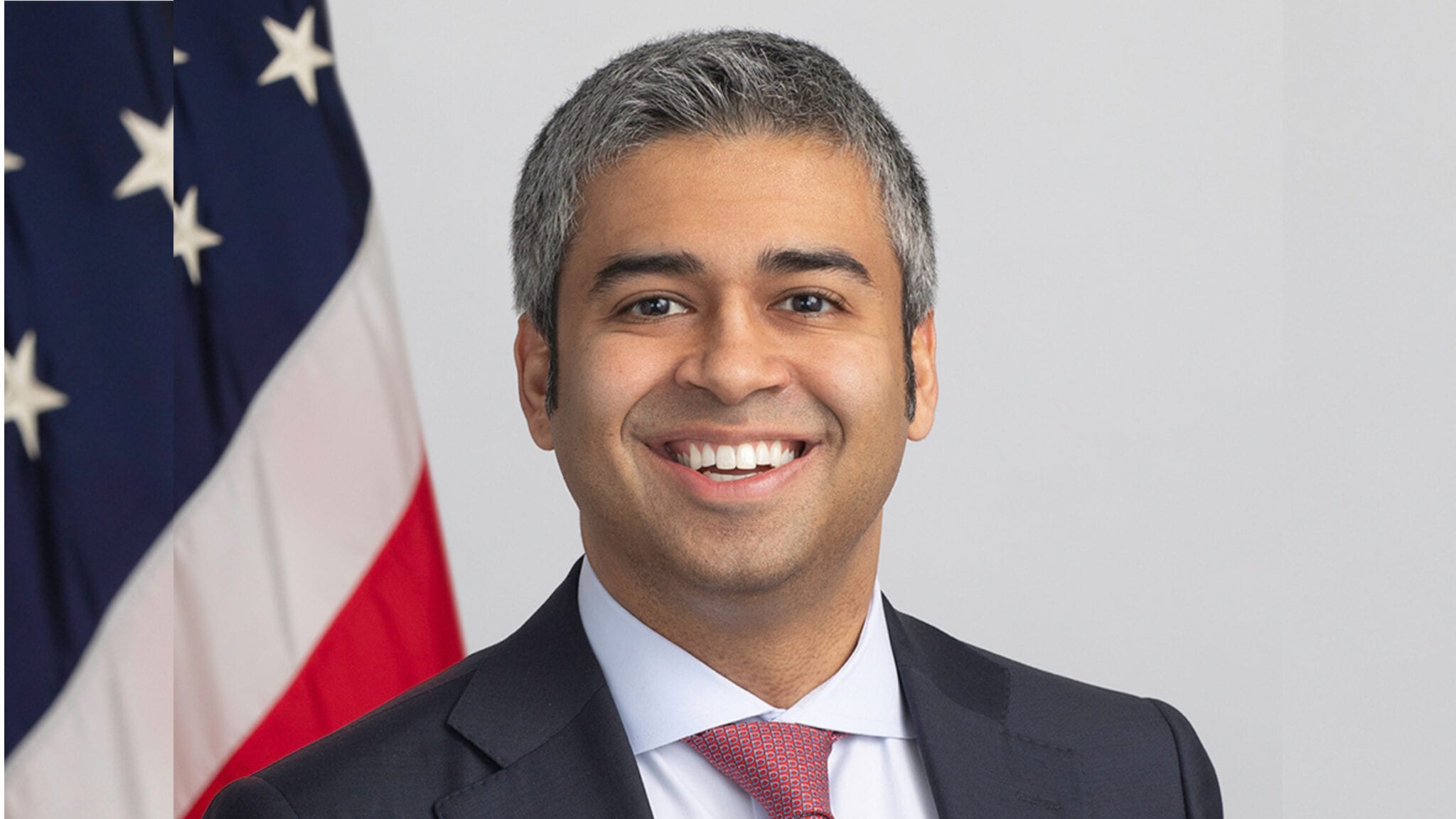 For­mer head of FDA's med­ical and sci­en­tif­ic af­fairs on Covid: 'FDA has nev­er been test­ed like this'
Anand Shah has served the Amer­i­can pub­lic in a unique way, criss­cross­ing over the last two ad­min­is­tra­tions be­tween serv­ing as an at­tend­ing ra­di­a­tion on­col­o­gist fo­cused on prostate can­cer at NIH, serv­ing as CMO at the Cen­ter for Medicare and Med­ic­aid In­no­va­tion, and most re­cent­ly, lead­ing the FDA's op­er­a­tions on med­ical and sci­en­tif­ic af­fairs from with­in the com­mis­sion­er's of­fice.
Shah, who stepped down from the FDA in Jan­u­ary, caught up with End­points News in a phone in­ter­view on Tues­day af­ter­noon, of­fer­ing his thoughts on the agency's lat­est de­ci­sion to pause the J&J vac­ci­na­tions in the US, and re­flect­ing on his time at an agency dur­ing this once-in-a-life­time pan­dem­ic.
The in­ter­view is light­ly edit­ed for clar­i­ty.
End­points News: I thought I'd start off by ask­ing about this de­ci­sion an­nounced by the FDA and CDC on Tues­day to pause the ad­min­is­tra­tion of J&J's Covid-19 vac­cine. Can you of­fer any de­tails on what goes in­to a de­ci­sion like that be­hind the scenes? Who's con­sult­ed at FDA, and how are dif­fer­ent fac­tors weight­ed in such a big de­ci­sion?
Anand Shah: What's im­por­tant to note here is that this is a de­ci­sion made by the ca­reer staff of the agency. [CBER di­rec­tor] Pe­ter Marks works dili­gent­ly with sis­ter agen­cies across HHS and with in­dus­try — they are col­lect­ing da­ta from a va­ri­ety of sources and as they see sig­nals that are con­cern­ing, that's prob­a­bly the im­pe­tus for is­su­ing this pause. My sense is that this is ba­si­cal­ly an ask to hold on the vac­cine, not a re­vo­ca­tion of the EUA. It's a tac­it ac­knowl­edg­ment that it's very few cas­es and for folks to keep an an­ten­na up and re­port sim­i­lar cas­es.
End­points: What kind of an im­pact might this pause have on vac­cine hes­i­tan­cy in gen­er­al?
Shah: The pub­lic should have con­fi­dence that the FDA and CDC con­tin­ue to sur­veil the per­for­mance of these vac­cines, even af­ter an emer­gency use au­tho­riza­tion is is­sued. It's a sign that the process­es that the agency has in place are work­ing. This is re­al­ly no dif­fer­ent than how we mon­i­tor oth­er drugs, bi­o­log­ics, med­ical de­vices af­ter they've been cleared by the FDA. I would say the pub­lic should have con­fi­dence that the process­es of the agen­cies are work­ing and the agency will com­mu­ni­cate very clear­ly as it learns more about this J&J vac­cine.
End­points: The FDA re­cent­ly an­nounced some of its top Covid-re­lat­ed pri­or­i­ties mov­ing for­ward (based on the PREPP re­port from Jan­u­ary) and I'm cu­ri­ous if you can ex­plain how the agency might op­ti­mize the way spon­sors move prod­ucts through the EUA process? Would you say it's more or less com­pli­cat­ed or col­lab­o­ra­tive (in terms of spon­sor-FDA in­ter­ac­tions) than the stan­dard drug ap­proval process?
Shah: So dur­ing the first year of the Covid-19 pan­dem­ic, FDA re­ceived more than 3,000 EUA re­quests and FDA re­viewed more than 2,300 of these re­quests and is­sued over 600 EUAs, the li­on's share on the med­ical de­vice side of the house. Just to put that in per­spec­tive, FDA is­sued 65 EUAs in all pre­vi­ous pub­lic health emer­gen­cies com­bined.
So ear­ly last year, it be­came very clear the Covid-19 pan­dem­ic was and con­tin­ues to be a once-in-a-life­time pub­lic health emer­gency. FDA has nev­er been test­ed like this dur­ing its his­to­ry. Be­cause EUAs are used in lim­it­ed cir­cum­stances, the re­view of prod­ucts re­quires some ad­di­tion­al checks and bal­ances dur­ing the re­view process and of­ten the da­ta are less ma­ture than what you'd see in a reg­u­lar sub­mis­sion. Through­out the pan­dem­ic, FDA staff have worked col­lab­o­ra­tive­ly with in­dus­try and acad­e­mia — the great ex­am­ple of this is CTAP [the Coro­n­avirus Treat­ment Ac­cel­er­a­tion Pro­gram], which was a spe­cial fit for pur­pose pro­gram to seam­less­ly re­view EUA re­quests and work more col­lab­o­ra­tive­ly.
It'll be im­por­tant to as­sess how pro­grams like CTAP im­pact work­load at the agency and how they work from a stake­hold­er per­spec­tive. It will take some time af­ter the pub­lic health emer­gency to ful­ly dis­till the im­pact of these pro­grams and process­es and then de­cide which learn­ings should be made per­ma­nent.
End­points: Over­all, do you think this pan­dem­ic shows there's room for the FDA to speed up its drug and bi­o­log­ic re­views fur­ther?
Shah: It's im­por­tant to note the EUA ap­proval process is very dif­fer­ent from FDA ap­proval or clear­ance. The agency makes a prod­uct avail­able to the pub­lic based on the best avail­able ev­i­dence with­out wait­ing for all the ev­i­dence that would be need­ed for ap­proval or clear­ance. So when eval­u­at­ing an EUA re­quest, FDA care­ful­ly bal­ances ben­e­fits and risks, and dur­ing this pan­dem­ic, that risk-ben­e­fit pro­file has been dy­nam­ic based on what we con­tin­ue to learn on the SARS-COV-2 virus.
Re­gard­ing non-emer­gency FDA ap­proval times, like an or­ga­ni­za­tion, there's al­ways room for op­ti­miz­ing process­es. The agency has al­ways worked close­ly with stake­hold­ers and con­tin­ue to it­er­ate on these ex­pe­dit­ed pro­grams. User fees bring a high lev­el of ac­count­abil­i­ty around per­for­mance bench­marks.
It's im­por­tant to note there are pro­grams like RTOR [Re­al-Time On­col­o­gy Re­view] to strive for more ef­fi­cient re­views, ul­ti­mate­ly to al­low faster pa­tient ac­cess while still pre­serv­ing the in­tegri­ty of the agency's re­view. FDA will need to see sup­port through user fees, ap­pro­pri­a­tions or even both to scale these fur­ther across the med­ical prod­uct cen­ters.
End­points: What does the FDA need to do to get on bet­ter foot­ing with the gen­er­al pub­lic in terms of trans­paren­cy and ex­plain­ing its de­ci­sion-mak­ing for some prod­ucts that have re­ceived EUAs?
Shah: There's al­ways more room for trans­paren­cy, and it's en­cour­ag­ing to see FDA pri­or­i­tiz­ing EUA trans­paren­cy around the PREPP ini­tia­tive. Both of these can go hand in hand in terms of ed­u­cat­ing the pub­lic on the FDA's de­ci­sion-mak­ing and the un­der­ly­ing sci­ence and da­ta to sup­port those de­ci­sions. An open and trans­par­ent ap­proach bol­sters pub­lic con­fi­dence.
Dur­ing the pan­dem­ic, the agency has pub­lished risk-ben­e­fit as­sess­ments for many of the EUA de­ci­sions, and this is re­al­ly help­ful to all stake­hold­ers, es­pe­cial­ly clin­i­cians mak­ing de­ci­sions with their pa­tients re­gard­ing po­ten­tial test­ing or ther­a­py or vac­ci­na­tion.
An­oth­er ex­am­ple of trans­paren­cy is how the pro­fes­sion­al staff at CBER work close­ly with the pub­lic to en­sure re­al­ly the high­est lev­el of trans­paren­cy on how vac­cines are re­viewed in­ter­nal­ly at FDA, to walk the pub­lic through our process­es, and re­al­ly ex­plain­ing care­ful­ly how the ad­vi­so­ry com­mit­tee will func­tion.
End­points: Think­ing back on your time at FDA, for­mer Pres­i­dent Trump has made clear that he used po­lit­i­cal pres­sure to speed the FDA's re­views of vac­cines — is that con­sis­tent with what you saw? How in­tense was the po­lit­i­cal pres­sure from Trump and oth­ers at the White House? What did that kind of pres­sure do for morale at the agency?
Shah: FDA has al­ways been guid­ed by sci­ence and da­ta. And re­al­ly an agency that reg­u­lates such a large swath of the econ­o­my will al­ways be a fo­cal point for the pub­lic and sub­ject to a va­ri­ety of opin­ions. De­spite the height­ened pub­lic in­ter­est over the past one year to­wards FDA, the pro­fes­sion­al staff at the agency have demon­strat­ed an un­be­liev­able re­silience dur­ing the pan­dem­ic de­spite the per­son­al im­pact we've all en­coun­tered over the past year. Go­ing for­ward, it's crit­i­cal FDA main­tains reg­u­la­to­ry in­de­pen­dence in its de­ci­sion-mak­ing. Oth­er agen­cies like NIH or CMS or HHS can cer­tain­ly be in­for­ma­tive on larg­er pol­i­cy items but in­di­vid­ual med­ical prod­uct de­ci­sions must re­main in­ter­nal to FDA and more specif­i­cal­ly, led by the ca­reer staff.
End­points: Did you hear any­thing from any­one in the White House who were try­ing to pre­empt cer­tain de­ci­sions made by that ca­reer staff?
Shah: No.
End­points: Con­sid­er­ing you've worked at the FDA, CMS and NIH — what are some cross-agency col­lab­o­ra­tions that you'd like to see mov­ing for­ward? Are there col­lab­o­ra­tions that have been ini­ti­at­ed at these three agen­cies since the pan­dem­ic be­gan and that might con­tin­ue af­ter­ward?
Shah: All of these agen­cies are fo­cused on ad­vanc­ing pub­lic health. The pan­dem­ic has led to strong part­ner­ships at many lev­els across these agen­cies. Ear­ly in the pan­dem­ic, the agen­cies worked very close­ly to­geth­er on Covid-19 test­ing. A great ex­am­ple is, to­geth­er with the CDC, there was a need for hor­i­zon­tal align­ment be­tween the agen­cies to en­sure med­ical prod­uct de­vel­op­ment, re­view and au­tho­riza­tion and CLIA con­sid­er­a­tions were lock­step.
FDA worked close­ly with the NIH's Na­tion­al Can­cer In­sti­tute to stand up an in­fra­struc­ture to in­de­pen­dent­ly eval­u­ate the per­for­mance of Covid-19 tests. This was an in­cred­i­bly help­ful back­stop for the FDA to study tests on the mar­ket­place, and no­tably, this was the first time the fed­er­al gov­ern­ment eval­u­at­ed tests it­self to in­form FDA au­tho­riza­tions. And so, this is a mod­el for how we can dri­ve all of gov­ern­ment ap­proach to tack­le the most press­ing pub­lic health is­sues of our gen­er­a­tion.
I think a great op­por­tu­ni­ty go­ing for­ward is to re­al­ly tack­le an­timi­cro­bial drug re­sis­tance, and that's an area where we can re­al­ly ac­cel­er­ate drugs from bench to bed­side. AMR has com­plex sci­en­tif­ic, reg­u­la­to­ry and mar­ket ac­cess is­sues that are best solved when we're all work­ing to­geth­er. And I think the frame­works that we've learned to de­vel­op over the past year, and specif­i­cal­ly the col­lab­o­ra­tive frame­works, will serve as a last­ing lega­cy for how we should move for­ward on non-Covid re­lat­ed is­sues.
End­points: Speak­ing of non-Covid re­lat­ed is­sues, drug pric­ing seems to be a ma­jor fo­cus area for Pres­i­dent Biden — do you think CMS is ready for what may come in terms of ne­go­ti­at­ing pow­er? And what roles, if any, do you think the FDA and NIH will have with drug pric­ing?
Shah: I think we're all watch­ing very close­ly a lot of the ac­tiv­i­ty on the Hill. And cer­tain­ly, if there is new leg­is­la­tion, CMS will have to move quick­ly around im­ple­men­ta­tion and work­ing with in­dus­try and po­ten­tial­ly putting forth guid­ance on what im­ple­men­ta­tion will mean go­ing for­ward.
Drug prices con­tin­ue to be a con­cern for pa­tients and con­sumers alike. It's still ear­ly in the new ad­min­is­tra­tion and it re­mains to be seen how HHS, CMS and the White House will align on their pol­i­cy goals, and the role of Con­gress dri­ving these pri­or­i­ties for­ward. In terms of NIH and FDA, they don't have a di­rect role in drug pric­ing, but they con­tin­ue to ad­vance ob­jec­tives around drug dis­cov­ery and in­creas­ing com­pe­ti­tion and choice for pa­tients. We made great strides in im­prov­ing ac­cess to gener­ics and biosim­i­lars at FDA and I ex­pect that progress will con­tin­ue at the agency.
End­points: We're see­ing some high-lev­el FDA of­fi­cials, like your­self and Amy Aber­nethy, move on from the agency, and Pa­trizia Cavaz­zoni was re­cent­ly named as the head of CDER. Do you think the FDA does enough to at­tract and keep top tal­ent? What can be done oth­er than more fund­ing?
Shah: It's been re­mark­able to see over the past five years the FDA re­al­ly pri­or­i­tized re­cruit­ment, re­ten­tion, and pro­mo­tion across the board at the agency. Like any oth­er high-func­tion­ing or­ga­ni­za­tion, there are al­ways chal­lenges to cul­ti­vat­ing a di­verse, mis­sion-dri­ven pro­fes­sion­al work­force. Tal­ent con­tin­ues to cy­cle at the FDA, in­clud­ing among lead­er­ship. But there con­tin­ues to be a healthy bal­ance in terms of main­tain­ing in­sti­tu­tion­al per­spec­tive ver­sus new tal­ent and out­side per­spec­tives com­ing in.
FDA has to keep up with con­stant­ly evolv­ing sci­ence, as well as the need to re­cruit and train peo­ple with high­ly spe­cial­ized skills. Con­gress has rec­og­nized the im­por­tance of a stronger FDA for pub­lic health and in late 2016, Con­gress gave FDA new re­sources to achieve these ob­jec­tives of bring­ing on tal­ent.
The Of­fice of Op­er­a­tions at FDA has been tru­ly re­mark­able with tal­ent ac­qui­si­tion, es­pe­cial­ly dur­ing the pan­dem­ic, where we've had record new hires over the past many months. But that said, FDA needs to ex­plore new av­enues for hir­ing oth­er than in­creased fund­ing. Per­haps there are ways to adapt best prac­tices from oth­er non-gov­ern­men­tal agen­cies.
FDA has an op­por­tu­ni­ty to work close­ly with in­dus­try and acad­e­mia to chart a path for­ward for con­tin­u­ing to cul­ti­vate pro­fes­sion­als who are spe­cial­ized in cell and gene ther­a­py de­vel­op­ment and reg­u­la­tion. There may be op­por­tu­ni­ties for a pro­gram where­by the FDA can ben­e­fit from out­side tal­ent while find­ing ways to mit­i­gate con­flicts of in­ter­est. Al­ter­na­tive­ly, there may be op­por­tu­ni­ties for FDA to spend time on the front lines of nov­el ther­a­py de­vel­op­ment and seek ad­di­tion­al ed­u­ca­tion­al op­por­tu­ni­ties and con­tin­ue to be in­formed on new sci­ence.