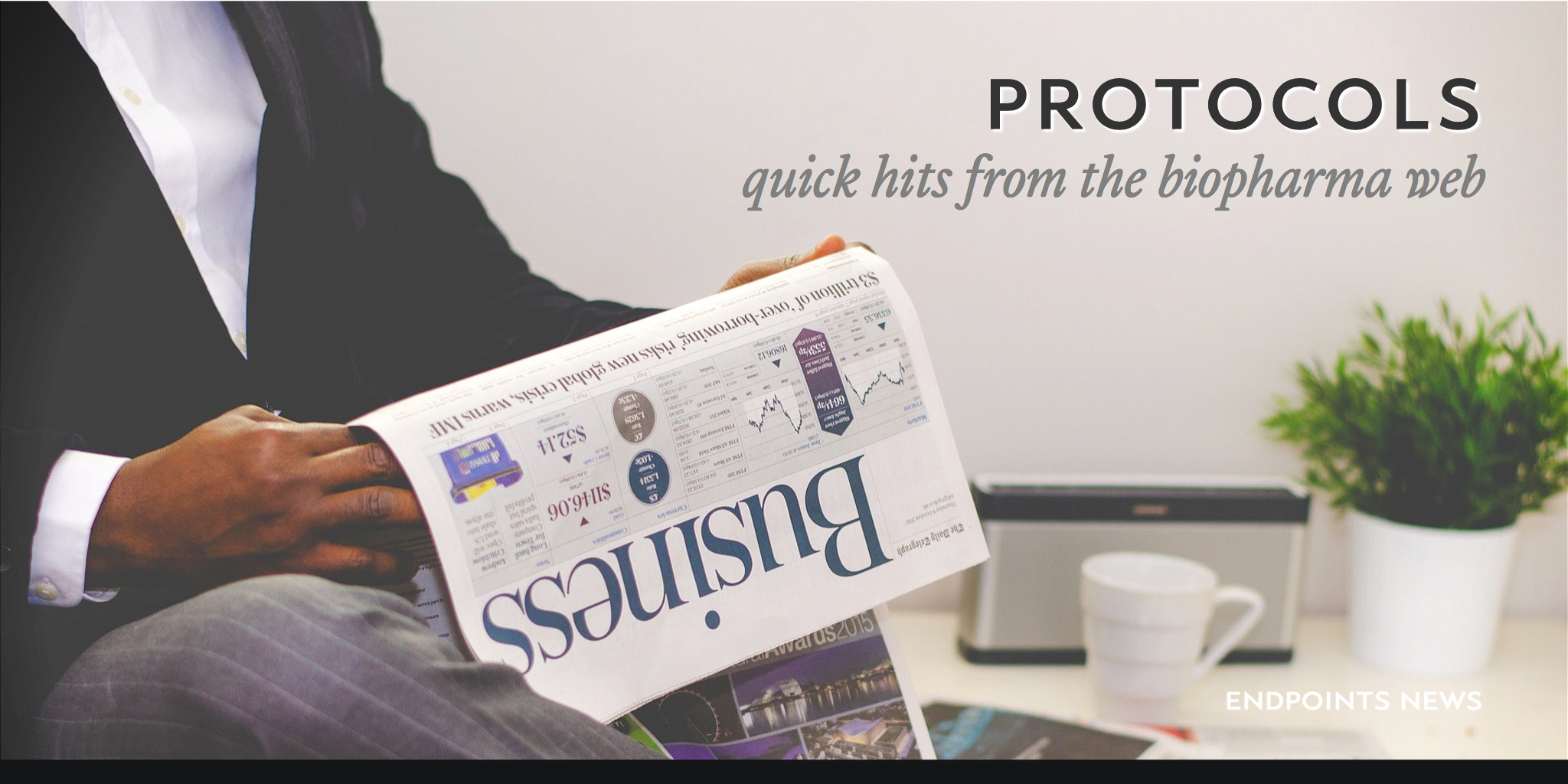 For­mer Puma ex­ec agrees to prison time, penal­ty on in­sid­er trad­ing case; Ex-GSK boss Wit­ty to lead UK's new 'break­through' pro­gram
→ Puma's for­mer reg­u­la­to­ry chief has plead guilty to charges he prof­it­ed off of in­sid­er in­for­ma­tion he gleaned at the biotech. He was charged a lit­tle more than a year ago for trad­ing on the com­pa­ny stock af­ter find­ing out about de­vel­op­ments re­lat­ed to ner­a­tinib. In the set­tle­ment he agreed to pay $1.6 mil­lion, ac­cord­ing to Reuters, and not fight any prison sen­tence high­er than 37 months.
→ For­mer GSK CEO An­drew Wit­ty will head up a new pan­el in the UK which will be charged with ad­vanc­ing ac­cess to 5 new drugs and de­vices each year. In the gov­ern­ment scheme, life sci­ences com­pa­nies will get the chance to grab some ear­ly fi­nanc­ing for de­vel­op­ment work on new "break­through" ther­a­pies, while the pan­el will look to speed ac­cess to the pub­lic with an ac­cel­er­at­ed re­view process on pric­ing. And the British gov­ern­ment ex­pects to be re­ward­ed with some fa­vor­able whole­sale prices. Wit­ty has been tak­ing a num­ber of po­si­tions on biotech boards and re­cent­ly joined the ven­ture group Hat­teras, where he's had some long­stand­ing ties.
→ A House ju­di­cia­ry com­mit­tee has lined up some ex­pert tes­ti­mo­ny on sov­er­eign im­mu­ni­ty for next Tues­day as law­mak­ers prep a fresh blast against Al­ler­gan. Al­ler­gan stirred con­sid­er­able con­tro­ver­sy with its de­ci­sion to trans­fer con­trol of its Resta­sis patents to a Mo­hawk tribe to es­cape in­ter partes re­view chal­lenges that threat­ened their block­buster fran­chise. Law­mak­ers, though, haven't been friend­ly to­ward the le­gal gam­bit. Not­ed In­ter­net Sub­com­mit­tee Chair­man Dar­rell Is­sa (R-CA): "This hear­ing is an im­por­tant look at the ways that the sys­tem can be gamed un­der the guise of sov­er­eign im­mu­ni­ty as a means to shield patents from the checks and bal­ances in­tend­ed by law and the changes Con­gress may need to make to ad­dress it." Ac­cord­ing to the com­mit­tee lead­ers they'll be hear­ing from Karl Man­heim, pro­fes­sor of law, Loy­ola Law School; William Jay, part­ner and co-chair, ap­pel­late lit­i­ga­tion for Good­win Proc­ter; Philip John­son, prin­ci­pal, John­son-IP Strat­e­gy & Pol­i­cy Con­sult­ing; and Christo­pher Mohr, gen­er­al coun­sel for the Soft­ware and In­for­ma­tion In­dus­try As­so­ci­a­tion. Al­ler­gan ex­ecs are not on the list.