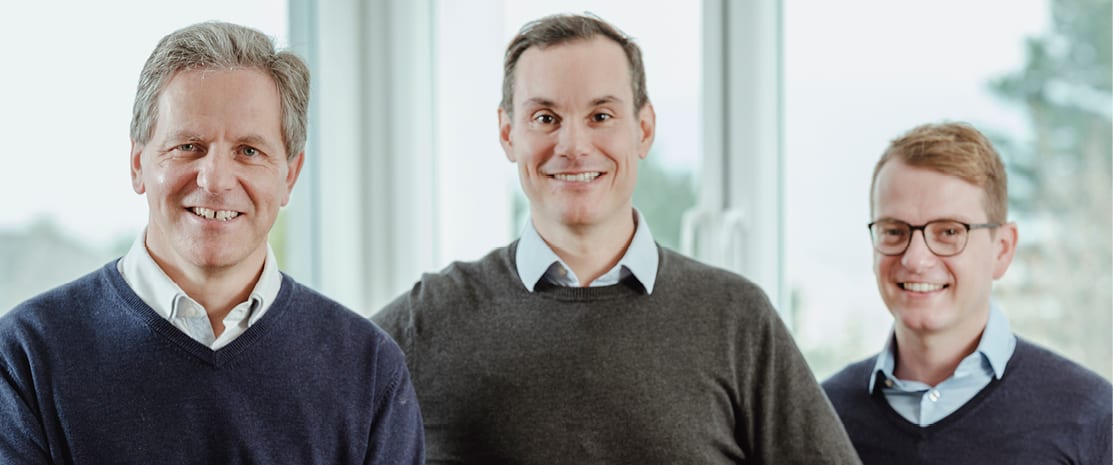 Randolf Kerschbaumer, Michael Thiele and Alexander Schinagl (OncoOne)
For­mer Shire ex­ecs set up shop to take a shot at 'un­der the radar' can­cer tar­get
In De­cem­ber 2016, Shire aban­doned a can­cer drug tar­get­ing oxMIF it had swal­lowed as part of its $32 bil­lion buy­out of Bax­al­ta ear­li­er that year. Now for­mer ex­ec­u­tives of the two com­pa­nies have set up their own shop in Aus­tria — bank­ing on that same tar­get.
The com­pa­ny, chris­tened On­coOne, has scored €13 mil­lion in a Se­ries A round. With 8 em­ploy­ees, in­clud­ing its 3 founders, the com­pa­ny will use the in­jec­tion to take its com­pounds — de­signed to ad­dress pan­cre­at­ic, col­orec­tal, lung and ovar­i­an can­cer — in­to the clin­ic by 2022.
Macrophage mi­gra­tion in­hibito­ry fac­tor, or MIF, is a cy­tokine ubiq­ui­tous across the hu­man body. The com­pa­ny is tar­get­ing a dis­ease-re­lat­ed iso­form of MIF, called oxMIF.
"OxMIF is quite tricky to han­dle, and it's not so easy to work with — it's a com­pli­cat­ed cy­tokine — so that might be one of the rea­sons why it's still un­der the radar," CEO Ran­dolf Ker­schbaumer, who has worked with Bax­ter and Shire, not­ed in an in­ter­view.
The pro­gram for the Shire com­pound, imalum­ab, was ter­mi­nat­ed af­ter ear­ly da­ta failed to con­vince re­searchers, On­coOne chief sci­en­tif­ic of­fi­cer (and for­mer Bax­ter, Bax­al­ta and Shire ex­ec) Michael Thiele not­ed.
"How­ev­er, we…do be­lieve in the po­ten­tial of this tar­get," he said. "We have three dif­fer­ent modal­i­ties with very dis­tinct mech­a­nisms of ac­tion when com­pared to imalum­ab — in fact, our mode of ac­tion doesn't have much to do or any­thing to do with imalum­ab."
The ex­ec­u­tives de­clined to of­fer de­tails on their com­pounds and the mech­a­nism of ac­tion. In­vestors par­tic­i­pat­ing in the Se­ries A in­clud­ed the Aus­tri­an Re­search Pro­mo­tion Agency (FFG), the Aus­tria Wirtschaftsser­vice Gesellschaft (AWS), and two fam­i­ly of­fices.
As the coro­n­avirus cri­sis in­ten­si­fies, days ago Aus­tria's chan­cel­lor put in place ma­jor re­stric­tions on move­ment in pub­lic places, urged cit­i­zens to self-iso­late and banned gath­er­ings of more than five per­sons.
On­coOne's em­ploy­ees are large­ly work­ing from home, Ker­schbaumer said, with the ex­cep­tion of per­son­nel work­ing in the lab.
"Well, maybe we will have to close the lab in the next cou­ple of weeks," he added. "But, I think we are well pre­pared to restart when the whole sit­u­a­tion im­proves."