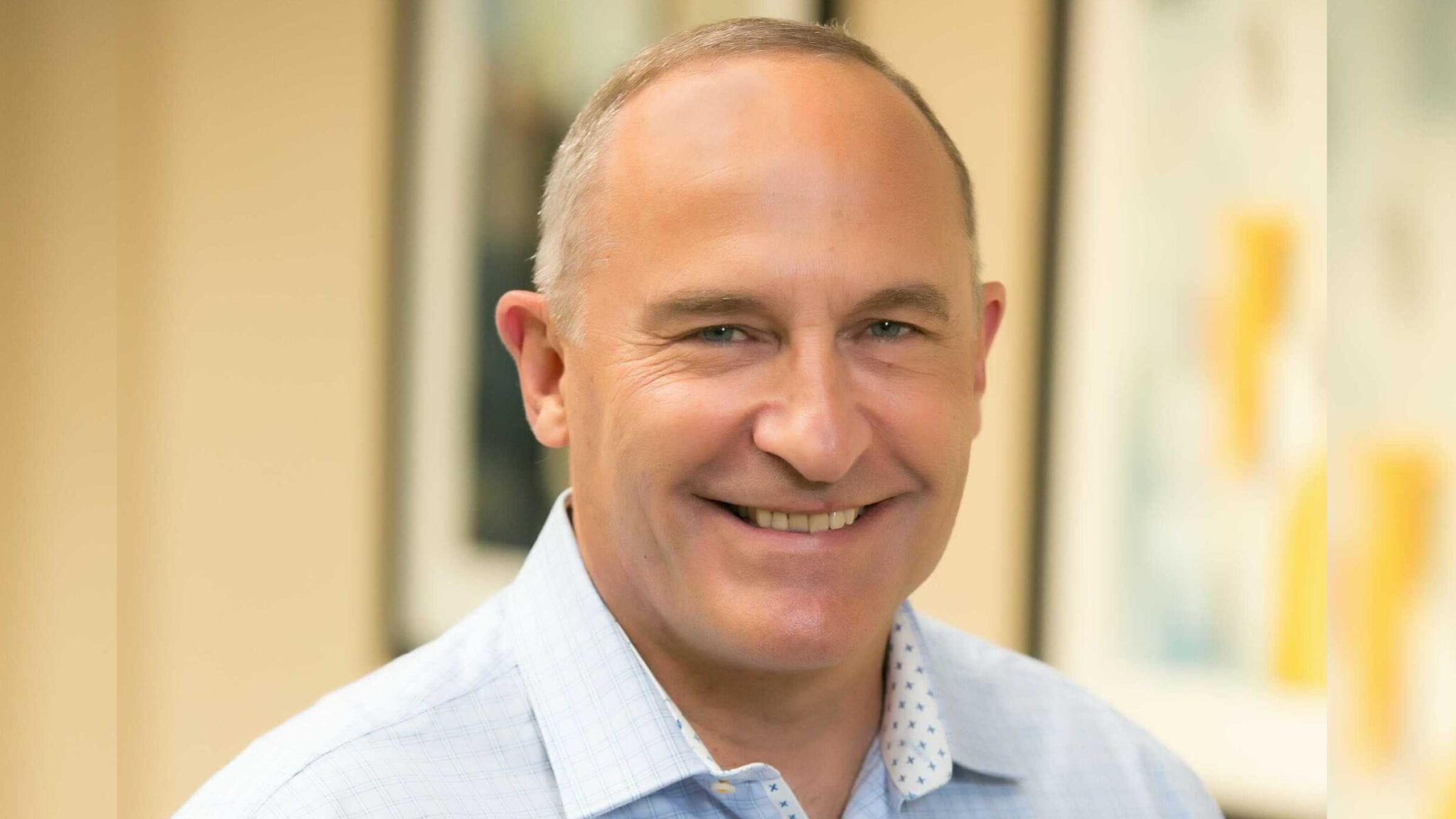 CEO David Campbell (Janux)
Fresh off $1B+ Mer­ck deal, Janux locks down first pri­vate fundraise for its T cell en­gagers
Janux Ther­a­peu­tics had kept a rel­a­tive­ly low pro­file since be­ing found­ed back in 2017 but burst on­to the scene late last year when Mer­ck plunked down more than $1 bil­lion in promised mile­stones for its T cell en­gagers. Now, less than three months lat­er, the small biotech has clinched its first round of pri­vate fund­ing led by some promi­nent back­ers.
As it pre­pares its first pro­grams for INDs, Janux com­plet­ed a $56 mil­lion Se­ries A on Wednes­day morn­ing, with Jay Lichter's Aval­on Ven­tures join­ing forces with new in­vestors Or­biMed and RA Cap­i­tal Man­age­ment to fund the com­pa­ny. Janux will use the cash to pri­mar­i­ly ad­vance its T cell en­gagers tar­get­ing PS­MA and TROP2, which are ex­pect­ed to hit the clin­ic in the first and sec­ond quar­ters of 2022, re­spec­tive­ly.
CEO David Camp­bell told End­points News that the Mer­ck deal, on top of the da­ta that had al­ready im­pressed a num­ber of in­vestors, helped get Wednes­day's fi­nanc­ing across the fin­ish line.
All the buzz has cen­tered around Janux's T cell en­gager plat­form called TRAC­Tr, which the com­pa­ny says can de­vel­op drugs that al­ter their phar­ma­co­ki­net­ics de­pend­ing on the con­text. Up­on ac­ti­va­tion in a tu­mor, its can­di­dates are con­vert­ed from their orig­i­nal form — which can re­main in the blood­stream for over 100 hours — to a T cell en­gager that on­ly cir­cu­lates for less than an hour.
Janux al­so says any T cell en­gager that es­capes from the tu­mor mi­croen­vi­ron­ment is quick­ly elim­i­nat­ed, fur­ther tamp­ing down tox­i­c­i­ty lev­els and pre­vent­ing buildup in healthy tis­sue. And the com­pa­ny al­so has mon­key da­ta that show in­hi­bi­tion of cy­tokine re­lease at greater than 200-fold high­er dos­es, and greater than 2,000-fold high­er plas­ma lev­els, than ear­li­er gen­er­a­tion T cell en­gagers.
These three fac­tors, im­proved phar­ma­co­ki­net­ics, low­er tox­i­c­i­ty and bet­ter pre­ven­tion of cy­tokine re­lease, are where Janux is hop­ing to dif­fer­en­ti­ate it­self from oth­er T cell en­gager plat­forms, Camp­bell said. That's true not just for its PS­MA and TROP2 pro­grams, but the oth­er can­di­dates fur­ther down the pipeline like an EGFR en­gager.
Janux plans to pur­sue prostate can­cer with the PS­MA pro­gram, with Camp­bell say­ing their pre­clin­i­cal da­ta have shown a "clear" path for­ward in the in­di­ca­tion. Re­searchers are go­ing to start eval­u­at­ing the can­di­date as a monother­a­py in lat­er lines of the dis­ease, but in the fu­ture may look to ex­pand the tar­get pa­tient pop­u­la­tion by com­bin­ing the pro­gram with check­point in­hibitors.
"We're go­ing to come in with a once-week­ly dose drug that we ex­pect, based up­on the pre­clin­i­cal da­ta that we've gen­er­at­ed, will be able to cir­cum­vent the cy­tokine re­lease syn­drome that has im­pact­ed many of the pro­grams in this par­tic­u­lar space," Camp­bell said.
The TROP2 can­di­date is like­ly to go af­ter triple neg­a­tive breast can­cer and non-small cell lung can­cer. TROP2 is the same tar­get for the Gilead/Im­munomedics drug Trodelvy, whose ap­proval in triple neg­a­tive breast can­cer this past April has helped Janux val­i­date the tar­get as a vi­able ap­proach, Camp­bell said.
Camp­bell said Janux is plan­ning to off­set this can­di­date's first clin­i­cal tri­al by a quar­ter sim­ply be­cause the com­pa­ny is still build­ing out its small staff from 10 em­ploy­ees to about 35 to 40. Wednes­day's fund­ing will help them ac­com­plish that goal as well, en­sur­ing both pro­grams can hit the ground run­ning when their first hu­man tri­als even­tu­al­ly launch next year.
Ex­ist­ing in­vestors Bregua and Cor­re­la­tion Ven­tures al­so con­tributed to the Se­ries A.