From pro­tein degra­da­tion to 'toad ven­om': An­oth­er five biotechs will make the Nas­daq shuf­fle af­ter fil­ing SEC pa­per­work
Ed­i­tor's note: In­ter­est­ed in fol­low­ing bio­phar­ma's fast-paced IPO mar­ket? You can book­mark our IPO Track­er here.
Fri­day proved to be an­oth­er busy day for biotech IPOs, with five more com­pa­nies fil­ing their S-1s and F-1s with the SEC ahead of ex­pect­ed jumps to Nas­daq.
Four biotechs pen­ciled in ini­tial es­ti­mates of $100 mil­lion rais­es: pro­tein-degra­da­tion play­er Monte Rosa, gene edit­ing biotech Graphite Bio, "toad ven­om"-fo­cused GH Re­search and mon­o­clon­al an­ti­body de­vel­op­er El­e­va­tion On­col­o­gy. The fifth com­pa­ny, reagents provider Al­pha Tekno­va, es­ti­mates at least $75 mil­lion with their raise.
The to­tal num­ber of biotechs to file or price their IPOs this year has now reached 65, ac­cord­ing to the End­points News tal­ly.
Al­so ear­ly on Mon­day, Janux Ther­a­peu­tics set its IPO terms for an es­ti­mat­ed $152 mil­lion raise by of­fer­ing 9.5 mil­lion shares in the $15 to $17 range. It's ex­pect­ed to price by the end of this week, ac­cord­ing to Re­nais­sance Cap­i­tal.
Here's a look at the lat­est biotechs do­ing the Nas­daq shuf­fle.
Al­most at the clin­ic, Monte Rosa preps its IPO
Since last Sep­tem­ber, Monte Rosa has pulled in two fundrais­ing rounds of $96 mil­lion and $95 mil­lion apiece. That mo­men­tum is lead­ing them to­ward the next step of be­com­ing a pub­lic com­pa­ny.
Their plat­form re­volves around de­vel­op­ing "mol­e­c­u­lar glues" that can re­pro­gram the ubiq­ui­tin lig­as­es cen­tral to pro­tein degra­da­tion, a field that's been pro­duc­ing tons of buzz among in­vestors over the last cou­ple years. The re­sult­ing can­di­dates are dif­fer­ent from oth­er small mol­e­cule de­graders, such as PRO­TAC, that work more like in­hibitors.
Monte Rosa doesn't have any clin­i­cal pro­grams just yet, but they've been plan­ning IND stud­ies for their lead can­di­date by the end of this month. The ex­per­i­men­tal drug will tar­get GSPT1, a reg­u­la­to­ry pro­tein im­pli­cat­ed in the syn­thet­ic lethal­i­ty of sol­id tu­mor cells.
With­in its S-1, Monte Rosa stayed silent over ex­act­ly how far it ex­pects to bring this pro­gram, on­ly di­vulging that some of the cash will be di­rect­ed to­ward it. The rest of the mon­ey will help fund fur­ther de­vel­op­ment of the plat­form and oth­er pre­clin­i­cal pro­grams.
Once it goes pub­lic, Monte Rosa plans to list un­der the tick­er $GLUE.
Ver­sant-backed Graphite pen­cils in a $100 mil­lion raise
Graphite came out of a part­ner­ship from Ver­sant and Stan­ford gene ther­a­py ex­perts, first get­ting things start­ed back in Sep­tem­ber 2020 with a $45 mil­lion round.
Matthew Por­teus
Now they're ready to make the pub­lic leap less than a year lat­er, ex­pect­ing to launch their first clin­i­cal tri­al by the end of 2021 in sick­le cell dis­ease. The plat­form comes from Matthew Por­teus, an aca­d­e­m­ic founder of CRISPR Ther­a­peu­tics, who is work­ing along­side gene ther­a­py ex­pert Maria Grazia Ron­car­o­lo.
Draw­ing from re­search work led by Dan­ny De­v­er while a post­doc at Por­teus' lab, Graphite's big promise is to in­crease in­te­gra­tion ef­fi­cien­cy from less than 1% to greater than 50% "across di­verse ge­net­ic le­sions in a wide range of cell types." The trio each serve as the co-aca­d­e­m­ic founders at Graphite.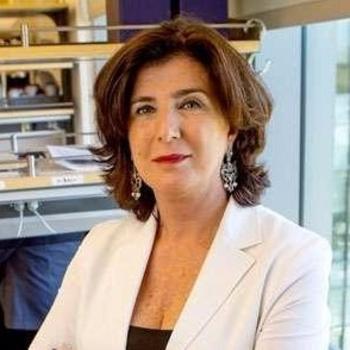 Maria Grazia Ron­car­o­lo
The biotech has since built up its pipeline in­to three pro­grams, with can­di­dates for X-linked se­vere com­bined im­mune de­fi­cien­cy and Gauch­er dis­ease on top of the sick­le cell lead. All three are ex­pect­ed to be fun­neled cash with the IPO, and the two fol­low-up pro­grams are still in IND-en­abling stud­ies.
Graphite plans to list un­der the tick­er $GRPH af­ter its de­but.
Toad-al­ly rad­i­cal: RA's psy­che­del­ic wa­ger keeps on truck­ing
The psy­che­delics space con­tin­ues to see heavy in­vestor in­ter­est, and RA Cap­i­tal backed GH Re­search just two months ago with a nine-fig­ure round. GH is tak­ing its pro­grams pub­lic now, with a lead in­halant cen­tered around the sub­stance col­lo­qui­al­ly known as "toad ven­om."
Though the drug's sci­en­tif­ic name is a mouth­ful — 5-Methoxy-N, N-di­methyl­trypt­a­mine is the of­fi­cial name — it picked up the toad ven­om nick­name due to its pres­ence in a cer­tain toad species na­tive to the south­west­ern US and north­west­ern Mex­i­co. The psy­che­del­ic saw a rapid rise in recre­ation­al use in the mid-2010s, per a VICE News re­port, as in­di­vid­u­als at­tempt­ed to achieve the 'ego death' phe­nom­e­non.
GH is start­ing with treat­ment-re­sis­tant de­pres­sion and has two oth­er undis­closed in­di­ca­tions on tap. The DMT in­halant, dubbed GH001, is cur­rent­ly be­ing stud­ied in the Phase II por­tion of a Phase I/II clin­i­cal tri­al.
The Dublin-based biotech is al­so work­ing on an in­jectable for­mu­la­tion of the drug. GH's IPO raise is ex­pect­ed to help de­vel­op both of these can­di­dates, with a Phase IIb study planned for GH001 and a Phase IIa tri­al to like­ly be set up for the oth­er can­di­date.
GH Re­search will list un­der the tick­er $GHRS once it goes pub­lic.
A for­mer Mer­ri­mack pro­gram gets a Nas­daq chance
El­e­va­tion On­col­o­gy has spent its time try­ing to re­vamp Mer­ri­mack's high-pro­file serib­an­tum­ab pro­gram in­to some­thing that can treat sol­id tu­mors with the rare NRG1 ge­nom­ic fu­sion.
Af­ter flop­ping in NSCLC, serib­an­tum­ab was ac­quired by El­e­va­tion back in 2019 for up to $58 mil­lion. The drug can­di­date is a mon­o­clon­al an­ti­body that binds to HER3 and was one in a long string of clin­i­cal busts for Mer­ri­mack, ul­ti­mate­ly re­sult­ing in the biotech sell­ing sev­er­al as­sets and lay­ing off all its staff and ex­ec­u­tives.
El­e­va­tion launched in Ju­ly 2020 and quick­ly added a $65 mil­lion Se­ries B round to com­plete en­roll­ment in a Phase II study. Their S-1 was scant on de­tails over how far El­e­va­tion wants to take the pro­gram with its raise.
When it goes pub­lic, El­e­va­tion plans to list un­der the tick­er $ELEV.
Reagents provider Al­pha Tekno­va will make its pub­lic jump
Al­pha Tekno­va has been around since 2000, but now it's go­ing pub­lic on the backs of its reagents. The Hol­lis­ter, CA-based com­pa­ny says it has about 3,000 cus­tomers span­ning the en­tire life sci­ences mar­ket, in­clud­ing biotechs, larg­er phar­ma com­pa­nies and CROs.
Al­pha Tekno­va of­fers three prod­ucts: pre-poured me­dia plates for cell growth and cloning, liq­uid cell cul­ture me­dia and sup­ple­ments for cel­lu­lar ex­pan­sion, and mol­e­c­u­lar bi­ol­o­gy reagents for sam­ple ma­nip­u­la­tion, re­sus­pen­sion and pu­rifi­ca­tion.
Funds from the IPO will large­ly go to­ward up­ping man­u­fac­tur­ing and im­prov­ing ef­fi­cien­cy, though Al­pha Tekno­va said it couldn't quan­ti­fy ex­act­ly how much. Once it goes pub­lic, the com­pa­ny plans to list un­der the tick­er $TKNO.