So Take­da wants to do up to $20B in M&A? Wel­come to the bid­ding war for US biotechs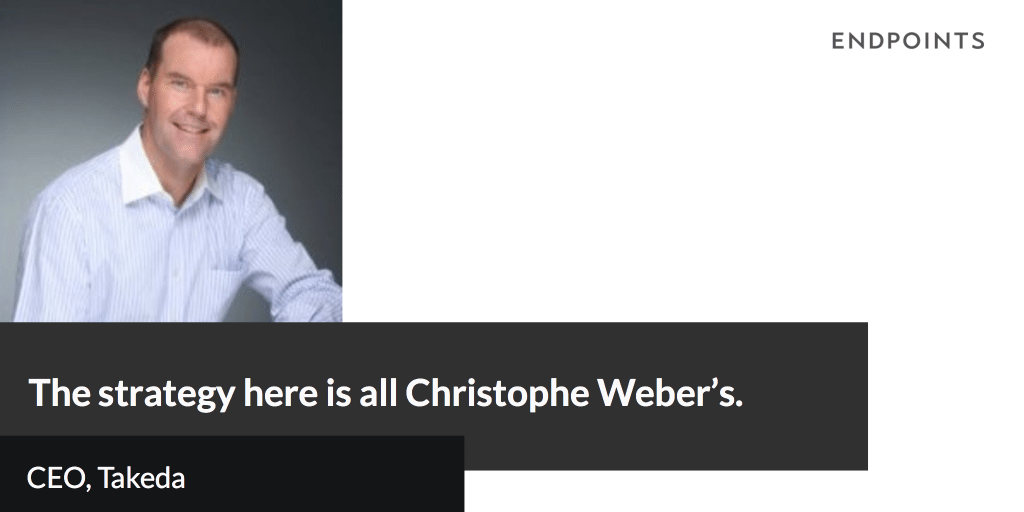 ---
Over the past few months Take­da has un­veiled an R&D over­haul that in­cludes a con­cen­tra­tion in key US and Japan­ese hubs and a de­ci­sion to cut and trans­fer 300 staffers to a CRO. Now the Fi­nan­cial Times re­ports that the big Japan­ese phar­ma com­pa­ny is plot­ting to spend any­where from $10 bil­lion to $15 bil­lion or $20 bil­lion on new buy­outs—specif­i­cal­ly fo­cus­ing on the US.
Quot­ing sources who have been briefed on the not-so-se­cret mis­sion, the FT says that this is part of a surge of in­ter­est that Japan­ese phar­ma com­pa­nies like Astel­las and Sh­iono­gi have shown re­cent­ly in join­ing the M&A game. Take­da may split its cash pot in­to sev­er­al deals, or go for one big one.
The strat­e­gy here is all Christophe We­ber's. The new CEO, who stepped in last year, has been go­ing a long way to shake things up at the ag­ing Japan­ese phar­ma com­pa­ny, found­ed dur­ing the Amer­i­can rev­o­lu­tion, and noth­ing shouts shake­up bet­ter than an R&D re­vamp and buy­outs.
These days, though, it's al­most eas­i­er to say who among the ob­vi­ous play­ers isn't in the mar­ket for a juicy deal than who is. Bio­gen all but has to buy/li­cense new prod­ucts in some high-dol­lar deals. Gilead has a long way to go be­fore it sat­is­fies an­a­lysts on re­plac­ing those big hep C bucks. Sanofi has a new CEO who is clear­ly de­ter­mined to buy some­thing big. Pfiz­er still has bil­lions burn­ing a hole in its pock­ets. Ab­b­Vie keeps go­ing long on deals like Stem­cen­trx. Al­ler­gan's deal to­day to buy Vi­tae for a big pre­mi­um is the lat­est in a string of buy­outs, with more ex­pect­ed. And so on.
But what are they go­ing to buy? And how much pre­mi­um do they add in?
Medi­va­tion just helped prove that when you have some­thing of tan­gi­ble val­ue, Xtan­di, and can throw in some­thing with some late-stage star dust, ta­la­zoparib, it's quite pos­si­ble to get sev­er­al ma­jors in a bid­ding war.
I mod­er­at­ed a pan­el dis­cus­sion at Bio­Pharm Amer­i­ca yes­ter­day, and Chris­tiana Bar­don, who's run­ning the MPM On­col­o­gy Im­pact Fund, not­ed that it's a sim­ple mat­ter for these com­pa­nies to bor­row mon­ey for deals. David Sabow from Sil­i­con Val­ley Bank and RBC an­a­lyst Simos Sime­oni­dis were quick to agree that the M&A sec­tor in bio­phar­ma will con­tin­ue to surge along, with phar­ma look­ing for new prod­ucts to feed in­to pipelines and port­fo­lios.
The ques­tion is, do pre­mi­ums con­tin­ue to go up if there's a pauci­ty of the right kind of at­trac­tive biotechs to ac­quire, wip­ing out any dis­counts that could be rung out of de­flat­ed shares? The an­swer seems ob­vi­ous, at least for the im­me­di­ate fu­ture.