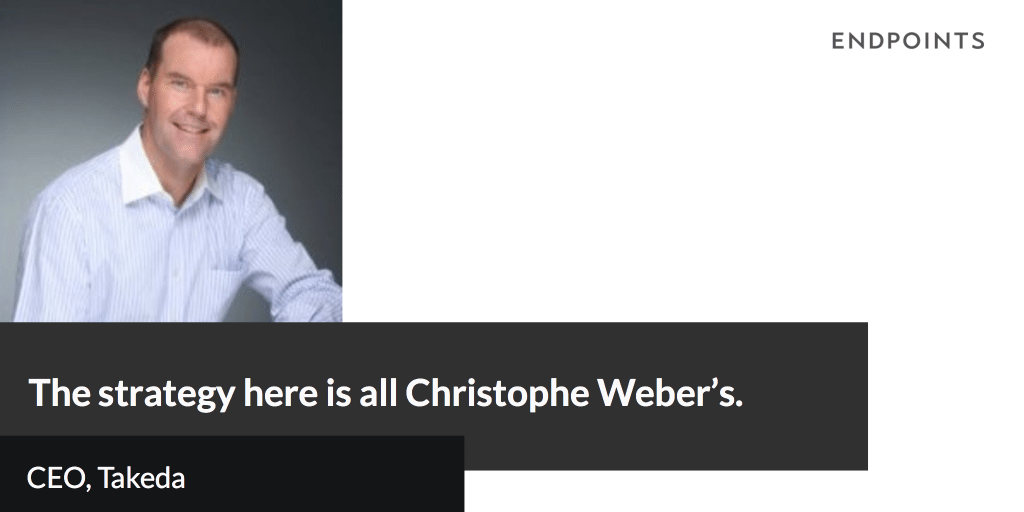 ---
Over the past few months Takeda has unveiled an R&D overhaul that includes a concentration in key US and Japanese hubs and a decision to cut and transfer 300 staffers to a CRO. Now the Financial Times reports that the big Japanese pharma company is plotting to spend anywhere from $10 billion to $15 billion or $20 billion on new buyouts—specifically focusing on the US.
Quoting sources who have been briefed on the not-so-secret mission, the FT says that this is part of a surge of interest that Japanese pharma companies like Astellas and Shionogi have shown recently in joining the M&A game. Takeda may split its cash pot into several deals, or go for one big one.
The strategy here is all Christophe Weber's. The new CEO, who stepped in last year, has been going a long way to shake things up at the aging Japanese pharma company, founded during the American revolution, and nothing shouts shakeup better than an R&D revamp and buyouts.
These days, though, it's almost easier to say who among the obvious players isn't in the market for a juicy deal than who is. Biogen all but has to buy/license new products in some high-dollar deals. Gilead has a long way to go before it satisfies analysts on replacing those big hep C bucks. Sanofi has a new CEO who is clearly determined to buy something big. Pfizer still has billions burning a hole in its pockets. AbbVie keeps going long on deals like Stemcentrx. Allergan's deal today to buy Vitae for a big premium is the latest in a string of buyouts, with more expected. And so on.
But what are they going to buy? And how much premium do they add in?
Medivation just helped prove that when you have something of tangible value, Xtandi, and can throw in something with some late-stage star dust, talazoparib, it's quite possible to get several majors in a bidding war.
I moderated a panel discussion at BioPharm America yesterday, and Christiana Bardon, who's running the MPM Oncology Impact Fund, noted that it's a simple matter for these companies to borrow money for deals. David Sabow from Silicon Valley Bank and RBC analyst Simos Simeonidis were quick to agree that the M&A sector in biopharma will continue to surge along, with pharma looking for new products to feed into pipelines and portfolios.
The question is, do premiums continue to go up if there's a paucity of the right kind of attractive biotechs to acquire, wiping out any discounts that could be rung out of deflated shares? The answer seems obvious, at least for the immediate future.
---
The best place to read
Endpoints News

? In your inbox.

Comprehensive daily news report for those who discover, develop, and market drugs. Join 44,800+ biopharma pros who read Endpoints News by email every day.

Free Subscription
---
---
---