Gear­ing up new part­ner­ships, Boehringer gets an op­tion to buy a new play­er in on­colyt­ic virus­es in $230M deal
Boehringer In­gel­heim is ac­tive­ly join­ing the hunt for the next big on­colyt­ic virus pro­gram in the hot and hap­pen­ing can­cer field.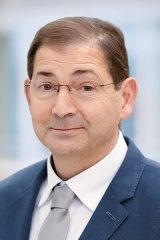 Dr. Michel Pairet, Mem­ber of the Board of Man­ag­ing Di­rec­tors
Af­ter back­ing a small start­up round for Vi­raTher­a­peu­tics a lit­tle more than a year ago, the phar­ma com­pa­ny has come back with a $230 mil­lion pack­age deal to part­ner on their work — grab­bing an op­tion in the process to buy the com­pa­ny. And the phar­ma gi­ant says the part­ner­ship is a sign of more deals to come as it gears up new pacts.
The com­pa­nies didn't spell out the terms, but dis­cov­ery-stage col­lab­o­ra­tions like this are usu­al­ly heav­i­ly back end­ed.
The Aus­tri­an biotech is fo­cused on VSV-GP, a chimeric virus de­rived from the Vesic­u­lar Stom­ati­tis Virus which has been stud­ied in the lab by Dorothee von Laer at the Med­ical Uni­ver­si­ty of Inns­bruck.
Vi­raTher­a­peu­tics has been in­volved in pre­clin­i­cal test­ing up to now, con­cen­trat­ing on mouse stud­ies to track this drug's abil­i­ty to be used sys­tem­i­cal­ly in re­peat ap­pli­ca­tions. Boehringer clear­ly must have been im­pressed by the lab work so far, though ac­tu­al clin­i­cal tri­als won't get un­der­way un­til next year.
Am­gen was the first to make it to the mar­ket with a pi­o­neer­ing on­colyt­ic virus called Im­ly­g­ic (T-Vec), which it bagged in a bil­lion-dol­lar deal to ac­quire BioVex. That drug has had a slow launch since its ap­proval, though, and a grow­ing line­up of biotech com­pa­nies have set out to beat it.
Im­ly­g­ic is in­ject­ed di­rect­ly in­to tu­mors. Like PsiOxus, Vi­raTher­a­peu­tics be­lieves that an on­colyt­ic virus that is de­liv­ered sys­tem­i­cal­ly can have a much bet­ter shot at get­ting in­to can­cer cells, where they can mul­ti­ple and then de­stroy their tar­get. Von Laer al­so says their drug can spur an im­mune sys­tem at­tack on can­cer, and the com­pa­ny is look­ing at at­tach­ing ther­a­peu­tic genes and anti­gens that can dri­ve a bet­ter out­come.
In this fren­zied deal-mak­ing en­vi­ron­ment, next-gen on­colyt­ic virus­es have proved a hot com­mod­i­ty, dri­ving a va­ri­ety of star­tups. Philip Ast­ley-Sparke, who helmed BioVex be­fore Am­gen bought it up for T-Vec, co-found­ed Replimune, an­oth­er next-gen on­colyt­ic virus play­er. Mitchell Fin­er, the for­mer CSO at blue­bird bio, took the helm at the up­start On­corus, which just raised a $57 mil­lion ven­ture round and is us­ing a her­pes sim­plex virus for their work on glioblas­toma. And Duke Uni­ver­si­ty's Dr. Matthias Gromeier has ge­net­i­cal­ly en­gi­neered his virus to keep it fo­cused on can­cer, and away from healthy tis­sues. Mean­while Cana­da's On­colyt­ics Biotech and the Pink Army Co­op­er­a­tive—a very un­usu­al, open source col­lec­tive com­mand­ed by Am­gen vet An­drew Hes­sel—are al­so in play.
Dr. Michel Pairet, a mem­ber of Boehringer In­gel­heim's Board of Man­ag­ing Di­rec­tors, had this to say:
"On­colyt­ic virus­es are among the most promis­ing new ther­a­py ap­proach­es in can­cer re­search and the tech­nol­o­gy de­vel­oped by Vi­raTher­a­peu­tics may of­fer sig­nif­i­cant ad­van­tages com­pared to oth­ers cur­rent­ly un­der de­vel­op­ment. The new col­lab­o­ra­tion is an ex­am­ple of Boehringer In­gel­heim's in­creas­ing fo­cus on part­ner­ing and fur­ther com­ple­ments the com­pa­ny's grow­ing im­mune-on­col­o­gy pipeline that in­cludes among oth­ers, a ther­a­peu­tic can­cer vac­cine and next gen­er­a­tion check­point in­hibitors."