Image: John Evans. BEAM
Last May, when Beam Therapeutics had its coming out party, complete with $87 million in investment backing, a solid core of 15 staffers and a dream team of scientific co-founders, CEO John Evans was sure they were set for several years of R&D work.
But that's not the way it played out. 
At a time when the money spigot is wide open for the right biotech plans and teams, Beam is announcing that it went back to the venture well to flesh out its syndicate and added a whopping $135 million monster round to the bank. That core team has swelled to 70, with more hires on the way as the executive team prepares to host a staff of 130. And Evans says they are well on their way to creating a pipeline of programs beginning with the 10 preclinical efforts they have underway in newly opened labs.
"We decided to go broad," says Evans. "There are likely a lot of places for this being the best option for patients."
The big idea at Beam is that instead of using a special gene editing cutting tool to do permanent surgical alterations of DNA, they're pencilling in their edits with base editing enzymes that modify nucleobases  — correcting or modifying disease causing genes or writing in code for genetic variations that can prevent disease. It's one of a group of next-wave gene editing outfits that have come along in the wake of pioneers like Editas, Intellia or CRISPR Therapeutics. 
The Broad Institute's Feng Zhang, who has backed Editas and other upstarts in the field, joined with Broad colleague David Liu and Harvard Med's Keith Joung to provide the scientific inspiration.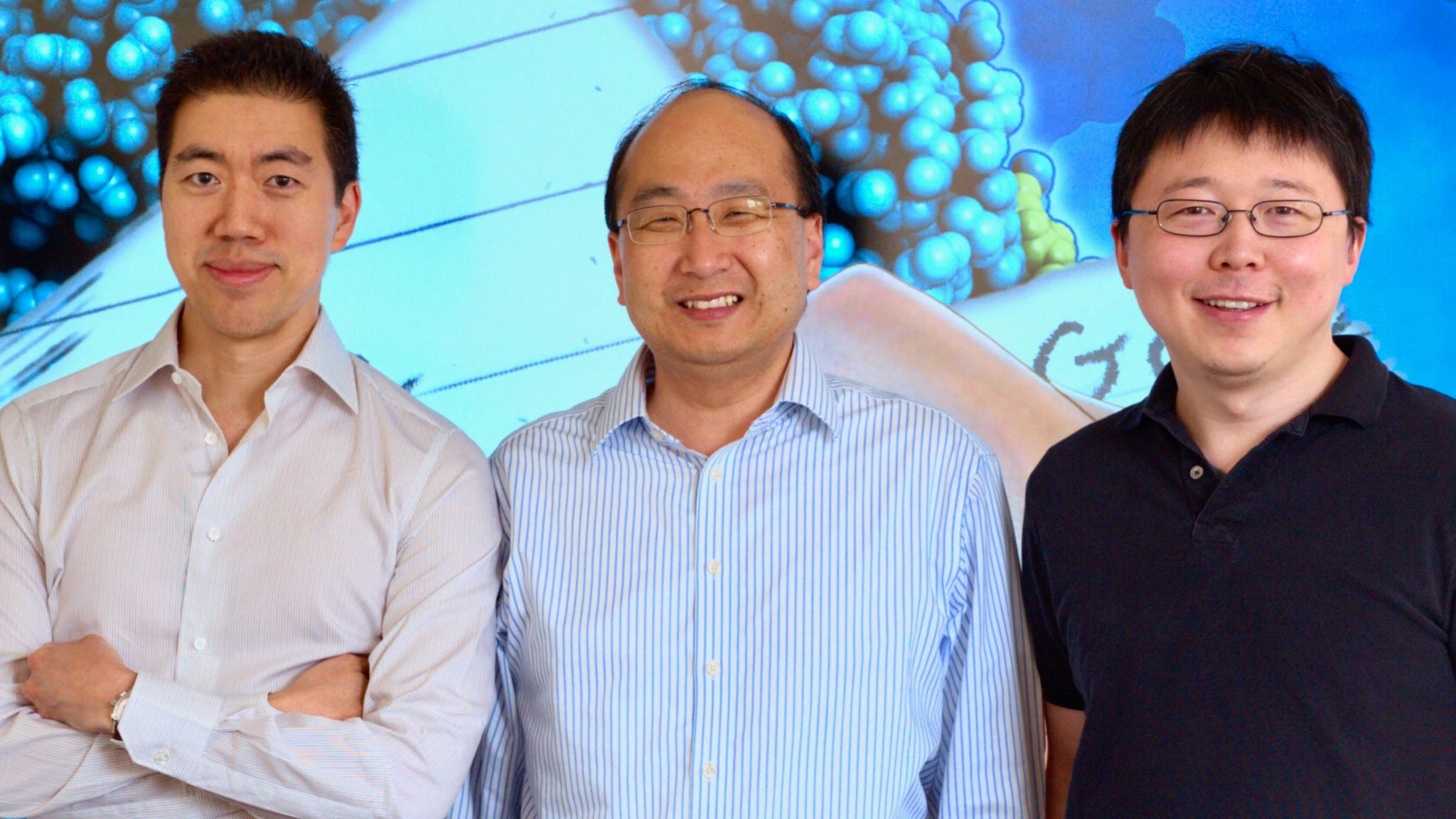 Image: David Liu, Keith Joung, Feng Zhang. BEAM
At this point in Beam's existence, going broad means sticking with generalities and avoiding specifics about the work they're doing in the lab. That's standard operating procedure in startup land. The details can start to come later as they begin to publish their work and line up INDs for the first clinical programs now in the works.
The plan now is to transition from their platform concept into a pipeline story, says Evans. And they're adding AAV vectors, lipid nanoparticles and other kinds of tech that can get their edits wherever they need to go in the body.
"We're not going to throw this over the wall to a pharma company," adds the CEO, adding that the team at Beam intends to build it all in house from end-to-end — much like they did at Agios, where he was SVP of corporate development.
Going all the way means investing heavily in manufacturing early on and laying the foundation for an eventual shift to commercialization. And that means planning for the long haul, with lots of capital required to make it a reality.
That takes a syndicate of backers ready for the long haul as well. And here's who's backing the B round: new investors Redmile Group, LLC; Cormorant Asset Management; GV; Altitude Life Science Ventures, and "additional undisclosed investors." Then there's also new money from existing investors: F-Prime Capital, ARCH Venture Partners, Eight Roads Ventures, and Omega Funds.
---
The best place to read
Endpoints News

? In your inbox.

Comprehensive daily news report for those who discover, develop, and market drugs. Join 47,900+ biopharma pros who read Endpoints News by email every day.

Free Subscription
---
---
---