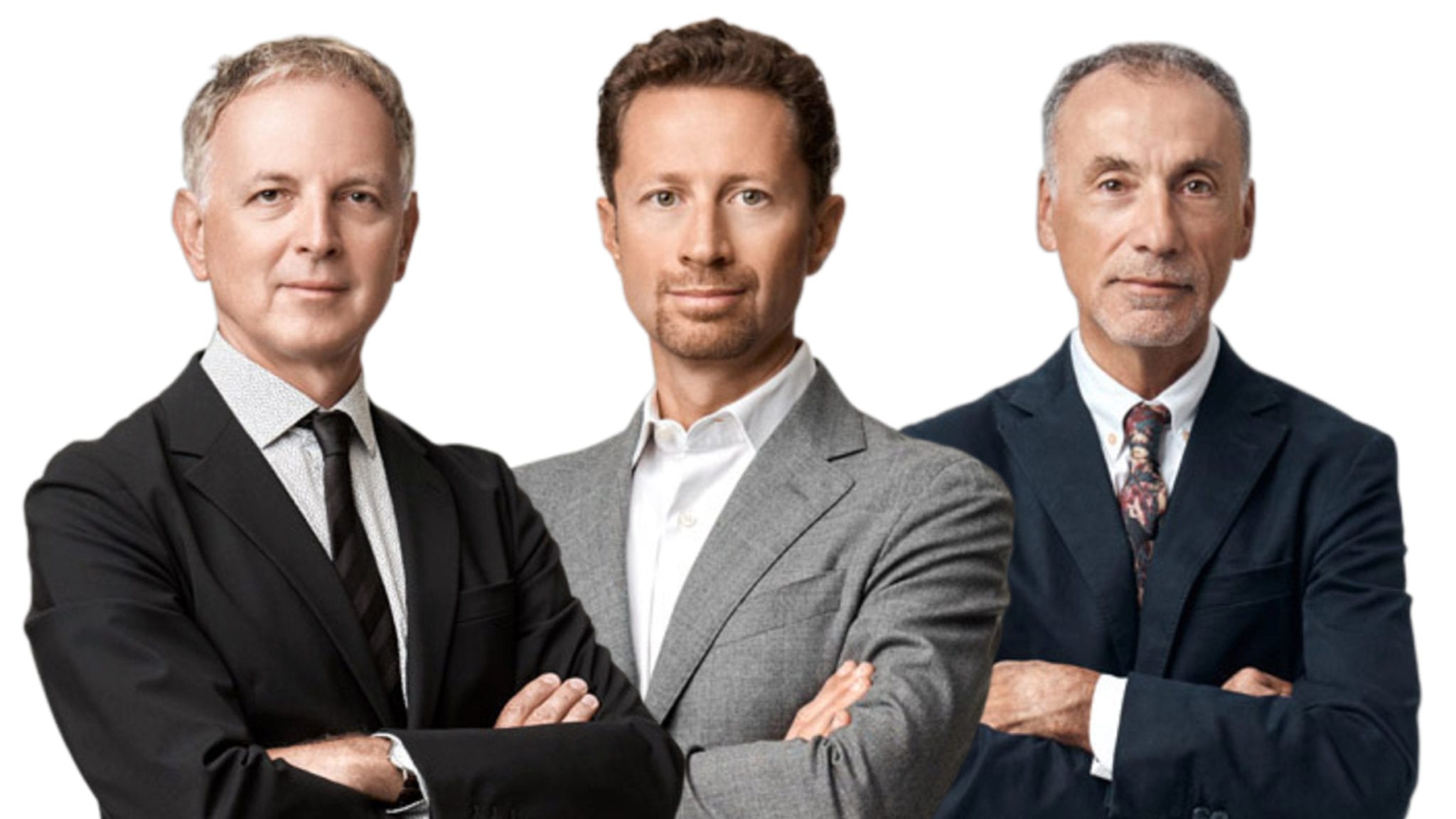 From L-R: Luigi Naldini, Genenta CEO Pierluigi Paracchi and Genenta CMO Carlo Russo
Genen­ta is at­tempt­ing a rare biotech leap from Mi­lan to Wall Street
Pier­lui­gi Parac­chi, CEO and one of the trio of lead­ers run­ning gene ther­a­py biotech Genen­ta, has fre­quent­ly lament­ed the ab­sence of Ital­ian biotechs on Nas­daq. And now, he's tak­ing his Mi­lan-based com­pa­ny and jump­ing out in front of what he hopes some­day will be a pack of biotechs go­ing pub­lic in the US.
The Ital­ian biotech has been busy re­cent­ly with Phase I/II tri­als on their in­ves­ti­ga­tion­al glioblas­toma can­di­date Tem­fer­on — and it's look­ing to ex­pand with an IPO. The six-year-old small biotech, found­ed out of the renowned San Raf­faele Hos­pi­tal in Mi­lan — led by a biotech ex­ec­u­tive, a not­ed aca­d­e­m­ic and a physi­cian — filed a Form F-1 with the SEC on Tues­day, pen­cil­ing in a planned raise of $35 mil­lion, though that's been known to change in the lead­up to the flip on­to Wall Street.
Genen­ta has not raised a ton of mon­ey com­pared to oth­er biotechs — un­like some firms that will raise hun­dreds of mil­lions of dol­lars over mul­ti­ple rounds, Genen­ta raised just un­der $38.6 mil­lion in three rounds.
And ac­cord­ing to the F-1, they plan to keep that trend go­ing.
So what is the mon­ey go­ing to? The F-1 said $25.3 mil­lion to fin­ish up the cur­rent Tem­fer­on study, start up a Phase II study, pay for man­u­fac­tur­ing ac­tiv­i­ties, and more.
Any­thing else they raise will go to­wards the typ­i­cal: on­go­ing busi­ness de­vel­op­ment ac­tiv­i­ties, op­er­at­ing costs and "oth­er gen­er­al cor­po­rate pur­pos­es."
To date, the com­pa­ny has been pri­vate­ly held — so who owns the com­pa­ny and who are its in­vestors?
The hos­pi­tal backer and two of the founders own a no­table chunk of the shares. CEO Parac­chi owns more than 2.2 mil­lion shares — a nice chunk at 15% of the com­pa­ny's 15 mil­lion shares.
Sci­en­tif­ic co-founder Lui­gi Nal­di­ni — a sci­en­tist with an im­pres­sive back­ground in gene ther­a­py and the for­mer pres­i­dent of the Eu­ro­pean So­ci­ety of Gene and Cell Ther­a­py — has close to 1.4 mil­lion shares, and the Mi­lan hos­pi­tal has about 1.9 mil­lion shares — lever­ag­ing close to 36% con­trol of Genen­ta be­tween the three.
And Spafid S.p.A — an Ital­ian bank in Mi­lan — is the largest stock­hold­er with 3.4 mil­lion shares or 22%.
When Genen­ta was first found­ed in 2014, $11.4 mil­lion in shares were is­sued and pur­chased by "ac­cred­it­ed in­vestors," ac­cord­ing to the F-1. These in­vestors in­clud­ed af­fil­i­ates of the Fer­rari fam­i­ly — and an un­named ear­ly in­vestor in Ad­vanced Ac­cel­er­a­tor Ap­pli­ca­tions, the biotech that was ac­quired by No­var­tis for just un­der $4 bil­lion in 2017.
On June 27, 2017, just over $8 mil­lion was ap­proved by share­hold­ers — and pur­chased by Ital­ian, British, and Swiss pri­vate in­vestors, fam­i­ly of­fices, and an­gel in­vestors, in­clud­ing the hold­ing com­pa­ny for the for­mer own­ers of Rot­tapharm, the Rovati fam­i­ly. Oth­er in­vestors in­clud­ed oth­er ear­ly in­vestors in AAAP and Giuseppe Vi­ta, for­mer chair­man of Scher­ing-Plough, which merged with Mer­ck back in '09.
Af­ter this round of shares, then-head of No­var­tis in Eu­rope Gui­do Gui­di joined Genen­ta's board as one of its di­rec­tors.
Fol­low­ing in 2019, an­oth­er close to $19 mil­lion was fur­ther ap­proved — with Chi­nese pri­vate eq­ui­ty firm Qianzhan In­vest­ment Man­age­ment tak­ing the lead. And fi­nal­ly, an­oth­er $1.7 mil­lion was is­sued last year.
In oth­er IPO news, Vaxxin­i­ty priced this morn­ing at on­ly $13 a share, un­der the ex­pect­ed $14-$16 a share. The Dal­las biotech is al­so re­leas­ing just 6 mil­lion shares for a to­tal of $78 mil­lion it's hop­ing to raise — more than 10% un­der the ex­pect­ed 6.7 mil­lion shares.
This pric­ing re­flects how the mar­ket is get­ting more dif­fi­cult — and un­for­giv­ing — for biotechs now look­ing to make the leap from pri­vate­ly-held to pub­lic.