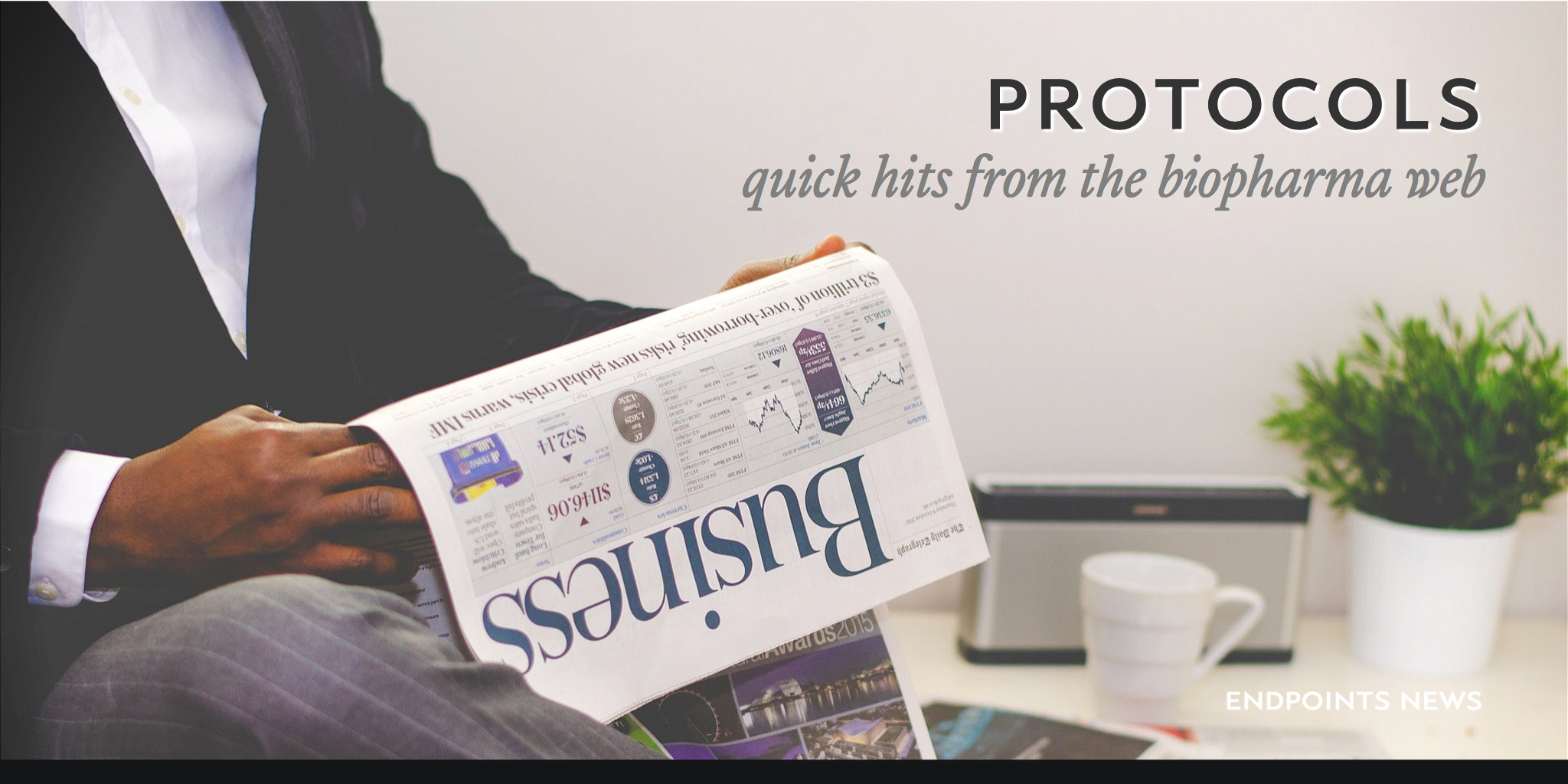 Genen­tech inks $359M deal with Kine­ta; Celldex bat­tered af­ter ADC flops in PhI­Ib
→ Genen­tech is com­mit­ting up to $359 mil­lion to pur­sue a nov­el tar­get for chron­ic neu­ro­path­ic pain. Their part­ner in this ex­clu­sive op­tion and li­cense agree­ment is Seat­tle-based Kine­ta Chron­ic Pain, which will be de­vel­op­ing α9/α10 nico­tinic acetyl­choline re­cep­tor (nAChR) an­tag­o­nists for the col­lab­o­ra­tion un­til Genen­tech steps in to grab de­vel­op­ment and com­mer­cial­iza­tion rights. Kine­ta be­lieves that the tar­get may lead to a "safer ther­a­py that is non-ad­dic­tive and non-to­ler­iz­ing." The break­down be­tween up­front and mile­stones was not dis­closed, though we do know that Kine­ta is in for high sin­gle to low dou­ble-dig­it roy­al­ties if the as­sets ever make it to mar­ket.
→ A painful re­struc­tur­ing might be in the works at Celldex $CLDX, where ex­ecs have de­cid­ed to scrap an an­ti­body-drug con­ju­gate pro­gram fol­low­ing a dis­ap­point­ing Phase IIb read­out. The Hamp­ton, NJ biotech re­port­ed that its drug, glem­bat­u­mum­ab ve­dotin, failed to do any bet­ter in pro­gres­sion-free sur­vival among pa­tients with metasta­t­ic triple-neg­a­tive breast can­cers who over­ex­press gly­co­pro­tein NMB when com­pared to Xelo­da, a chemo drug. (And that was a con­clu­sion based on a p-val­ue of 0.76.) None of the sec­ondary end­points — over­all re­sponse rate, du­ra­tion of re­sponse and over­all sur­vival — were met. This does not bode well for the com­pa­ny, which saw a Phase III can­cer vac­cine tri­al halt­ed a cou­ple of years back due to its ex­treme in­ef­fec­tive­ness. Celldex fell even deep­er in­to pen­ny stock ter­ri­to­ry, plung­ing 52% in pre-mar­ket trad­ing.
→ Look­ing to pi­o­neer PD-1/L1 check­points in Chi­na, Bris­tol-My­ers Squibb $BMY has out­lined the pos­i­tive da­ta it ob­tained in a late-stage study of Op­di­vo among a large group of pri­mar­i­ly Chi­nese lung can­cer pa­tients. In a study as a sec­ond-line ther­a­py, Op­di­vo hit on the pri­ma­ry end­point of over­all sur­vival, with a haz­ard ra­tio of 0.68 in Check­Mate-078. The over­all re­sponse rate was 17% for Op­di­vo ver­sus 4% in the chemo arm. And the risk of death was re­duced by 32%. Lung can­cer is a ma­jor mar­ket in Chi­na, and Bris­tol-My­ers is look­ing to get out ahead of the grow­ing num­ber of ri­vals in­side Chi­na with a PD-1/L1 of their own. It's not mov­ing fast, though. Chi­na's drug agency ac­cept­ed Bris­tol-My­ers' ap­pli­ca­tion in No­vem­ber, 2017 — 17 months ago. Reg­u­la­tors there, though, have been promis­ing to speed things up.
→ Sofinno­va Part­ners is putting its crossover fund dol­lars to work. For the first in­vest­ment in the fund's port­fo­lio, the ven­ture cap­i­tal firm led a $33.5 mil­lion Se­ries C for France's Lim­Flow, which is mak­ing an en­dovas­cu­lar treat­ment for crit­i­cal limb is­chemia. Ki­nam Hong, a part­ner of the Sofinno­va Crossover I Fund, will join the board of di­rec­tors.
→ De­spite de­ba­cles with its Dengue and Clostrid­i­um dif­fi­cile vac­cines, Sanofi be­lieves vac­cines is the way to go, and it is putting mon­ey be­hind that res­o­lu­tion. The French drug­mak­er is spend­ing $431 mil­lion (€350 mil­lion) on a new man­u­fac­tur­ing plant in Toron­to, with plans to dou­ble its vac­cine out­put by 2023. The 150,000-square-foot fa­cil­i­ty will be built on the cam­pus of Sanofi's head­quar­ters in Cana­da, a cen­tral re­gion for its vac­cines busi­ness.