Gen­script re­bounds on HKEX with staunch de­fense of Leg­end Biotech's CAR-T da­ta in­tegri­ty
Af­ter a scathing short re­port trig­gered a land­slide for Gen­script's stock and forced it to halt trad­ing, the com­pa­ny has man­aged to sal­vage some of that loss with a re­sponse is­sued Fri­day morn­ing.
In the state­ment, Gen­script kicked back against the al­le­ga­tions lev­eled against Nan­jing Leg­end Biotech, its sub­sidiary de­vel­op­ing a J&J-part­nered CAR-T ther­a­py. Their Hong Kong-list­ed shares has risen al­most 16% from the low­est point Thurs­day.
"The com­pa­ny de­nies all al­le­ga­tions against the com­pa­ny in the re­port," the state­ment reads. "The claims in the re­port are mis­lead­ing, bi­ased, se­lec­tive, in­ac­cu­rate and in­com­plete, con­tain­ing base­less al­le­ga­tions and ir­re­spon­si­ble con­jec­ture. The com­pa­ny does not have any in­for­ma­tion on Flam­ing Re­search, and has no record of Flam­ing Re­search con­tact­ing our man­age­ment."
Top among the at­tacks: Leg­end ma­nip­u­lat­ed the da­ta that took AS­CO by sur­prise in 2017.
Flam­ing Re­search, the ob­scure firm cred­it­ed for the short re­port, wrote that Leg­end's CAR-T da­ta came from three "well rec­og­nized hema­tol­ogy hos­pi­tals" in Shang­hai and Jiang­su, and one mediocre hos­pi­tal in Xi'an. But it was the re­searchers in Xi'an who of­fered the most com­pelling da­ta, where­as the da­ta from the oth­er sites didn't hold up.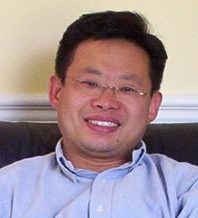 Xi­ao­hu (Frank) Fan
That's not se­lec­tive dis­clo­sure at all, Gen­script says; the rea­son why they didn't present any­thing from Shang­hai and Jiang­su at AS­CO was that the tri­als start­ed af­ter con­fer­ence da­ta were due. And when they did pub­lish the da­ta at ASH lat­er that year, the over­all re­sponse rate was still 100%.
Of the 11 cas­es of re­frac­to­ry mul­ti­ple myelo­ma re­port­ed, they point out, eight achieved strin­gent com­plete re­sponse (73%), two achieved very good par­tial re­sponse, and one achieved par­tial re­sponse.
Flam­ing Re­search al­so got some ba­sic facts wrong in their re­port, Gen­script says. For in­stance, it claimed Leg­end's CAR-T em­ploys the CD28 cos­tim­u­la­to­ry do­main when it in fact us­es 4-1BB.
The com­pa­ny al­so stands by its R&D team — led by Leg­end founder and CSO Xi­ao­hu Fan — its IP prospects and the way it han­dled its death re­port­ing, point­ing to US and Chi­na IND clear­ances as ev­i­dence of its clean reg­u­la­to­ry record.
The in­ci­dent, wide­ly re­port­ed by Chi­nese me­dia, al­so rais­es ques­tions about the volatil­i­ty of the HKEX at a crit­i­cal time as non-rev­enue biotechs start go­ing pub­lic on the ex­change and in­vestors have their eyes opened about the ups and downs of drug de­vel­op­ment.