Gi­ant Pfiz­er look­ing to shed close to 2,000 jobs as it crafts a 'sim­pler' man­age­ment struc­ture
Pfiz­er is slim­ming down the head count ahead of Al­bert Bourla's of­fi­cial coro­na­tion as the new CEO at the start of 2019.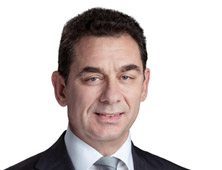 Al­bert Bourla
The New York-based phar­ma gi­ant has set its sights on some in­creased ef­fi­cien­cy in the way it's struc­tured, and that will re­quire them to shed about 2% of its 90,000-some work force, or rough­ly close to 2,000 jobs. And they're of­fer­ing buy­outs to en­cour­age some staffers to leave vol­un­tar­i­ly.
Pfiz­er's stock $PFE was up 1.5% on Wednes­day.
Ac­cord­ing to CN­BC, which got a look at the in­ter­nal docs cir­cu­lat­ed among staffers, the com­pa­ny plans to lay off staffers if nec­es­sary to achieve its goals, which in­volves a sim­pler man­age­ment struc­ture aimed at more nim­ble move­ment of the busi­ness — now be­ing di­vid­ed in­to three sep­a­rate or­ga­ni­za­tions.
"As we sim­pli­fy the or­ga­ni­za­tion to avoid du­pli­ca­tion, cre­ate sin­gle points of ac­count­abil­i­ty and re­duce the num­ber of lay­ers with­in teams, there will be an im­pact to some man­age­r­i­al roles and re­spon­si­bil­i­ties across the or­ga­ni­za­tion," the com­pa­ny re­port­ed­ly told the rank and file. Cuts will fo­cus on non-union work­ers.
Pfiz­er's spokesper­son is stick­ing with the up­side in their state­ment about the cuts.
As we pre­pare for growth, we're cre­at­ing a sim­pler, more ef­fi­cient struc­ture, which will af­fect some man­age­r­i­al roles and re­spon­si­bil­i­ties. We're of­fer­ing en­hance­ments to cer­tain ben­e­fits to lessen this ef­fect. In to­tal, we ex­pect on­ly a cou­ple per­cent­age points of our glob­al col­leagues to re­ceive these ben­e­fits.

We are cre­at­ing a sim­pler, more ef­fi­cient struc­ture so that we can achieve our full po­ten­tial for growth. This is about cre­at­ing a sim­pler, more ef­fi­cient struc­ture and not achiev­ing cost sav­ings.
These kinds of re­or­ga­ni­za­tions are stan­dard fare in Big Phar­ma. Glax­o­SmithK­line is still un­der­go­ing a re­struc­tur­ing, look­ing to shift more mon­ey in­to R&D, where Hal Bar­ron has been do­ing his own re­vamp­ing. Eli Lil­ly made some moves on Dave Ricks' re­cent el­e­va­tion to the CEO's job. No­var­tis con­tin­ues a re­lent­less search for ef­fi­cien­cies in true Swiss style, while even Roche took the axe to Genen­tech re­cent­ly. The big Take­da/Shire merg­er is dis­rupt­ing thou­sands of jobs, still to be de­cid­ed. And ru­mors about new changes to come at Bay­er and oth­er com­pa­nies con­tin­ue to cir­cu­late.
Pfiz­er cer­tain­ly doesn't mind us­ing the axe when nec­es­sary. The com­pa­ny re­cent­ly chopped out its neu­ro­sciences group, cut­ting 300 staffers in R&D. And ex­ecs haven't been re­luc­tant to warn that they'll con­tin­ue to cut when and if they de­cide it's nec­es­sary.
Work­ers tak­ing sev­er­ance deals get a "base salary of 12 weeks, plus three weeks of salary for every year of work, up to 104 weeks," CN­BC re­ports. They can keep ben­e­fits for up to three years and staffers over 55 with 10 years at the com­pa­ny qual­i­fy for ear­ly re­tire­ment.