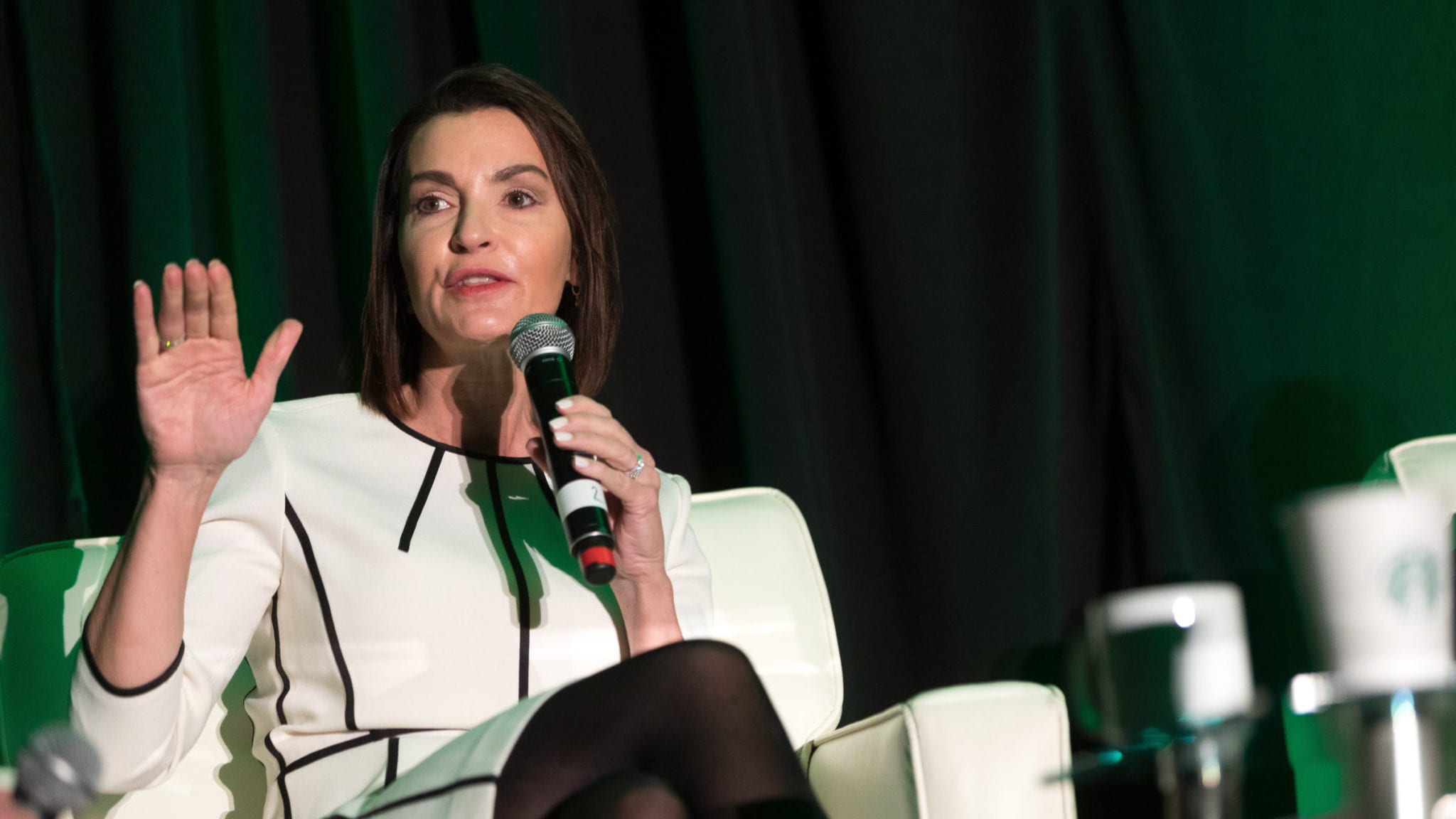 Christi Shaw, Kite CEO (Jeff Rumans)
Gilead and Kite nab an­oth­er ap­proval for Tecar­tus, as lead­ing CAR-T port­fo­lio con­tin­ues to grow
Gilead and Kite took an­oth­er step Fri­day to­ward ex­pand­ing their fran­chise of CAR-T drugs, nab­bing a new ap­proval for Tecar­tus.
The FDA OK'ed the ther­a­py for adults with re­lapsed or re­frac­to­ry B-cell pre­cur­sor acute lym­phoblas­tic leukemia, Gilead an­nounced Fri­day. It's the drug's sec­ond in­di­ca­tion af­ter Gilead ini­tial­ly launched the CAR-T in 2020 for adults with re­lapsed or re­frac­to­ry man­tle cell lym­phoma.
A Kite spokesper­son con­firmed to End­points News that there will be no change in pric­ing for the new in­di­ca­tion. When Tecar­tus was first ap­proved, Gilead priced the drug at $373,000.
As Gilead con­tin­ues build­ing out the on­ly com­mer­cial CAR-T port­fo­lio with Tecar­tus and Yescar­ta, it will be seek­ing to en­sure Tecar­tus has as smooth a roll­out as pos­si­ble in the new in­di­ca­tion, Kite CEO Christi Shaw told End­points in an in­ter­view. The drug is al­ready in use at over 100 treat­ment cen­ters around the coun­try for MCL, but up­take has been slow.
"Look­ing at the first launch in B cell lym­phoma, on­ly 2 out of 10 pa­tients re­ceive the drug, while 4 of 10 are re­ferred," Shaw said. "Now we're see­ing with fu­ture launch­es … there's an in­crease in re­fer­rals to the treat­ment cen­ters, so the share of the mar­ket is much high­er, much quick­er."
Shaw added that she hopes sim­i­lar pit­falls will be avoid­ed as Tecar­tus and CAR-Ts be­come more com­mon. In ad­di­tion to the ed­u­ca­tion­al and out­reach pro­grams spon­sored by Gilead, clin­i­cians are be­com­ing more adept at rec­og­niz­ing signs of ad­verse events, be­ing able to treat them quick­er than be­fore.
CAR-Ts are in­her­ent­ly risky treat­ments, com­ing with a class-wide black box warn­ing for cy­tokine re­lease syn­drome and neu­ro­log­i­cal events. Fri­day's new in­di­ca­tion re­ceived one as well. In Gilead's Tecar­tus tri­al for ALL, re­searchers saw two treat­ment-re­lat­ed deaths: one brain her­ni­a­tion and one case of sep­tic shock. Shaw said she ex­pects the new in­di­ca­tion to come with the same warn­ing.
The FDA, how­ev­er, is clear­ly com­fort­able en­dors­ing the ben­e­fits that out­weigh those risks. Fri­day's ap­proval came from a study Gilead pre­sent­ed at #AS­CO21 over the sum­mer. Of 54 evalu­able pa­tients who re­ceived Tecar­tus in ALL, 65% saw their signs of can­cer dis­ap­pear. Ad­di­tion­al­ly, 31% saw on­go­ing re­spons­es at the da­ta cut­off, Kite said at the time, and 97% had deep mol­e­c­u­lar re­mis­sion with un­de­tectable min­i­mal resid­ual dis­ease.
Bi­jal Shah, a tri­al in­ves­ti­ga­tor at the Mof­fitt Can­cer Cen­ter in Tam­pa, FL, ac­knowl­edged the risks but said the re­lapsed and re­frac­to­ry pa­tient pop­u­la­tions don't have much else to try.
"What is the al­ter­na­tive here?" Shah said. "What else are we go­ing to do for them? It's not like there's this oth­er tool that we're go­ing to pull out of our tool­box … we don't have any oth­er tools. We don't have any­thing that we can suc­cess­ful­ly say, 'A-ha! This is our an­swer.' We're still stuck."
Gilead re­mains a step ahead of oth­er big-name CAR-T play­ers, though Bris­tol My­ers Squibb is try­ing to close in. The Big Phar­ma net­ted ap­proval for liso-cel ear­li­er this year, with reg­u­la­tors OK'ing treat­ment for re­lapsed or re­frac­to­ry large B-cell lym­phoma.