Gilead scores a TKO with PhI­II fil­go­tinib da­ta, but still faces some big bouts — and doubts — ahead
Gilead's new Phase III rheuma­toid arthri­tis da­ta on its JAK1 in­hibitor fil­go­tinib have sparked a huz­zah from the cheer­ing sec­tion of Wall Street an­a­lysts, but there re­main plen­ty of unan­swered ques­tions about the fu­ture of this ther­a­py.
Thurs­day night the big biotech post­ed pos­i­tive da­ta from 2 Phase III stud­ies out­lin­ing a new batch of pos­i­tive ef­fi­ca­cy and safe­ty scores need­ed for an ap­proval of this drug — its oth­er and now even more close­ly watched big late-stage drug in the wake of their selon­sert­ib mis­fire in NASH. But while the drug beat out place­bo hand­i­ly, Gilead has a much high­er mark to hit in a fast-chang­ing field.
The news was a sol­id pos­i­tive for Gilead's part­ners at Gala­pa­gos $GLPG, though, which saw its stock shoot up 13% on the re­leas­es. Gilead shares were up 2.7% af­ter the bell.
At this point, the more cau­tious ob­servers be­lieve that Gilead may well have a com­pet­i­tive play­er in the field, but the back-to-back pos­i­tive Phase II­Is are no clear-the-bases home run.
A num­ber of an­a­lysts spot­light­ed the new FINCH 1 and FINCH 3 re­sults, with ACR20/50/70 re­sults that over­shad­owed the sug­ar pill re­sponse lev­els as well as a methotrex­ate arm. But their low 100 mg da­ta were al­so gen­er­al­ly in line with Ab­b­Vie's Hu­mi­ra, set to lose patent pro­tec­tion no lat­er than 2023. And the 200 mg da­ta, while out­per­form­ing Hu­mi­ra, is al­so go­ing to be heav­i­ly scru­ti­nized by reg­u­la­tors alarmed by the se­ri­ous safe­ty is­sues posed by high­er dos­es of the JAK in­hibitors on the mar­ket.
The FDA and EMA both is­sued stark warn­ings re­cent­ly about the dan­gers posed by 10 mg Xel­janz, and Eli Lil­ly was de­nied an ap­proval on the high dose of Olu­mi­ant — af­ter the drug was ini­tial­ly re­ject­ed out­right. And while Gilead re­searchers helped ad­dress the most im­me­di­ate con­cerns about safe­ty with new late-stage da­ta to sup­port the drug's safe­ty pro­file, the ju­ry will like­ly re­main out on that score.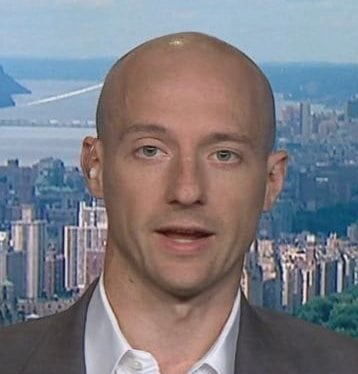 Bri­an Sko­r­ney
Baird's Bri­an Sko­r­ney was gen­er­al­ly pleased, but not quite ready to call this an out­right win.
Da­ta re­leased from the FINCH 1 and 3 tri­als of fil­go­tinib in RA show that the med­ica­tion has sim­i­lar ef­fi­ca­cy to Ab­b­Vie's up­atic­i­tinib. Clean safe­ty should help al­le­vi­ate in­vestor con­cerns sur­round­ing pri­or hic­cups seen with oth­er JAK in­hibitors, as fil­go­tinib was shown to have nu­mer­i­cal­ly low­er rates of CV events as com­pared to place­bo.
Sko­r­ney is re­serv­ing fi­nal judg­ment un­til he sees da­ta from the MAN­TA study. But the com­pa­ny re­mains in the game for com­pet­ing with Ab­b­Vie, which has dom­i­nat­ed the space for years with its $20 bil­lion drug and next-gen ap­proach.
Jef­feries' Michael Yee was en­thu­si­as­tic, but al­so con­ced­ed:
We ac­knowl­edge that a key over­hang is the on­go­ing male tox­i­c­i­ty study (MAN­TA), but it could have in­ter­im da­ta in Q3:19 and lead to a faster-than-ex­pect­ed fil­ing short­ly there­after (e.g. file on in­ter­im rather than tri­al com­ple­tion in 2020). Fil­ings are pend­ing post dis­cus­sions with FDA.

Tyler Van Bu­ren
Piper Jaf­fray's Tyler Van Bu­ren wasn't call­ing this a best-in-class drug, but he still sees block­buster po­ten­tial in a huge mar­ket.
The mag­ni­tude of the var­i­ous ACR20 treat­ment ben­e­fits ob­served in FINCH1 and FINCH3…are nu­mer­i­cal­ly low­er than tri­al re­sults from com­pet­i­tive agents. How­ev­er, we note that these cross-tri­al com­par­isons are fraught with er­ror and like­ly af­fect­ed by the rel­a­tive high place­bo/MTX rates in the FINCH tri­als. With re­spect to safe­ty, the in­ci­dence of SAEs – in­clud­ing DVTs – ap­pears rel­a­tive­ly low when com­par­ing the events/100 pa­tient years to the reg­is­tra­tional Xel­janz da­ta. All in all, fil­go­tinib ap­pears to be an ef­fec­tive, safe, and com­pet­i­tive oral JAK in­hibitor and we con­tin­ue to mod­el a launch in 2021 with sales sur­pass­ing $1.5B by 2028. Our big­ger con­cerns are (1) if a fil­go­tinib launch can re­al­ly oc­cur in 2021 (giv­en that Man­ta study com­ple­tion is re­quired and tim­ing is un­cer­tain) and (2) the com­pet­i­tive dy­nam­ics when launched as it is the fourth oral JAK to mar­ket.
Gilead still has lots of work to do on this pro­gram, and suc­cess won't come eas­i­ly.