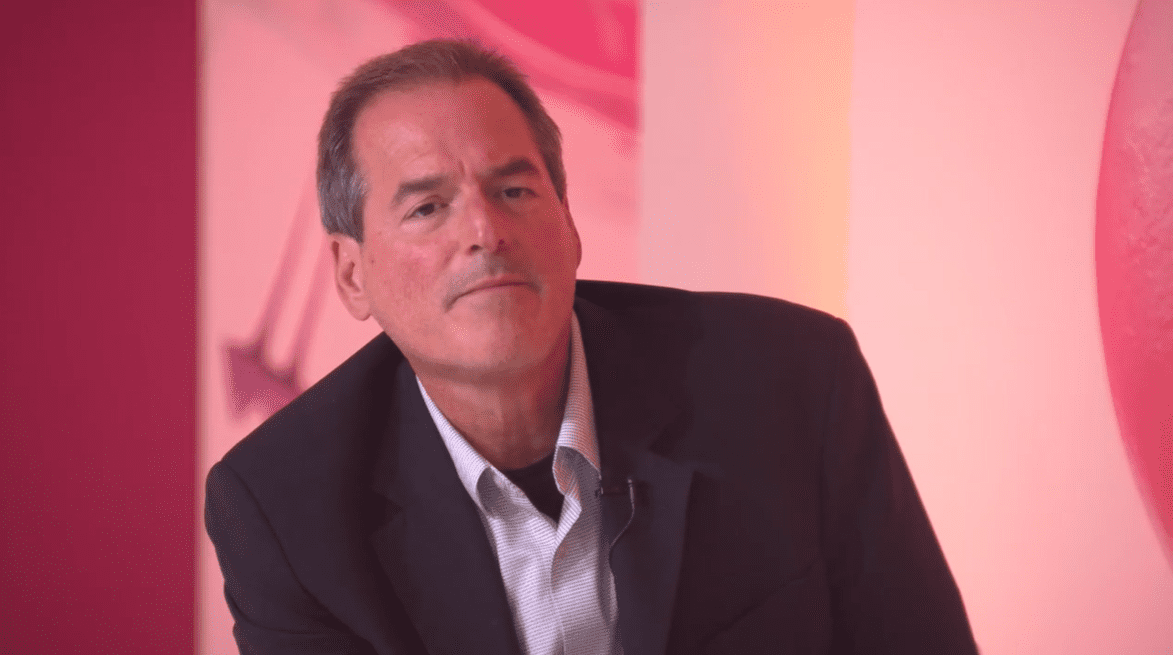 Hal Barron, GSK Investor Day
Glax­o­SmithK­line punts a key Ze­ju­la com­bo study in ovar­i­an can­cer with added set­backs on ICOS and RSV
A chink has ap­peared in the ar­mor of da­ta that Glax­o­SmithK­line R&D chief Hal Bar­ron has been build­ing for the PARP in­hibitor Ze­ju­la.
The phar­ma gi­ant's Q2 up­date on Wednes­day in­cludes the note that re­searchers have end­ed their Phase II MOON­STONE study, one of a slate of tri­als that Bar­ron has cit­ed to "help es­tab­lish Ze­ju­la as the most com­pelling PARP in­hibitor for women with ovar­i­an can­cer."
The study had been set up to test the drug plus dostar­limab — its new­ly ap­proved PD-1 play­er now sold as Jem­per­li — among women with plat­inum-re­sis­tant ovar­i­an can­cer with­out a known BR­CA mu­ta­tion. Their pre­planned analy­sis sug­gest­ed it wouldn't "meet the high bar" set out in the sin­gle-arm study track­ing the over­all re­sponse rate.
That wasn't the on­ly ef­fort to get the heave-ho to­day. Their ICOS ag­o­nist fe­ladil­imab failed the EN­TRÉE-Lung sub study 1 at the in­ter­im analy­sis. This lung can­cer flop is the third straight fail­ure for this drug in re­cent months, which has suf­fered from low ex­pec­ta­tions af­ter a key set­back at Jounce on ICOS. It failed the IN­DUCE-3 and IN­DUCE-4 tri­als for head and neck squa­mous cell car­ci­no­ma.
GSK al­so not­ed that "de­vel­op­ment of phase II RSV pae­di­atric can­di­date vac­cine (vi­ral vec­tor) dis­con­tin­ued fol­low­ing as­sess­ment that tar­get ef­fi­ca­cy pro­file was un­like­ly to be met."
Bar­ron was an en­thu­si­as­tic sup­port­er of the deal to ac­quire Tesaro and Ze­ju­la for $5.1 bil­lion in late 2018. He was bet­ting that an in­sight in­to the ge­net­ics of can­cer would make the drug a big­ger play­er than many on Wall Street gave it cred­it for. And he got dostar­limab, re­cent­ly ap­proved as the 7th PD-(L)1 to the US mar­ket, in the same deal, with some equal­ly mut­ed ex­pec­ta­tions giv­en its sched­uled late ar­rival.
Ze­ju­la sales were £98 mil­lion in the quar­ter, a ris­ing fig­ure, but one that is still con­sid­er­ably off the block­buster track that would have jazzed an­a­lysts.
Bar­ron's track record at the helm of the R&D group has come un­der in­creased scruti­ny. Ge­of­frey Porges in par­tic­u­lar has fault­ed the com­pa­ny's per­for­mance in drug de­vel­op­ment as shares re­main un­der pres­sure. And while he's struck sev­er­al high-pro­file deals over the last few months, set­backs in on­col­o­gy have con­tin­ued to raise ques­tions about the R&D group's abil­i­ty to line up new block­busters.
CEO Em­ma Walm­s­ley, mean­while, took an ag­gres­sive stance in to­day's quar­ter­ly up­date, bull­ish­ly cit­ing a re­turn to more of a busi­ness-as-usu­al stance in key health­care mar­kets that buoyed earn­ings. There was al­so $358 mil­lion in ad­ju­vant sales pinned to Covid-19. But GSK's large vac­cine group has large­ly sat out the Covid cri­sis, skip­ping any po­ten­tial wind­falls. And doubts about its long-run per­for­mance con­tin­ue to af­flict ex­pec­ta­tions as ac­tivists push for change.