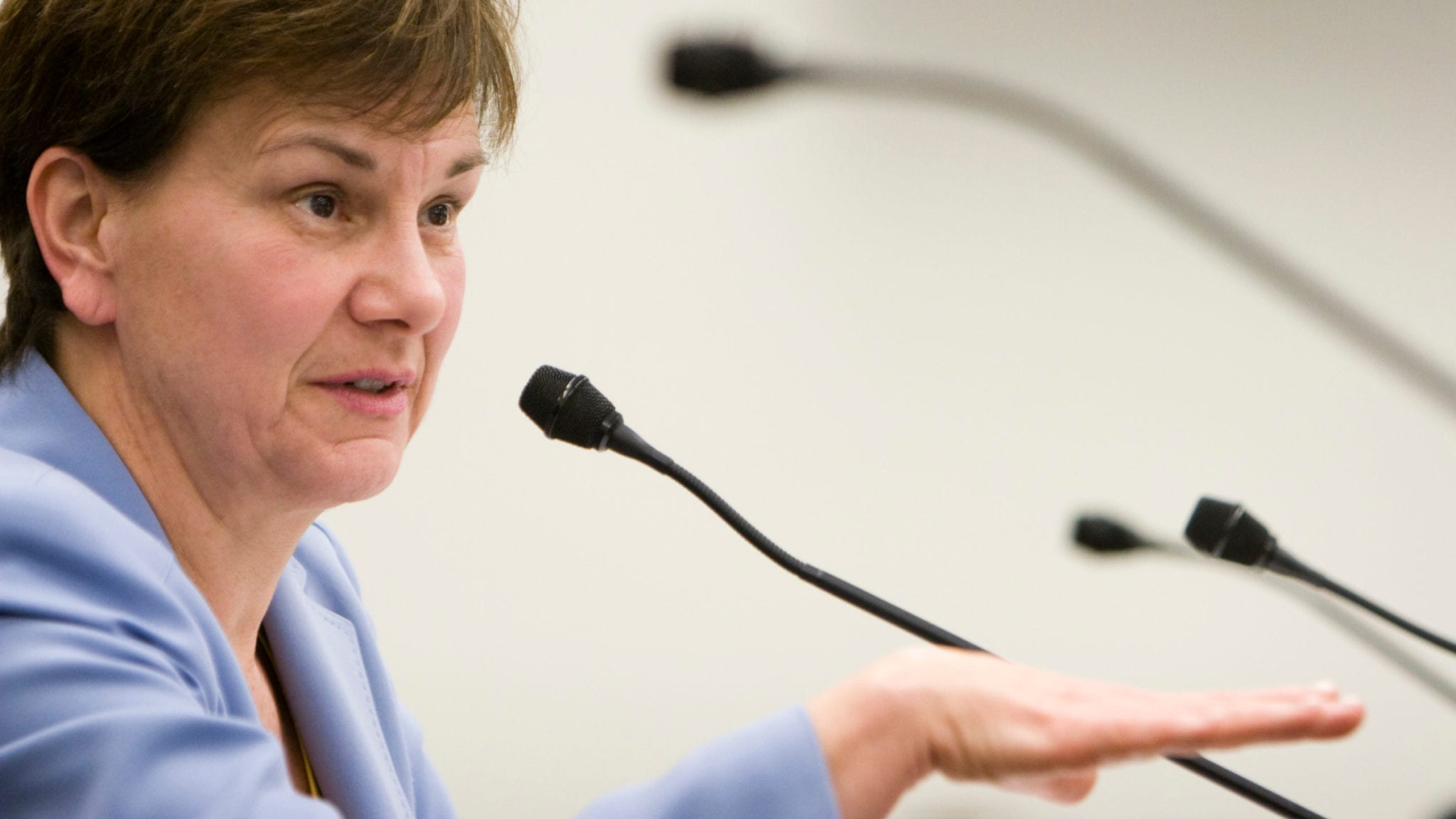 Janet Woodcock, director of the Center for Drug Evaluation and Research (AP Images)
Gov­ern­ment gears for un­prece­dent­ed chal­lenge of Eli Lil­ly an­ti­body roll­out as ef­fi­ca­cy ques­tions linger
Af­ter months of an­tic­i­pa­tion, the FDA has au­tho­rized the first an­ti­body treat­ment for Covid-19. Now what?
The US gov­ern­ment faces a chal­lenge un­like vir­tu­al­ly any it has faced dur­ing or be­fore the pan­dem­ic. They will have to dis­trib­ute scarce quan­ti­ties of a much-sought drug through­out the coun­try at a time when cas­es are reach­ing record lev­els, over­bur­den­ing hos­pi­tals to the point where, in North Dako­ta, Covid-19 pos­i­tive nurs­es have been au­tho­rized to con­tin­ue work­ing.
The gov­ern­ment did not ini­tial­ly fare well last time it had to roll out a Covid-19 drug; in the spring, baf­fled doc­tors re­port­ed that hos­pi­tals with few Covid-19 pa­tients re­ceived pre­cious vials of remde­sivir, while those with many were over­looked. Dis­trib­ut­ing an an­ti­body pos­es an even greater chal­lenge, as it's in­di­cat­ed for pa­tients with mild or mod­er­ate dis­ease — a much larg­er group of peo­ple, none of whom are al­ready in a hos­pi­tal, where an IV in­fu­sion can be eas­i­ly ad­min­is­tered.
On Tues­day, CDER chief Janet Wood­cock, who stepped away from the FDA to run the treat­ment arm of Op­er­a­tion Warp Speed, out­lined the gov­ern­ment's plan to dis­trib­ute the 300,000 dos­es they've agreed to pur­chase from Eli Lil­ly. They will re­ly large­ly on a sys­tem that of­fi­cials even­tu­al­ly de­vel­oped for dis­trib­ut­ing remde­sivir: Rather than give the drug di­rect­ly to med­ical cen­ters, they will al­lo­cate it to states and ter­ri­to­ries ac­cord­ing to how many Covid-19 cas­es and hos­pi­tal­iza­tions they have. Lo­cal gov­ern­ments would then al­lo­cate it with­in their ju­ris­dic­tions.
For ex­am­ple, in the first al­lo­ca­tion this week, the large and hard-hit state of Texas will re­ceive 5,780 dos­es. Ver­mont, which is small and has kept the virus un­der rel­a­tive con­trol, will re­ceive 20.
Still, out­side ex­perts said that left key ques­tions unan­swered. Much of the coun­try still does not have enough test­ing ca­pac­i­ty to catch cas­es with­in the nar­row win­dow where ear­ly stud­ies in­di­cate the an­ti­body may be ben­e­fi­cial. And al­though au­thor­i­ties want to re­serve the drug for pa­tients who are at high risk, such as those with di­a­betes or obe­si­ty, that still leaves far more de­mand than sup­ply.
"In some pop­u­la­tions, you have half the peo­ple who will meet that high-risk cri­te­ria, so who you give it to and how you make that de­ci­sion isn't clear," said He­len Bouch­er, chief of in­fec­tious dis­eases at Tufts Med­ical Cen­ter in Boston, told The Wash­ing­ton Post. "The wor­ry is whether black and brown peo­ple get ac­cess who we know are be­ing dis­pro­por­tion­ate­ly af­fect­ed by this dis­ease."
The dis­tri­b­u­tion will hap­pen while ques­tions linger about how ef­fec­tive the drug re­al­ly is. Al­though on­ly the medi­um, 2800 mg dose of the an­ti­body met the pri­ma­ry end­point of re­duc­ing vi­ral load in Lil­ly's piv­otal tri­al, the FDA au­tho­rized a 700 mg dose and HHS is send­ing vials con­tain­ing that dose to the states.
The 700 mg dose will al­low them to give the drug to far more peo­ple, and Lil­ly says that all dos­es showed "sim­i­lar clin­i­cal ef­fects," such as de­creas­ing the risk of hos­pi­tal­iza­tion and re­duc­ing symp­toms. Wood­cock de­fend­ed the gov­ern­ment's de­ci­sion on a call with re­porters, point­ing to the da­ta Eli Lil­ly col­lect­ed on hos­pi­tal­iza­tion and symp­tom al­le­vi­a­tion.
She ar­gued that most peo­ple clear the virus on their own and that, among those who didn't, all three dos­es of the drug re­duced vi­ral load. The p-val­ue for the 700 mg dose was 0.38.
"I think you are sort of ac­cept­ing a di­choto­mous view of p-val­ues," she said, ac­cord­ing to Bio­Cen­tu­ry. "If you look at the vi­rol­o­gy da­ta, there was al­most no dif­fer­ence in virus clear­ance amongst the dif­fer­ent dos­es."
For Wood­cock, the big­ger ques­tion is the roll­out. The gov­ern­ment is plan­ning to dis­trib­ute the an­ti­body in two phas­es, and even­tu­al­ly hopes to dis­trib­ute it, via states, to park­ing lot tents or trail­ers, which may be more ac­ces­si­ble. First, though, they'll have to see if old-fash­ioned hos­pi­tals, ur­gent care cen­ters and ERs can do the trick.
"For the next two weeks, what we're go­ing to be look­ing at very close­ly is the abil­i­ty of the health­care sys­tem to ac­tu­al­ly get this in­to peo­ple's veins," Wood­cock said.