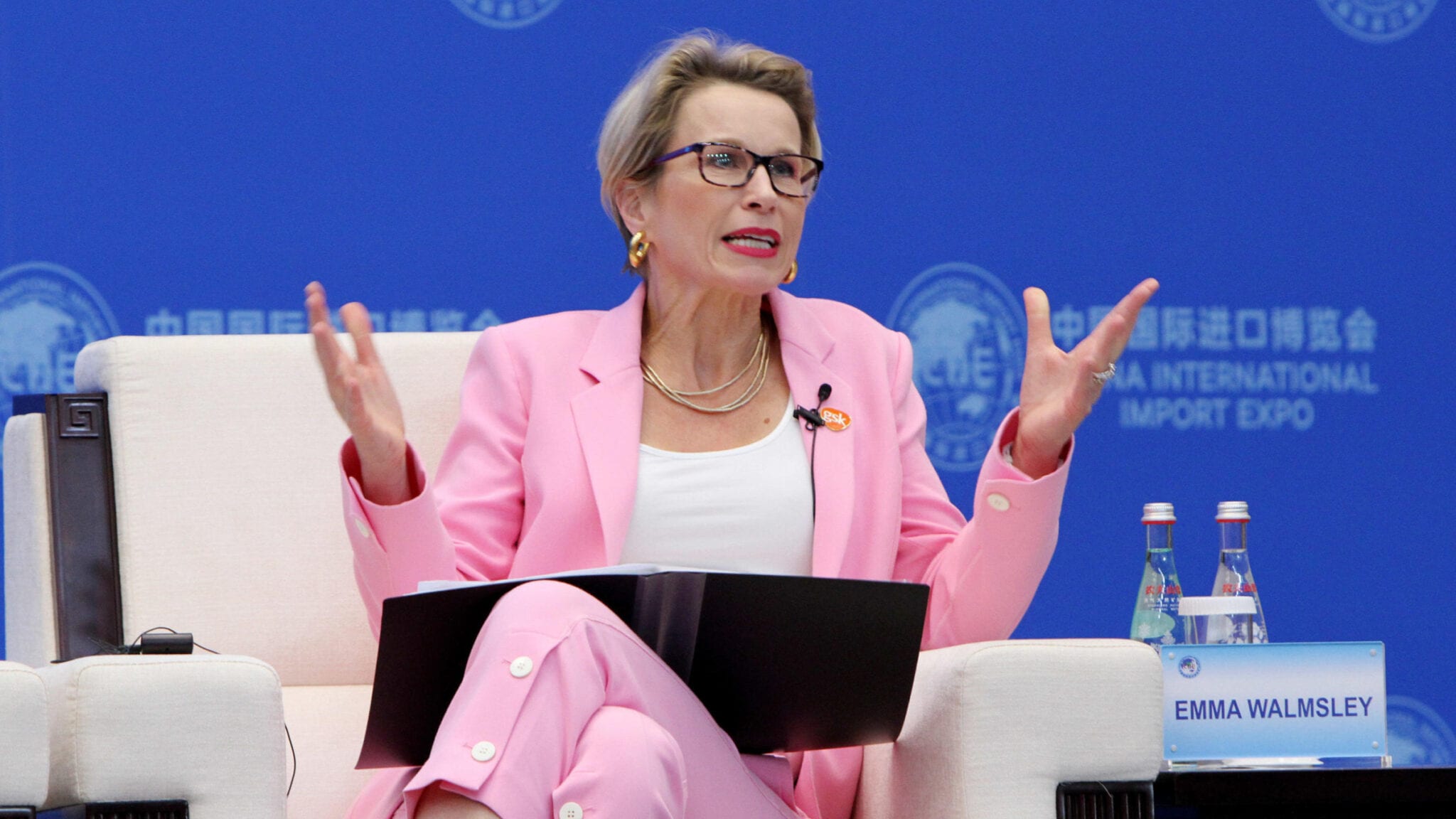 Emma Walmsley, GlaxoSmithKline CEO (Fang Zhe/Xinhua/Alamy Live News)
GSK and Vir turn to US for dis­tri­b­u­tion as Covid-19 mAb treat­ment nears block­buster sta­tus
Ever since for­mer Pres­i­dent Trump re­ceived an in­fu­sion of Re­gen­eron's mon­o­clon­al an­ti­body, all three of the now-au­tho­rized Covid-19 mAb treat­ments have been in the spot­light.
The on­ly one fly­ing some­what un­der the radar is al­so the one to most re­cent­ly re­ceive an emer­gency au­tho­riza­tion, which came last May for Glax­o­SmithK­line and Vir Biotech­nol­o­gy's mAb sotro­vimab. But that third-to-mar­ket sta­tus hasn't stopped the com­pa­nies from quick­ly sell­ing about $1 bil­lion worth of dos­es in the first six months and re­cent­ly sign­ing a $280 mil­lion US gov­ern­ment con­tract.
While de­clin­ing to dis­close US stats specif­i­cal­ly, to date, Vir said in an SEC fil­ing that bind­ing agree­ments have been re­ceived for the sale of more than 420,000 dos­es of sotro­vimab world­wide, "in­clud­ing a por­tion of those pro­cured by the U.S. gov­ern­ment." In ad­di­tion, more than 220,000 dos­es have been re­served through oth­er agree­ments, Vir said.
If sotro­vimab is priced sim­i­lar­ly to Re­gen­eron's casiriv­imab and imde­vimab com­bo, or Lil­ly's bam­lanivimab and ete­se­vimab com­bo, as the com­pa­nies said it would be, that list price of about $1,500 would amount to al­most $1 bil­lion for GSK and Vir so far.
And where­as the com­pa­nies pre­vi­ous­ly said that they would hit the open mar­ket and dis­trib­ute the treat­ment them­selves, a GSK spokesper­son con­firmed that af­ter about five months of run­ning their own dis­tro ops, they've de­cid­ed to let the US gov­ern­ment take over.
In Au­gust, GSK and Vir saw an al­most 300% spike in or­ders com­pared to Ju­ly.
GSK said in an emailed state­ment to End­points News:
We can con­firm that the U.S. gov­ern­ment has agreed to pur­chase sotro­vimab, an in­ves­ti­ga­tion­al mon­o­clon­al an­ti­body for the ear­ly treat­ment of COVID-19.  As part of the agree­ment, which is worth $279,862,800, GSK will sup­ply sotro­vimab to the U.S. gov­ern­ment, en­abling rapid ac­cess to sotro­vimab at no cost to pa­tients. As the pan­dem­ic con­tin­ues, we rec­og­nize the con­tin­ued ur­gency of pa­tient need across the world and con­tin­ue to en­gage with gov­ern­ments and pro­cure­ment bod­ies to sup­port the pan­dem­ic re­sponse.
With de­mand for Covid treat­ments still tick­ing up across the US, the price for mAbs is al­so in­creas­ing. Re­gen­eron in mid-Sep­tem­ber an­nounced a new, $2.9 bil­lion US gov­ern­ment deal for 1.4 mil­lion more dos­es of its mAb com­bo, bring­ing the to­tal pur­chased dos­es by the U.S. gov­ern­ment to near­ly 3 mil­lion. The 1.4 mil­lion dos­es, which are to be sup­plied by Jan. 31, 2022, come at a cost of $2,100 per dose.