GSK banks on promis­ing da­ta from its PhI­II Gem­i­ni pro­gram to stare down Gilead on HIV — but there are plen­ty of skep­tics
Af­ter more than a decade's worth of work, Glax­o­SmithK­line $GSK re­searchers to­day are un­veil­ing pooled da­ta from their two late-stage tri­als of a two-drug reg­i­men for keep­ing HIV in check. Fac­ing off against some deep-seat­ed skep­ti­cism and a pow­er­house ri­val at Gilead $GILD, the phar­ma gi­ant's ma­jor­i­ty owned sub­sidiary Vi­iV says the com­bo per­formed just as well as a triplet in their big face­off in­volv­ing treat­ment-naive pa­tients, mak­ing it a like­ly new en­try in the glob­al fight against the virus that spurs AIDS.
"Ther­a­py has got­ten bet­ter, peo­ple are liv­ing longer," says Vi­iV CSO John Pot­tage. "Then you have to think about treat­ing peo­ple for their life­time, decades of ther­a­py."
The sim­pler, the bet­ter.
The two drugs Vi­iV put to­geth­er in its big Gem­i­ni Phase III pro­gram are do­lute­gravir and lamivu­dine (3TC). The pooled da­ta demon­strat­ed a 91% con­trol rate, with the bulk of the pa­tients un­der the rate of HIV-1 RNA<50 copies/mL com­pared with 93% in a three-drug arm fea­tur­ing do­lute­gravir and two nu­cle­o­side re­verse tran­scrip­tase in­hibitors: teno­fovir diso­prox­il fu­marate/emtric­itabine.
Pot­tage al­so says that the da­ta hold up when you pull out the pa­tients with high vi­ral loads.
This is one-year da­ta, mean­ing that re­searchers will con­tin­ue to watch on dura­bil­i­ty, a key fea­ture for any new treat­ment in this field, where pa­tients are mon­i­tored to see if their treat­ment reg­i­men is los­ing ef­fect and re­quires a shift to keep the virus at bay.
"It used to be month-to-month," Pot­tage says to me about the drug changeover rate. "Here they last for years."
In that sce­nario, the few­er drugs you use, the less like­ly you'll run in­to prob­lems, in­clud­ing few­er drug-drug in­ter­ac­tions as these pa­tients get old­er and face mul­ti­ple co-mor­bidi­ties. It's an edge, and an edge can amount to a ma­jor mar­ket niche in HIV.
If the da­ta hold up un­der reg­u­la­to­ry scruti­ny at the FDA, the EMA and in­deed around the world, GSK will quite like­ly have a new prod­uct in this block­buster are­na. Reg­u­la­tors and physi­cians love al­ter­na­tive drug op­tions to put on their list of go-to ther­a­pies for chron­ic dis­eases. But just get­ting an OK like­ly won't damp­en the skep­ti­cism some an­a­lysts have of­fered about GSK as the UK phar­ma gi­ant bat­tles a dom­i­nant Gilead on what amounts to be their home turf.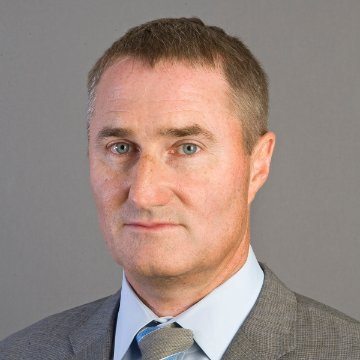 Ge­of­frey Porges, Leerink
One of the most skep­ti­cal watch­ing the bat­tle of the HIV gi­ants is Leerink's Ge­of­frey Porges, who re­cent­ly ticked off a line­up of hur­dles GSK will like­ly find dif­fi­cul­ty clear­ing. GSK al­ready fell be­hind Gilead's lat­est 3-drug com­bi­na­tion Bik­tarvy with their oth­er two-drug com­bo Ju­lu­ca, us­ing do­lute­gravir and rilpivirine. That, he said, was clear­ly in­fe­ri­or.
Gilead looks to re­main the dom­i­nant play­er, he adds, not­ing:
Though we be­lieve physi­cians will be more will­ing to pre­scribe a two-drug HIV reg­i­men that in­cludes 3TC in­stead of rilpivirine, all of the HIV pre­scrip­tion trends and our pro­pri­etary sur­vey work sug­gest that GSK's two-drug reg­i­mens will not un­der­mine Gilead's in­creas­ing HIV mar­ket share trend over the next 3 years, and we do not an­tic­i­pate any val­ue ero­sion in Gilead's stock from these dis­clo­sures or even the ap­proval of this sec­ond 2 drug com­bi­na­tion from Vi­iV.