Just days after rushing Dana-Farber chief Laurie Glimcher onto the board at GlaxoSmithKline $GSK, new CEO Emma Walmsley is making her move to reorganize the pipeline. Her plan calls for a major R&D cull, dropping 30 development projects and adding cancer and immuno-inflammatory diseases to its list of top R&D priorities — which will consume the lion's share of its budget.
In a statement out early Wednesday, GSK outlined plans to partner out or simply drop 30 preclinical and clinical programs, streamlining R&D and other operations in the global operation as the company looks for about $1.3 billion in savings by 2020. Rare disease drugs in particular appear to be on the chopping block while a list of assets that are being dropped from the pipeline includes sirukumab, its disappointing rheumatoid arthritis drug now under regulatory review and partnered with J&J $JNJ.
You can see the full list below.
The move puts GSK back in play as several top biopharma companies look to shake up their R&D organizations and start to strike new deals. And the pharma giant's return to the deal table will quickly earn close attention from a long list of rivals. More big players are also likely to follow suit, marking a turning point for biopharma as a slate of new CEOs look to put their distinctive stamp on product development.
The plan at GlaxoSmithKline now is to reserve about 80% of its annual multibillion-dollar budget for two mainstay disease fields — respiratory and HIV/infectious diseases — while examining the "potential" addition of cancer and immuno-inflammation. GSK spent $4.5 billion on R&D, putting it among the top 15 in the industry.
The pharma giant also plans to get its business development team back to the bargaining table after a long absence in search of new, primarily early-stage deals.
Walmsley inherited one of the weakest R&D groups in Big Pharma when she took the helm in April. Despite significant progress in HIV and vaccines, pharma R&D languished after a period marked by some high-profile flameouts in Phase III development. Now the CEO wants to use the streamlining to set up a revival for the pharma research group.
From their quarterly statement:
In its Pharmaceuticals pipeline, GSK has developed a priority list of assets to invest behind. This priority list will evolve as data reads out. The Group has also set a target to deploy over time 80% of its Pharmaceuticals R&D capital to priority assets in two current therapy areas: Respiratory and HIV/infectious diseases; and two potential areas: Oncology and Immuno-inflammation. Significant data is expected from these priority assets over the next three years which will be used to inform R&D investment decisions and how best to generate value from these assets. GSK also expects to pursue disciplined business development to augment its early-stage pipeline in these priority areas.
Now in the spotlight at GSK: A range of Phase I and Phase II cancer drugs, including its mid-stage program partnered with Adaptimmune $ADAP.
J&J says that GSK's decision to bail out on sirukumab leaves them in charge of worldwide rollout, and they have no plans to change course now. In a statement to Endpoints News, the company noted:
Our priority is working with Health Authorities in the U.S., Europe, Japan and many other countries to bring this novel anti-IL-6 monoclonal antibody to RA patients.  We are continuing with launch preparations in EMEA and Asia Pacific through our world-class Janssen Immunology organization, and we are also exploring the best opportunities to bring this important new medicine to patients in the geographies that will return to Janssen.
The move at GSK mirrors the same basic strategy that Michel Vounatsos and Dave Ricks announced yesterday for Biogen and Eli Lilly. Both have been laying plans to "streamline" operations and devote more time to new projects that can whip up some excitement among the investor crowd. Lilly also is dropping cancer projects — while GSK looks to add to what's left of its oncology group following a big tradeoff with Novartis.
These moves will create dozens of new business opportunities among biotech players looking for new assets to pick over. Typically these projects go for only small amounts of upfront cash. And it also adds new players to the deal table, ready to spend cash and partner on more drugs.
GSK signaled this move recently after it recruited Glimcher to its board. The immuno-oncology expert joined the board's science team and can offer some key insights gleaned from years on the board at Bristol-Myers Squibb.
---
From the GSK presentation: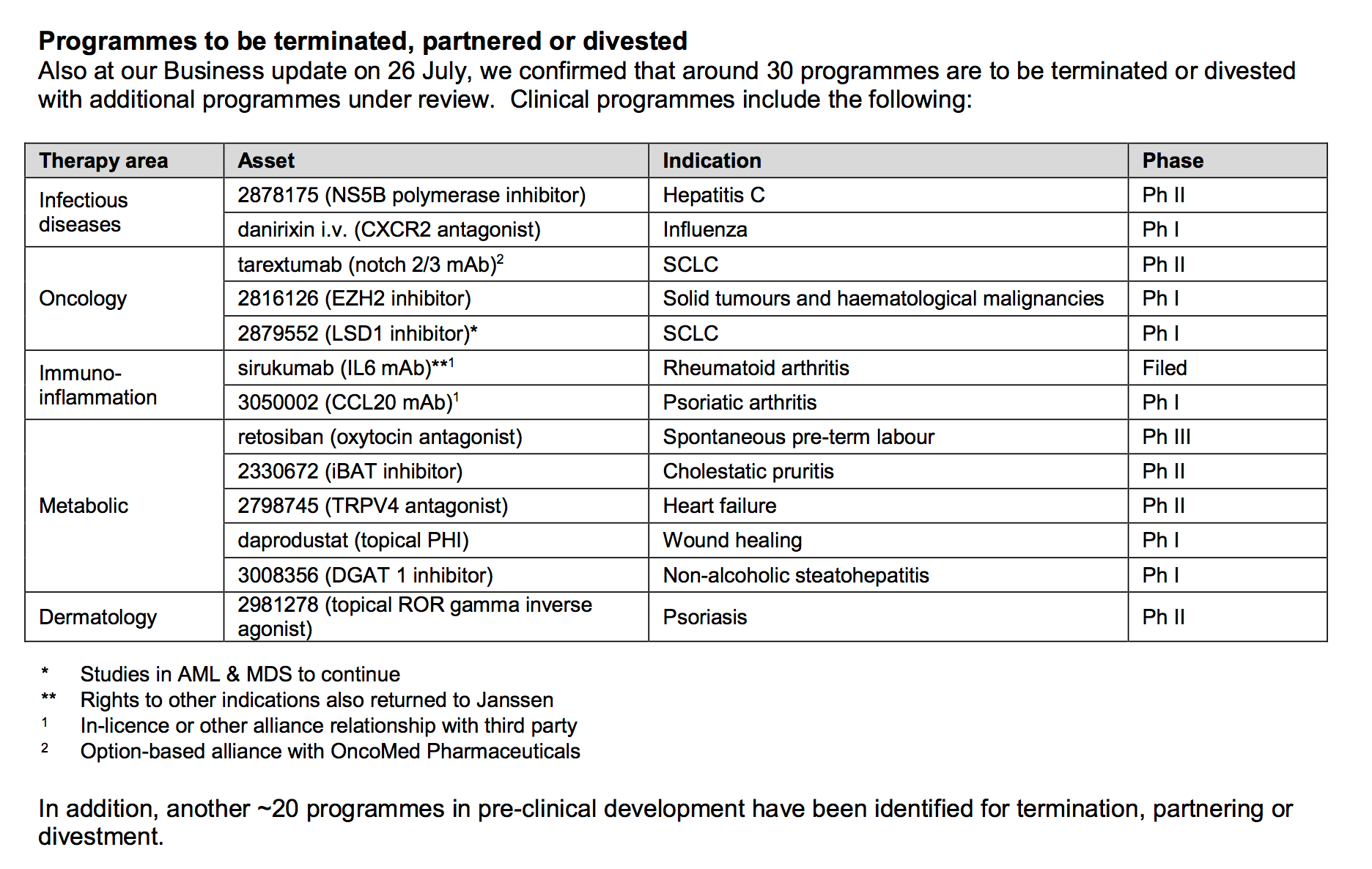 ---
The best place to read
Endpoints News

? In your inbox.

Comprehensive daily news report for those who discover, develop, and market drugs. Join 50,900+ biopharma pros who read Endpoints News by email every day.

Free Subscription
---
---
---