GSK finds a buy­er will­ing to take its Paris R&D site off its hands — for a hefty fee
Af­ter shop­ping the François Hyafil Re­search Cen­tre near Paris for the past year, Glax­o­SmithK­line says it fi­nal­ly has a buy­er — and the deal will on­ly cost the phar­ma gi­ant about $40 mil­lion.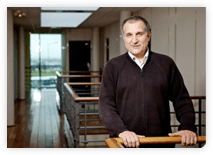 Philippe Genne of On­code­sign
GSK has pledged the cash to sub­si­dize the em­ploy­ment of 57 staffers at the re­search fa­cil­i­ty in Ville­bon-sur-Yvette over the next four years as part of its agree­ment to hand it all over to On­code­sign, which eval­u­ates new drug can­di­dates for its cus­tomers.
The group had been do­ing some­thing sim­i­lar for GSK, help­ing out with the com­pa­ny's in­cu­ba­tion ef­forts on the dis­cov­ery side.
The de­ci­sion to jet­ti­son the fa­cil­i­ty has cor­po­rate roots that date all the way back to late 2014, when flag­ging Ad­vair sales and a slow ramp up on new drugs left an­a­lysts chaf­ing over GSK's fi­nan­cials. Glaxo ripped in­to its re­search op­er­a­tions in Re­search Tri­an­gle Park in North Car­oli­na, quick­ly re­struc­tur­ing and trans­fer­ring hun­dreds of jobs to Parex­el (which quick­ly laid off many of their new staffers.)
GSK de­cid­ed to con­cen­trate its R&D ef­forts in Steve­nage and Up­per Prov­i­dence — leav­ing France out of the loop.
R&D trans­fers or cuts, though, don't hap­pen with the same speed in France. As for­mer Sanofi CEO Chris Viehbach­er found out af­ter re­port­ed­ly diss­ing the pro­duc­tiv­i­ty of the com­pa­ny's French re­search (there wasn't any), French work rules and French gov­ern­ment of­fi­cials can make it quite a chore to re­or­ga­nize and lay off staffers in the coun­try.
That all played out well for On­code­sign, though, which is based in Di­jon and now has a new re­search cen­ter with the pay­roll cov­ered by GSK for sev­er­al years to come.
Philippe Genne, CEO and founder of On­code­sign, had this to say in a state­ment:
"This ac­qui­si­tion fur­ther ac­cel­er­ates the de­vel­op­ment of our strate­gic part­ner­ships, with IPSEN, BMS and UCB. In ad­di­tion, it will speed up our Nanocy­clix based drug dis­cov­ery in­ter­nal pro­grams through in­creased ca­pa­bil­i­ties and pro­duc­tiv­i­ty in both on­col­o­gy and non-on­col­o­gy ar­eas. On­code­sign will thus strength­en its sci­en­tif­ic ex­per­tise in one of the most mod­ern re­search cen­tres in France in ad­di­tion to ac­quir­ing new and com­ple­men­tary ca­pa­bil­i­ties and ex­pan­sion in non-on­col­o­gy space. To­geth­er with our pres­ence at the Open Cam­pus IPSEN site, the FHRC in­te­gra­tion will fur­ther es­tab­lish our pres­ence in the Paris Saclay sci­ence clus­ter and al­low us to ben­e­fit from the in­no­va­tion in this re­gion in com­ple­ment to that of our Di­jon site."