GSK says its drug for chron­ic hep B could 'lead to a func­tion­al cure' — but will it be alone or in com­bi­na­tion?
GSK, new­ly brand­ed and soon-to-be de­merged, shared in­ter­im re­sults from its Phase II tri­al on its chron­ic he­pati­tis B treat­ment, one that it says has the "po­ten­tial to lead to a func­tion­al cure."
At a pre­sen­ta­tion at the EASL In­ter­na­tion­al Liv­er Con­gress, GSK shared that in around 450 pa­tients who re­ceived its hep B drug bepirovirsen for 24 weeks, just un­der 30% had he­pati­tis B sur­face anti­gen and vi­ral DNA lev­els that were too low to de­tect.
No­tably, pa­tients who were tak­ing nu­cle­o­side analogs (the cur­rent stan­dard of care treat­ment) along­side bepirovirsen and those who were not had sim­i­lar out­comes.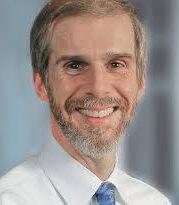 Chris Cor­si­co
To put that in­to per­spec­tive, pa­tients with chron­ic he­pati­tis B of­ten have to take nu­cle­o­side analogs, which sup­press he­pati­tis B virus (HBV) ex­pres­sion, through­out their life­time. Alone, nu­cle­o­side analogs have a func­tion­al cure rate that hov­ers around 1-5%, and in com­bi­na­tion with in­ter­fer­on treat­ment, that num­ber jumps a lit­tle high­er.
To be con­sid­ered a func­tion­al cure, the virus has to be sti­fled enough that the im­mune sys­tem can con­trol it on its own, GSK's head of de­vel­op­ment Chris Cor­si­co told End­points News.
"If we were able … to — us­ing monother­a­py for 24 weeks and then stop­ping ther­a­py — get any­thing close to the in­ter­fer­on plus nu­cle­o­side/nu­cleotide stan­dard of care, that would be ab­solute­ly a phe­nom­e­nal re­sult," Cor­si­co said.
The big ques­tion now is dura­bil­i­ty. And with­out that da­ta in hand yet, Cor­si­co said he can't call GSK's treat­ment a func­tion­al cure, though he said their cur­rent num­bers were ex­cit­ing for "the long-term prospects."
How­ev­er, Cor­si­co al­so said he "rec­og­nized [there is] a large group of pa­tients who need fur­ther ther­a­py." On that end, GSK is ex­plor­ing tri­als to put bepirovirsen in com­bi­na­tion with an in­ter­fer­on treat­ment as well as with its he­pati­tis B im­munother­a­py, ac­cord­ing to a press re­lease.
Cor­si­co not­ed that more in­sight on who the treat­ment was and wasn't work­ing for would be com­ing lat­er. "One of the pur­pos­es of this study was to col­lect a whole bunch of bio­mark­ers to see if we could then start us­ing that da­ta to help us pre­dict who was re­spond­ing and who was not re­spond­ing," he said, adding that GSK wouldn't have that da­ta un­til the end of the tri­al.
Around 1% of pa­tients had treat­ment-re­lat­ed se­ri­ous ad­verse events, and Cor­si­co not­ed that a few of those cas­es were re­lat­ed to the in­jec­tion site.
GSK li­censed bepirovirsen from Io­n­is in 2019. The drug is a sin­gle strand of syn­thet­ic nu­cleotides that com­ple­ment HBV RNA and re­cruit liv­er en­zymes to de­stroy it.
Else­where in the he­pati­tis B space, the FDA slapped a clin­i­cal hold on An­tios' Phase II tri­al in May, lead­ing to part­ner As­sem­bly Bio­sciences ditch­ing the duo's he­pati­tis B col­lab­o­ra­tion.
GSK's fi­nal study re­sults, which in­clude two oth­er treat­ment arms with dif­fer­ent dosage sched­ules, will be pre­sent­ed to­wards the end of the year, Cor­si­co said.