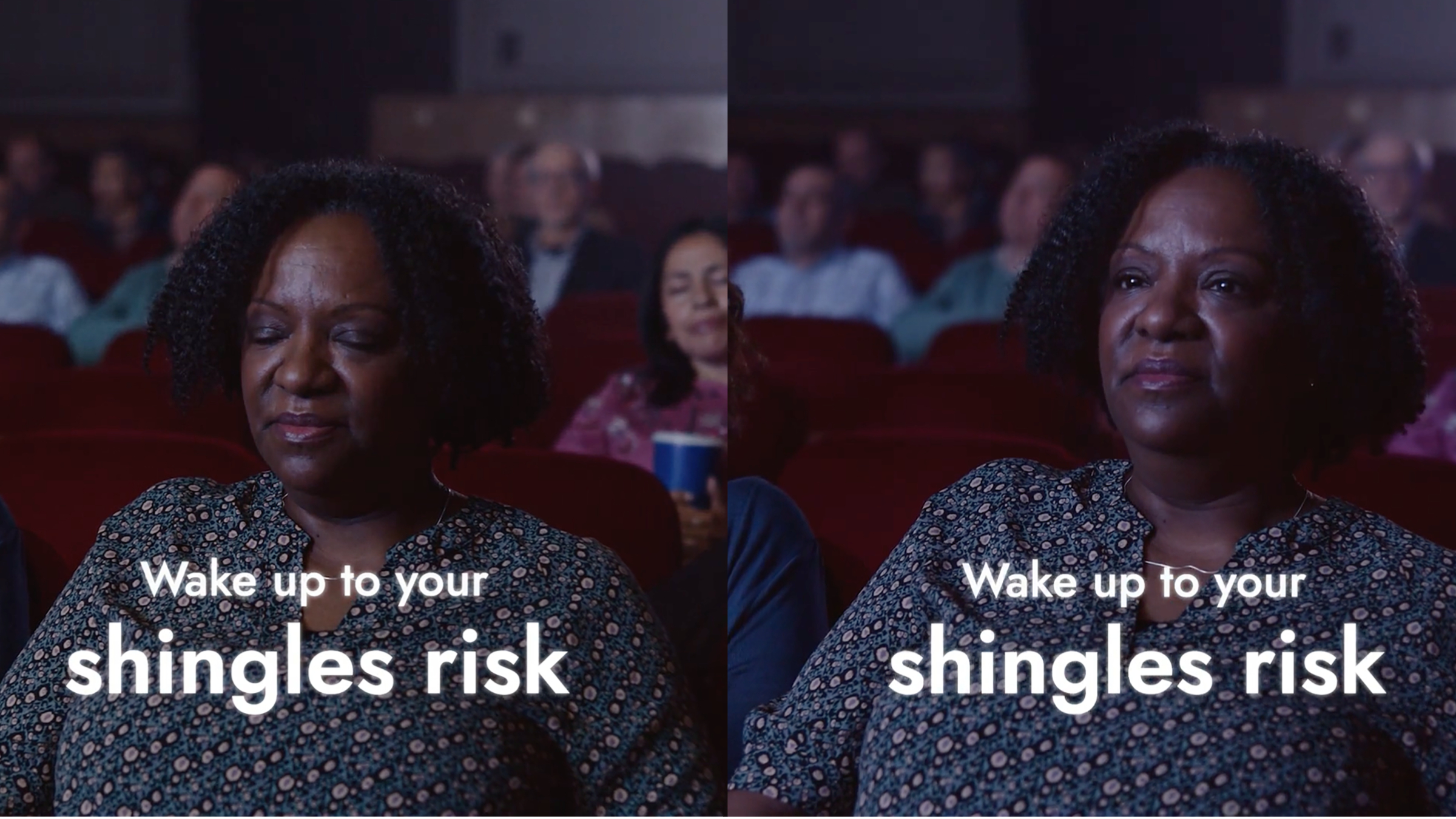 GSK's latest push for shingles awareness encourages people to literally 'wake up' to the virus inside them.
GSK warns 50+ crowd to 'wake up' to vi­ral dan­ger of shin­gles in lat­est cam­paign
De­spite years of pub­lic health mes­sag­ing and aware­ness ad­ver­tis­ing, peo­ple over the age of 50 still aren't get­ting the shin­gles shots — or even wide­ly un­der­stand­ing the risks.
GSK re­search shows that "a stag­ger­ing 61% of adults don't know or don't think they are at risk for shin­gles." So it's dou­bling down on ad­ver­tis­ing, this time with a di­rect mes­sage about the dor­mant virus that caus­es shin­gles and is al­ready in­side 99% of peo­ple old­er than age 50.
Two new TV ads — one in Eng­lish and a dif­fer­ent one in Span­ish — show peo­ple with their eyes closed do­ing every­day things at a cook­out, gro­cery shop­ping and even play­ing sports with the warn­ing that "it's time to wake up — be­cause shin­gles could wake up in you."
The lat­est cam­paign launched last week is GSK's first fo­cused on the dor­man­cy of the virus. Con­cur­rent TV ads fo­cus more on the burn­ing, painful rash of shin­gles that can last for weeks. The smol­der­ing burn and elec­tric shock im­ages de­pict­ing the pain be­gan run­ning last year, with Span­ish-lan­guage ver­sions with a sim­i­lar pain mes­sage about "la cule­bril­la" be­gan ear­li­er this year.
The new Span­ish-lan­guage ad is more than just a trans­lat­ed ad, a GSK spokesper­son said in an email.
"We know that to be most rel­e­vant to His­pan­ic au­di­ences, we need­ed to do bet­ter than sim­ply adding a Span­ish voice over. So, we de­vel­oped a ded­i­cat­ed Span­ish-lan­guage cam­paign. The Span­ish-lan­guage ads fea­ture all His­pan­ic ac­tors and sce­nar­ios that are par­tic­u­lar­ly rel­e­vant to the His­pan­ic com­mu­ni­ty," they said.
GSK re­search shows that His­pan­ic peo­ple in the US are sig­nif­i­cant­ly less like­ly to be vac­ci­nat­ed against shin­gles com­pared to oth­ers and that His­pan­ic peo­ple are are less fa­mil­iar with shin­gles symp­toms and risk fac­tors.
The new cam­paign in­cludes broad­cast and stream­ing TV, ra­dio and point-of-care ads along with on­line video, dig­i­tal and so­cial me­dia work. The ads redi­rect peo­ple to GSK's "What is Shin­gles" web­site for more de­tails.
While pre­vi­ous ads with the burn­ing and painful rash im­agery "con­vey that shin­gles is some­thing that you want to avoid. How­ev­er, in ad­di­tion to un­der­stand­ing the im­pact of shin­gles, we know that con­sumers need to al­so un­der­stand that they are at risk," the spokesper­son said.
The work is un­brand­ed, but GSK makes lead­ing shin­gles vac­cine Shin­grix. GSK re­ports its Q3 sales next week, but Shin­grix sales topped €1.4 bil­lion in the first half of 2022, dri­ven by record sec­ond quar­ter sales. GSK said in its last fi­nan­cial fil­ing that "Specif­i­cal­ly for Shin­grix, we con­tin­ue to ex­pect strong dou­ble-dig­it growth and record an­nu­al sales in 2022, based on strong de­mand in ex­ist­ing mar­kets and con­tin­ued ge­o­graph­i­cal ex­pan­sion."