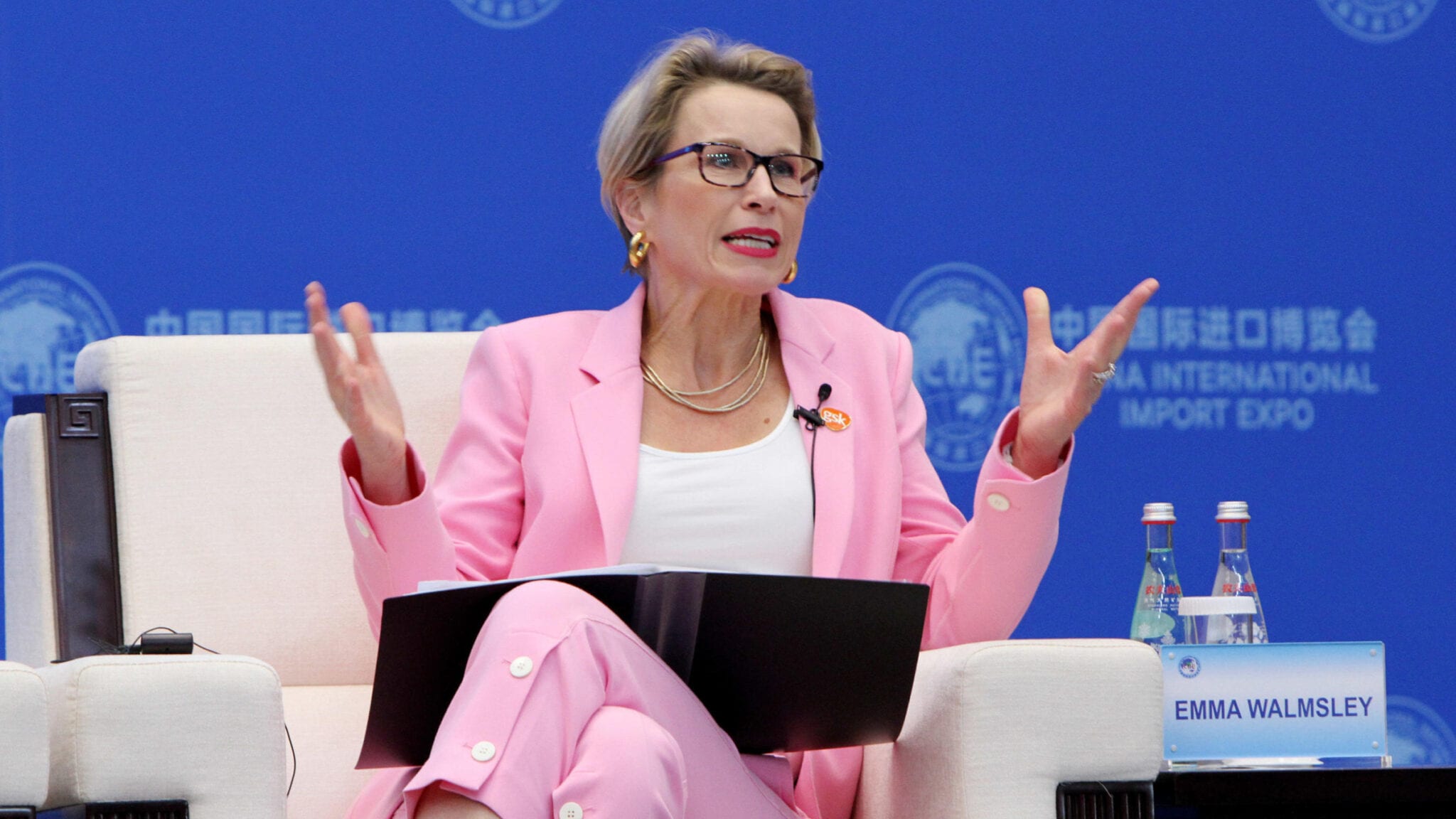 Emma Walmsley, GlaxoSmithKline CEO (Fang Zhe/Xinhua/Alamy Live News)
GSK's con­sumer health spin­off Ha­le­on preps launch with $12B+ in debt
GSK's con­sumer health spin­off Ha­le­on will make its big de­but in just over a week — but with some se­ri­ous debt in tow, ac­cord­ing to the com­pa­ny.
When it lists on the Lon­don Stock Ex­change on Ju­ly 18, Ha­le­on will have about £10.3 bil­lion (more than $12 bil­lion) in debt on the bal­ance sheet, GSK con­firmed on Wednes­day. That's around four times the spin­off's es­ti­mat­ed earn­ings for the year, ac­cord­ing to the UK's This is Mon­ey, which first re­port­ed the news.
Bar­clays an­a­lysts have pre­vi­ous­ly called Ha­le­on the "largest list­ing in Eu­rope for over a decade." Though the spin­off will be chal­lenged with "sig­nif­i­cant debt," the an­a­lysts pre­dict sales will top £13 bil­lion (more than $15 bil­lion) by 2026.
Ear­li­er this year, GSK called the de­merg­er the "most sig­nif­i­cant cor­po­rate change for GSK in the last 20 years," adding that Ha­le­on will lead in ma­jor cat­e­gories such as pain and res­pi­ra­to­ry health with pow­er brands like Advil and Ther­aflu.
"It will come to the mar­ket with sig­nif­i­cant debt, c.£10.3bn or 4x EBIT­DA, but we ex­pect or­gan­ic delever­age to fall be­low 3x by the end of next year," Bar­clays an­a­lysts wrote in a re­cent re­port.
Ha­le­on al­so owns pop­u­lar brands such as Sen­so­dyne tooth­paste and Ro­bi­tussin cough syrup. The port­fo­lio in­cludes con­sumer health drugs from both No­var­tis and Pfiz­er as a re­sult of deals from 2017 and 2019, re­spec­tive­ly. Sales last year to­taled £9.54 bil­lion, or around $11.3 bil­lion. This year, Bar­clays an­a­lysts ex­pect sales to reach £10.67 bil­lion, or more than $12.7 bil­lion.
The com­pa­ny is ex­pect­ed to be val­ued be­tween £38 bil­lion and £45 bil­lion, This is Mon­ey re­port­ed.
Bar­clays an­a­lysts not­ed:
Ha­le­on's val­u­a­tion will, in our view, like­ly be a func­tion of mar­ket ex­pec­ta­tions of its struc­tur­al Or­gan­ic Sales Growth. From our con­ver­sa­tions with in­vestors, there is a de­gree of scep­ti­cism around its 4-6% tar­get, and sig­nif­i­cant push­back on our 4.7% medi­um-term growth fore­cast. We look for 6% OSG this year (al­beit part­ly helped by Covid head­wind un­wind), but the key ques­tion for val­u­a­tion longer term is like­ly where growth sta­bilis­es next year.
Last month, Pfiz­er an­nounced that it plans on ex­it­ing its 32% stake in Ha­le­on "in a dis­ci­plined man­ner" af­ter the com­pa­ny lists — a com­plete turn­around from GSK's pre­vi­ous an­nounce­ments that said Pfiz­er would re­tain its 32% stake and ap­point two board mem­bers. Ac­cord­ing to a quar­ter­ly fil­ing, Pfiz­er could get rough­ly $15.8 bil­lion from its stake.
Ear­li­er this year, GSK punt­ed mul­ti­ple un­so­licit­ed of­fers from Unilever to buy the con­sumer health spin­out for £50 bil­lion ($68 bil­lion).
The GSK board de­cid­ed that Unilever's of­fers "fun­da­men­tal­ly un­der­val­ued the Con­sumer Health­care busi­ness and its fu­ture prospects." And CEO Em­ma Walm­s­ley has long held that as op­posed to a sale, a spin­out al­lows GSK share­hold­ers to get the best of both worlds — shares in both the new GSK, which is hom­ing in on phar­ma and vac­cines and Ha­le­on.
The com­pa­ny's name is a mashup of the words "hale," mean­ing "in good health," and "leon," which is as­so­ci­at­ed with strength.