Guest col­umn: The 3 big waves re­shap­ing in­vest­ment strate­gies in ear­ly-stage biotech
Biotech Voices is a collection of exclusive opinion editorials from some of the leading voices in biopharma on the biggest industry questions today. Think you have a voice that should be heard? Reach out to Amber Tong.

---
We are at a time in life sci­ences when sig­nif­i­cant strides are be­ing made to solve some of the most com­plex med­ical chal­lenges. Rapid ad­vance­ments in sci­ence and tech­nol­o­gy cou­pled with abun­dant cap­i­tal are lead­ing to new in­vest­ment strate­gies that may per­ma­nent­ly change how com­pa­nies at the cut­ting edge of drug de­vel­op­ment are fund­ed.
Let's take a step back. For years, ear­ly-stage in­vestors and drug de­vel­op­ment com­pa­nies faced im­pos­si­bly high fundrais­ing hur­dles, ham­pered by the high cost of cap­i­tal, low clin­i­cal suc­cess rates and a long reg­u­la­to­ry process that might stretch years.
Now, this is all chang­ing. Bio­phar­ma in­vest­ing over­all is on pace to reach new heights in 2018. In par­tic­u­lar, bio­phar­ma Se­ries A in­vest­ments are ex­plod­ing; by mid-year 2018, these have al­ready ex­ceed­ed full-year 2017 to­tals. Some ear­ly-stage com­pa­nies are now at­tract­ing in­vest­ments at lev­els once seen on­ly in lat­er-stage deals.
Source: SVB "Trends in Health­care In­vest­ments and Ex­its 2018," Pitch­Book, SVB Pro­pri­etary Da­ta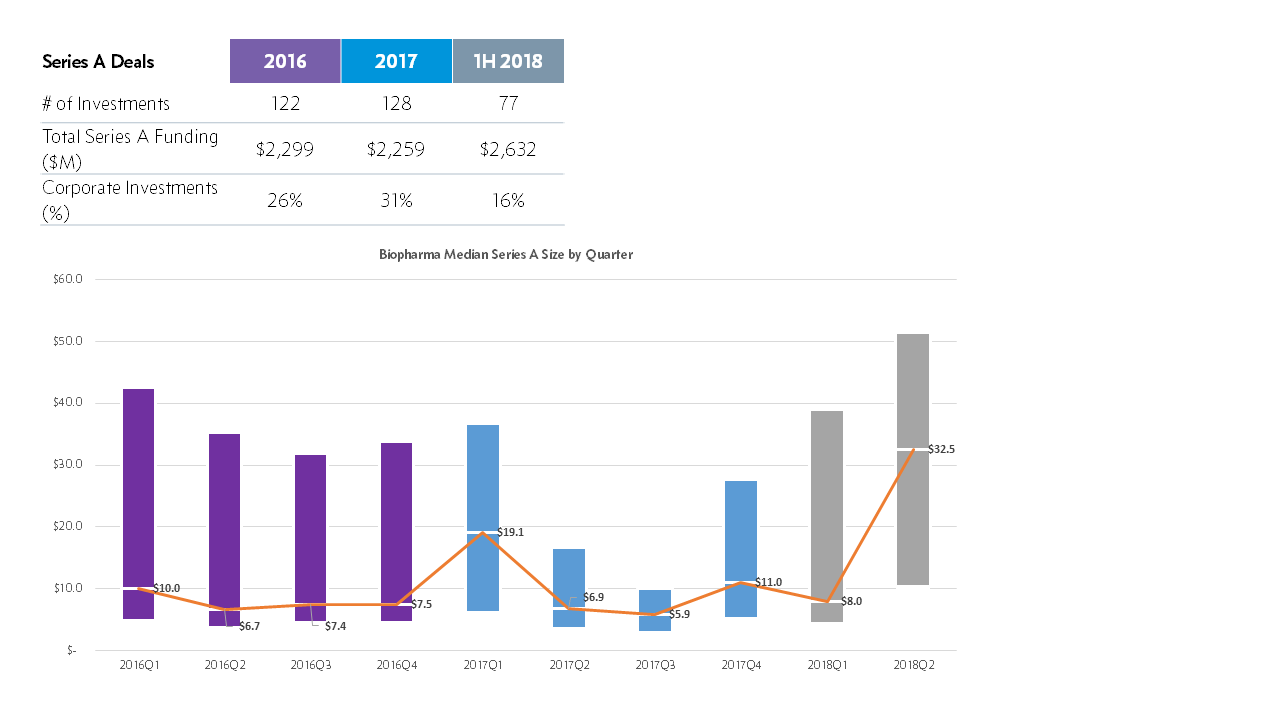 Click on the im­age to see the full-sized ver­sion
---
Move to port­fo­lio-style in­vest­ing
What is dri­ving this shift in in­vestor con­fi­dence and fu­el­ing new bio­phar­ma com­pa­ny cre­ation? For­ward-think­ing in­vestors and en­tre­pre­neurs are look­ing at ear­ly-stage drug de­vel­op­ment op­por­tu­ni­ties from a mu­tu­al fund per­spec­tive. Their goal is to in­crease the odds of a large re­turn from a sin­gle suc­cess­ful drug in­vest­ment, while re­duc­ing the typ­i­cal­ly high risk of a sin­gle ear­ly-stage in­vest­ment. They achieve this by build­ing and in­vest­ing in a port­fo­lio of drug de­vel­op­ment as­sets that, when pooled, car­ry a low­er cor­re­la­tion of risk and a high-enough prob­a­bil­i­ty that at least one will reach clin­i­cal and reg­u­la­to­ry suc­cess. The odds are im­proved by that fact that life­sav­ing ad­vances are be­ing made to un­lock mech­a­nisms un­der­ly­ing many spe­cif­ic dis­eases, lead­ing to more ef­fec­tive treat­ments.
While this new mod­el re­mains cap­i­tal-in­ten­sive, it works to spread the risk and, by ex­ten­sion, pro­vides a more pre­dictable pat­tern for re­turns. As a re­sult, pri­vate eq­ui­ty and deep-pock­et­ed in­vestors now have more con­fi­dence in ear­ly-stage bio­phar­ma — in a few cas­es enough that some port­fo­lio as­sets are be­ing spun out as in­de­pen­dent com­pa­nies.
This shift in ear­ly-stage bio­phar­ma in­vest­ing, in fact, has evolved in three waves.
---
First wave: Spin off a sin­gle as­set
In the first wave, ex­em­pli­fied by Adimab and Nim­bus Ther­a­peu­tics, small­er com­pa­nies di­rect­ly took on the risks of drug dis­cov­ery. For ex­am­ple, Adimab launched as an LLC with no clear in­ten­tion of ever ex­it­ing as a whole com­pa­ny, an event that tra­di­tion­al­ly would have led to a big lump-sum pay­day for in­vestors. In­stead, Adimab's busi­ness mod­el cen­tered on de-risk­ing the ear­li­est stages of drug dis­cov­ery for larg­er bio­phar­ma and prof­it­ing from the over­all de­creased un­cer­tain­ty. This pro­vid­ed in­vestors with a some­what pre­dictable div­i­dend stream from reg­u­lar as­set-li­cens­ing deals, and the large bio­phar­ma as­set pur­chas­er with a source of less risky as­sets. Still, the larg­er bio­phar­ma com­pa­ny had to move ear­ly to ac­quire the as­set, and as a re­sult as­sumed a rel­a­tive­ly high risk of fail­ure. With­out trans­fer­ring all the risk, the in­vestors were left with some con­straints that lim­it­ed their re­turns.
Sec­ond wave: Build to buy
The next wave took the con­cept a step fur­ther. In­stead of de­vel­op­ing a sin­gle drug can­di­date, "build-to-buy" com­pa­nies were es­tab­lished around each as­set and spun out as new com­pa­nies. Ver­sant Ven­tures' In­cep­tion Sci­ences, a drug dis­cov­ery in­cu­ba­tor that spawned young com­pa­nies, and or­phan drug com­pa­ny Daunt­less Phar­ma­ceu­ti­cals are prime ex­am­ples. Very ear­ly on, they part­nered with a big bio­phar­ma com­pa­ny that gained the ex­clu­sive ac­qui­si­tion rights at pre­set terms. How­ev­er, ear­ly-stage in­vestors had to take a small­er re­turn on their in­vest­ments to com­pen­sate for the low­er risk as­so­ci­at­ed with a pre­de­fined ex­it. On the flip­side, strate­gic part­ners were will­ing to pay slight­ly more than nor­mal be­cause they were ac­quir­ing more-ma­ture as­sets, of­ten with sci­en­tif­ic teams in place to help bring the drug can­di­dates to the fin­ish line, in­stead of hav­ing to ded­i­cate their own R&D staff.
Third wave: Port­fo­lio-the­o­ry ap­proach
Now, in­vestors are ex­per­i­ment­ing with a full port­fo­lio-the­o­ry ap­proach, which is par­tial­ly based on an in­vestor the­o­ry called "re­search-backed oblig­a­tions," de­vel­oped by eco­nom­ics pro­fes­sors An­drew W. Lo and Roger Stein of the Mass­a­chu­setts In­sti­tute of Tech­nol­o­gy. Most in­vestors are fa­mil­iar with the con­cept, known as port­fo­lio in­vest­ing. It works like this: The goal is to own a con­trol­ling in­ter­est in a large num­ber of high-risk, po­ten­tial­ly high-re­turn ear­ly-stage com­pa­nies built around sin­gle as­sets. The idea is to spread the risk across a large enough num­ber of com­pa­nies that the bi­na­ry risk of fail­ure is re­duced, in the hopes that one com­pa­ny will sig­nif­i­cant­ly out­per­form.
To do this to­day in bio­phar­ma, an in­vest­ing en­ti­ty needs mas­sive sums of cap­i­tal, which in the past was tar­get­ed on­ly to late-stage com­pa­nies. As a re­sult, the pi­o­neers in port­fo­lio in­vest­ing with ear­ly-stage com­pa­nies have very deep-pock­ets. For ex­am­ple, Bridge­Bio is backed by pri­vate eq­ui­ty firms KKR, Viking Glob­al In­vestors and Per­cep­tive Ad­vi­sors. Bridge­Bio has fund­ed sub­sidiary com­pa­nies work­ing on a va­ri­ety of drugs to treat every­thing from skin con­di­tions to in­her­it­ed heart dis­or­ders, most of which are ear­ly-stage. In these cas­es, the in­vestors may be pre­pared to take a loss of tens of mil­lions of dol­lars in the short term with the ex­pec­ta­tion that clin­i­cal break­throughs will lead to at least some of these bets pay­ing big re­turns in the end.
The fu­ture of bio­phar­ma in­vest­ing
Oth­er com­pa­nies are ap­ply­ing a port­fo­lio-the­o­ry ap­proach to bio­phar­ma R&D with a broad­er strat­e­gy be­yond pre-clin­i­cal R&D. Ve­loc­i­ty Phar­ma­ceu­ti­cal De­vel­op­ment (VPD), for ex­am­ple, is based on in­vest­ing in un­der­fund­ed or shelved drugs. VPD es­tab­lished a "project-fo­cused com­pa­ny" around the as­set. Sim­i­lar­ly, Roivant Sci­ences, which in­cu­bates and launch­es new sub­sidiaries known as "Vants," is pool­ing as­sets and has at­tract­ed some mas­sive in­vest­ments. As its first bio­phar­ma in­vest­ment in Au­gust 2017, Soft­Bank Vi­sion Fund made a $1.1 bil­lion in­vest­ment in Roivant Sci­ences, not its sub­sidiaries. Mereo Bio­Phar­ma Group is an­oth­er port­fo­lio play that keeps de­vel­op­ment of clin­i­cal-phase as­sets un­der a sin­gle en­ti­ty.
Look­ing ahead, as the port­fo­lio-the­o­ry ap­proach evolves we en­vi­sion large pools of low-cor­re­la­tion risk as­sets com­bined with a more pre­dictable fi­nan­cial re­turn mod­el, at­tract­ing huge new sources of cap­i­tal from in­vestors, even re­tail in­vestors. This has the promise of fu­el­ing new drug de­vel­op­ment at ear­li­er stages and solv­ing med­ical chal­lenges faster. These mod­els al­so lend them­selves to very so­phis­ti­cat­ed cap­i­tal en­hance­ments, such as lever­age and se­cu­ri­ti­za­tion. We could be at the very be­gin­ning of a new in­vest­ing strat­e­gy that may lead to ma­jor dis­rup­tions in tra­di­tion­al sci­en­tif­ic in­vest­ing as we know it.
---
Jen­nifer Friel Gold­stein, BSE, MB, MBA, is the head of Sil­i­con Val­ley Bank's West Coast life sci­ence and health­care prac­tice. An­drew Ol­son, PhD, is a se­nior man­ag­er lead­ing mar­ket re­search in sup­port of Sil­i­con Val­ley Bank's life sci­ence prac­tice.