Hack­ing in­to macrophage at­tack cir­cuits, Stan­ford sci­en­tists pitch a bet­ter ear­ly-warn­ing alert sys­tem for tu­mors
Af­ter years of fine tun­ing ways to en­list the im­mune sys­tem in the fight against can­cer, im­munother­a­py has tak­en the field by storm, with a No­bel prize and a pair of block­buster check­point drugs to boast. But can im­mune cells help in an even broad­er ef­fort — flag­ging ma­lig­nant tu­mors be­fore they are de­tectable by tra­di­tion­al in­stru­ments?
Push­ing the thresh­old of can­cer di­ag­noses to ear­li­er and ear­li­er stages of the dis­ease is one of the Holy Grails in on­col­o­gy, in­spir­ing mul­ti­mil­lion-dol­lar in­vest­ments in­to star­tups like Grail. This week, a team from Stan­ford has chipped in with their own pitch and some mouse da­ta to show for it.
Pi­o­neer­ing a new de­f­i­n­i­tion of the con­cept "im­mun­odi­ag­notics," San­jiv "Sam" Gamb­hir of Stan­ford's Ca­nary Cen­ter for Ear­ly De­tec­tion re­pur­posed macrophages to re­port the pres­ence of dis­ease or dam­aged cells, achiev­ing de­tec­tion of tu­mors as small as 4 mil­lime­ters in di­am­e­ter, out­per­form­ing "some of the most ad­vanced ear­ly tu­mor de­tec­tion meth­ods out there."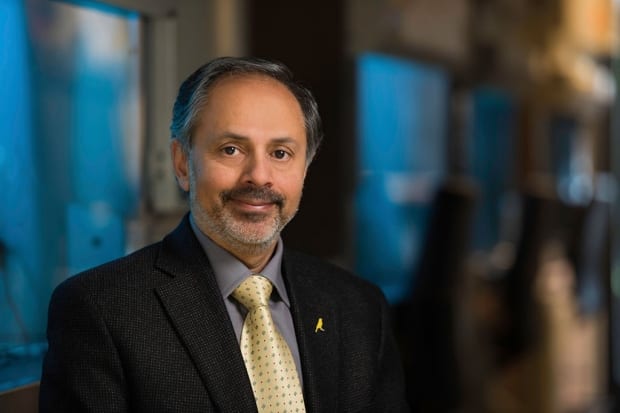 Im­age: San­jiv "Sam" Gamb­hir. Steve Fisch, STAN­FORD
His tech­nique, re­port­ed in Na­ture Biotech­nol­o­gy, makes use of macrophages' in­nate abil­i­ty to find (and eat) mal­func­tion­ing or dead cells. That's sim­ple; the big chal­lenge is to hack the process in a way such that these im­mune cells emit a de­tectable sig­nal be­fore they be­gin to feast.
To do that, Gamb­hir's team tagged a mol­e­c­u­lar mark­er to a gene pro­mot­er that awak­ens and ac­ti­vates the gene di­rect­ing the macrophage on­slaught in the pres­ence of a tu­mor.
"The mol­e­c­u­lar mark­er is called Gaus­sia lu­ciferase, and un­der cer­tain chem­i­cal cir­cum­stances, it glows," Gamb­hir said in a state­ment. "So the idea is, we pick a gene that turns on when a macrophage sens­es a tu­mor cell, we link that gene's pro­mot­er to Gaus­sia lucer­iferase and fi­nal­ly, we in­te­grate it in­to the macrophages."
Macrophages have been a key im­mune cell type of in­ter­est, at­tract­ing a num­ber of biotechs to re­move the "don't eat me" sig­nal that tu­mors of­ten de­ploy to pre­vent an at­tack.
There are, of course, lim­i­ta­tions with the method. For one, macrophages don't just re­spond to can­cer­ous tar­gets, so a "hit" on this test rep­re­sents a call for oth­er, con­fir­ma­to­ry tests rather than a de­fin­i­tive di­ag­no­sis. But the ap­proach, which in­volves cre­at­ing a syn­thet­ic bio­mark­er, is a ma­jor de­par­ture from the tra­di­tion­al prac­tice, which re­lies on iden­ti­fy­ing bio­mark­ers in the body.
The syn­thet­ic na­ture of this tech­nique means the strat­e­gy can be ap­plied to mul­ti­ple in­stru­ments and im­mune cells — all pos­si­bil­i­ties that Gamb­hir is ex­plor­ing with his start­up, Ear­li.
Mov­ing for­ward, Gamb­hir plans to test the method in oth­er types of can­cers and an­i­mal mod­els, while re­fin­ing the tech­nique to home in on just tu­mor cells, not cells with oth­er types of dam­age.