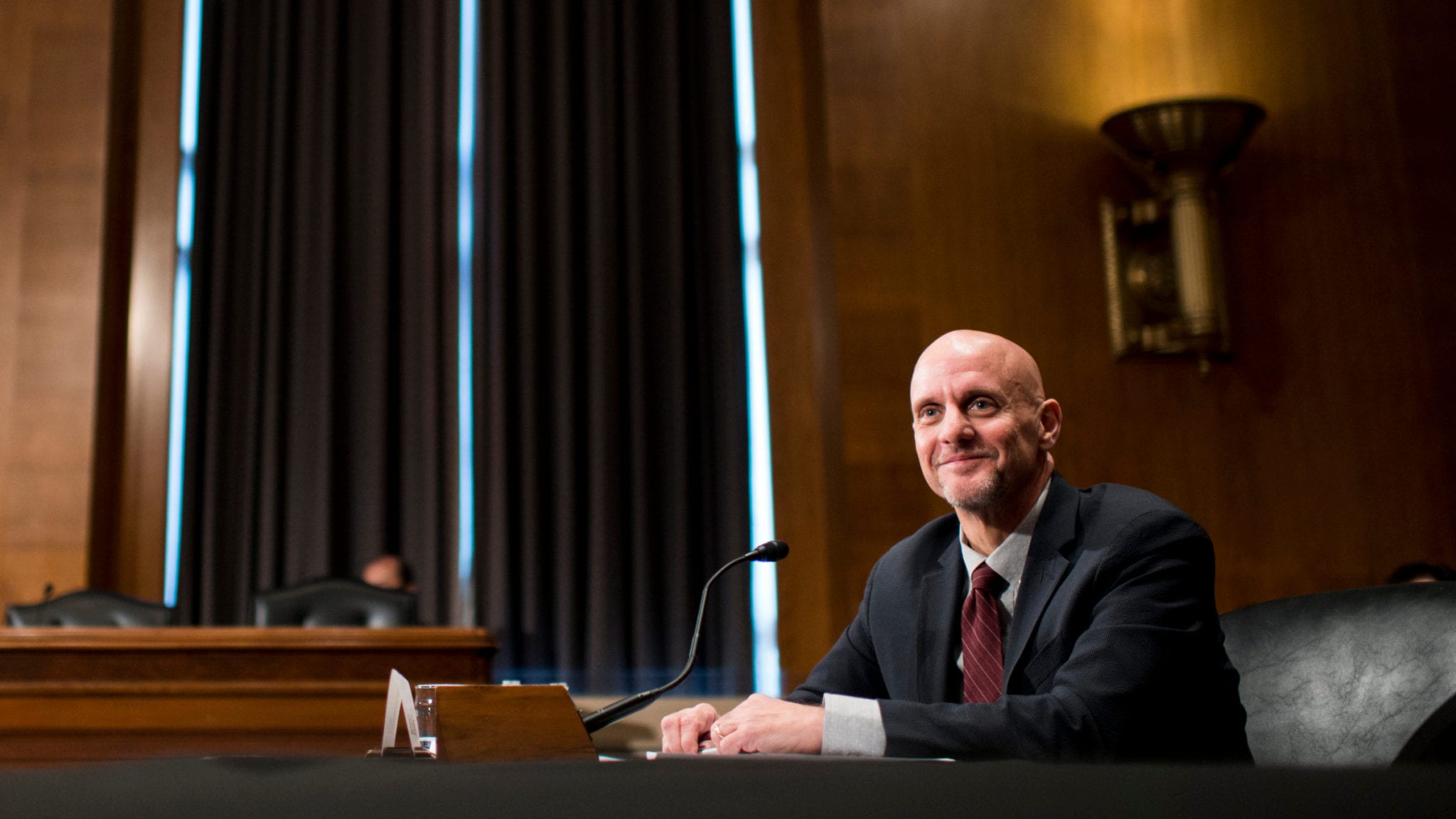 Hahn stress­es im­por­tance of da­ta, RWE in first all-hands meet­ing
FDA Com­mis­sion­er Stephen Hahn ad­dressed FDA staffers in an all-hands meet­ing for the first time on Thurs­day, ex­plain­ing how he wants to do more with re­al-world ev­i­dence (RWE), which has been a con­tro­ver­sial sub­ject.
While not­ing that the FDA is op­er­at­ing in a time of "un­sur­passed sci­en­tif­ic and tech­no­log­i­cal in­no­va­tion," Hahn called to un­leash the pow­er of da­ta and "to at­tain more and bet­ter da­ta." His com­ments build up­on the agency's tech­nol­o­gy mod­ern­iza­tion plan un­veiled last Sep­tem­ber.
"By har­ness­ing this pow­er, we can im­prove our reg­u­la­to­ry de­ci­sion-mak­ing and more ef­fec­tive­ly con­nect to­day's ground­break­ing sci­en­tif­ic dis­cov­er­ies with the rapid de­vel­op­ment and ap­proval of new prod­ucts. We can al­so in­crease the knowl­edge pa­tients and con­sumers have to make in­formed de­ci­sions about FDA-reg­u­lat­ed prod­ucts," he said.
Hahn al­so con­tin­ued to push the agen­da of his pre­de­ces­sor, Scott Got­tlieb, who re­leased an RWE frame­work in De­cem­ber 2018. Al­though the agency has on­ly used RWE in lim­it­ed amounts so far.
"Specif­i­cal­ly, I be­lieve there is great promise in the ef­fec­tive use and in­te­gra­tion of pa­tient-lev­el da­ta or re­al-world ev­i­dence such as elec­tron­ic health records, clin­i­cal tri­als, med­ical stud­ies, and pa­tient reg­istries," Hahn said.
For­mer FDA Com­mis­sion­ers Robert Califf, Mark Mc­Clel­lan and An­drew von Es­chen­bach al­so of­fered their rec­om­men­da­tions to ex­pand the use of RWE in reg­u­la­to­ry and pay­ment de­ci­sion-mak­ing. But ques­tions on the ap­plic­a­bil­i­ty of RWE linger. A re­cent study in JA­MA Open Net­work found that re­al-world da­ta (RWD) could on­ly be used to fea­si­bly repli­cate 15% of high-pro­file clin­i­cal tri­als con­duct­ed in the US in 2017.
For­mer FDA Com­mis­sion­er Rob Califf al­so said RWE and RWD can in­clude ran­dom­iza­tion and oth­er meth­ods to en­able causal in­fer­ence. "We wor­ried at the time that the terms RWD & RWE would be hi­jacked to fos­ter low qual­i­ty re­search. This must be fought, be­cause well done RWD & RWE with prop­er use of meth­ods for causal in­fer­ence is HIGH­ER qual­i­ty & more gen­er­al­iz­able," Califf wrote on Twit­ter.
Hahn al­so stressed the need to build up­on the FDA's Pa­tient-Fo­cused Drug De­vel­op­ment ini­tia­tive so "con­sumers may be even more in­formed and aware about the en­tire life­cy­cle of prod­ucts we reg­u­late in or­der to live more healthy and pro­duc­tive lives."
And per­haps as a re­sponse to cri­tiques of the agency's re­cent speedy ap­provals of new drugs, Hahn said the agency needs to "main­tain the vi­tal bal­ance be­tween the speedy ap­proval of new prod­ucts and the in­tegri­ty of the da­ta and the process it­self."Ed­i­tor's Note:
Ar­ti­cle up­dat­ed with com­ment from for­mer FDA Com­mis­sion­er Robert Califf.
---
RAPS: First pub­lished in Reg­u­la­to­ry Fo­cus™ by the Reg­u­la­to­ry Af­fairs Pro­fes­sion­als So­ci­ety, the largest glob­al or­ga­ni­za­tion of and for those in­volved with the reg­u­la­tion of health­care prod­ucts. Click here for more in­for­ma­tion.