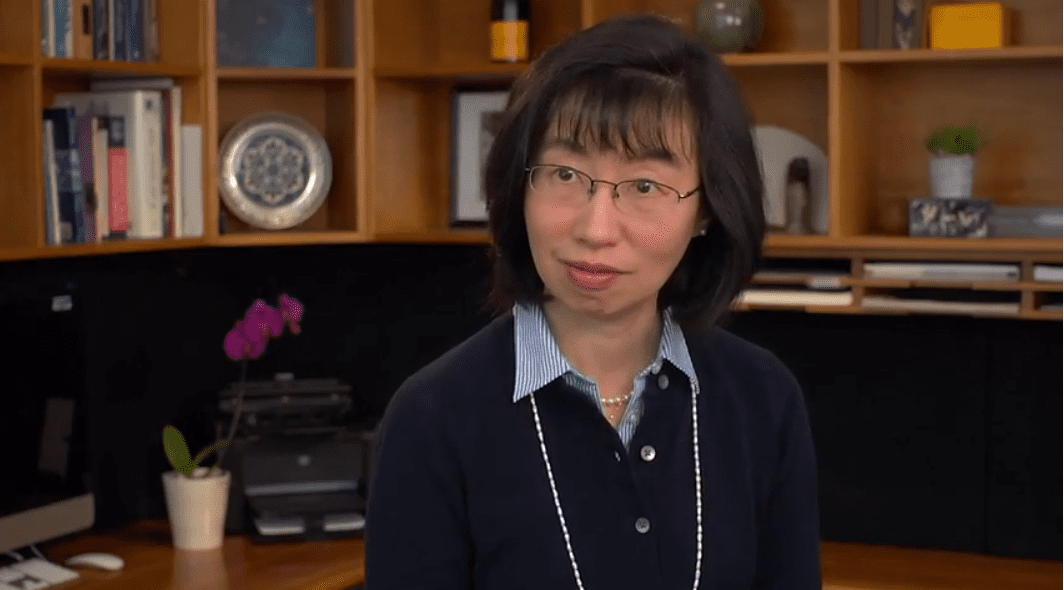 Jeannie Lee explains her epigenetic research after she was selected as the 2016 winner of the Lurie Prize in Biomedical Sciences. (Foundation for the National Institutes of Health via YouTube)
HH­MI dis­crim­i­nat­ed against two Asian Amer­i­can women in­ves­ti­ga­tors, law­suits al­lege
Howard Hugh­es Med­ical In­sti­tute — the not­ed non­prof­it known for dol­ing out gen­er­ous in­ves­ti­ga­tor awards to re­searchers all around the US — is fac­ing law­suits by two Asian Amer­i­can bi­ol­o­gists who al­lege they were un­fair­ly de­nied re­new­al of grants be­cause of their sex, age, na­tion­al ori­gin or dis­abil­i­ty.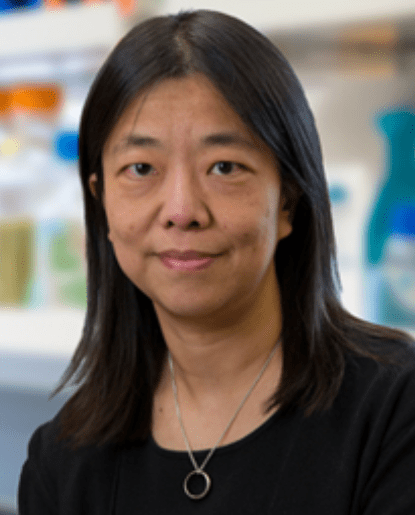 Vi­vian Che­ung
Mered­ith Wad­man of Sci­ence first re­port­ed the law­suits, which ac­cord­ing to le­gal ex­perts and sev­er­al oth­er Asian Amer­i­can women who were dis­con­tin­ued as HH­MI in­ves­ti­ga­tors re­flect a pat­tern of prej­u­dice at the or­ga­ni­za­tion. They al­so come amid a gen­er­al in­crease in aware­ness about the ob­sta­cles women in life sci­ences face in their ca­reers. Ear­li­er this year, the Salk In­sti­tute in San Diego came un­der fire af­ter in which fe­male fac­ul­ty mem­bers claim an "old boys' club" of se­niors re­strict­ed their ac­cess to funds, re­sources and net­works.
But the law­suit brought by Jean­nie Lee — and the one to be filed by Vi­vian Che­ung — might be the first high pro­file cas­es to ad­dress age, na­tion­al ori­gin and dis­abil­i­ty.
Lee, an epi­ge­neti­cist at Har­vard Med­ical School and Mass­a­chu­setts Gen­er­al Hos­pi­tal, sued in Au­gust 2016, two months af­ter the HH­MI re­fused to re­new her for a fourth five-year term. In ad­di­tion to dis­put­ing the re­new­al, she as­sert­ed in the law­suit that the HH­MI un­der­paid her com­pared to male col­leagues at Mass Gen­er­al, where her lab is based, de­spite rec­om­men­da­tions from the hos­pi­tal. The 55-year-old is a nat­u­ral­ized US cit­i­zen of Tai­wanese ori­gin.
The in­equal­i­ty that Lee was sub­ject­ed to, ac­cord­ing to the com­plaint, was ob­vi­ous if you com­pare the treat­ment she re­ceived to an­oth­er, white male in­ves­ti­ga­tor: No­bel lau­re­ate and for­mer HH­MI pres­i­dent Thomas Cech.
A sci­en­tif­ic dis­agree­ment be­tween Lee and Cech emerged in 2013, dur­ing Lee's 2011-2016 term as an HH­MI in­ves­ti­ga­tor, cen­tered around the role of a type of pro­tein dubbed poly­comb re­pres­sive com­plex 2, or PRC2. Back in 2008, Lee's lab pro­posed that PRC2 binds to RNA in a spe­cif­ic man­ner. But in 2013, Cech dis­put­ed that well-ac­cept­ed "speci­fici­ty" mod­el, claim­ing in a pa­per that he's found ev­i­dence that PRC2 bind­ing is "promis­cu­ous" with­out well-de­fined mo­tifs.
Dur­ing his own HH­MI re­new­al re­view on Sep­tem­ber 13, 2016 — hours be­fore Lee's — Cech, 72, cit­ed that pa­per as one of his top achieve­ments in the past five years as it had "com­plete­ly changed the di­rec­tion of an en­tire field."
Ex­cept that it didn't, Lee's com­plaint stat­ed.
In fact, Dr. Cech had sub­mit­ted a man­u­script in Au­gust 2016, be­fore his HH­MI re­view, to the jour­nal Mol­e­c­u­lar Cell, in which he di­rect­ly con­tra­dict­ed his state­ments to HH­MI that Dr. Lee's mod­el was wrong. […] Up­on in­for­ma­tion and be­lief, Dr. Cech dis­missed Dr. Lee's Speci­fici­ty Mod­el in the sub­mis­sion and Pow­er­Point he pre­pared for his Sep­tem­ber 2016 HH­MI re­view, de­spite know­ing that re­sults from his lab had con­firmed the Speci­fici­ty Mod­el, and de­spite hav­ing sub­mit­ted an ar­ti­cle to a schol­ar­ly jour­nal re­port­ing those find­ings, in or­der to en­hance his own sci­en­tif­ic rep­u­ta­tion and achieve­ments at the ex­pense of Dr. Lee.
HH­MI re­newed Cech's in­ves­ti­ga­tor award but ter­mi­nat­ed Lee's, giv­ing her un­til Sep­tem­ber 2018 to find an al­ter­na­tive source of fund­ing.
In their eval­u­a­tion, the in­sti­tute fault­ed Lee for "view[ing] some top­ics dog­mat­i­cal­ly even when pre­sent­ed with new or con­flict­ing da­ta" and fail­ing to "deeply con­sid­er con­flict­ing da­ta from oth­er labs."
From the com­plaint:
In ef­fect, HH­MI ap­plied a dif­fer­ent stan­dard to Dr. Cech than to Dr. Lee, choos­ing to cred­it, re­ward and re­new a white man, and to dis­cred­it, crit­i­cize and not re­new an Asian woman, where both had strong­ly held sci­en­tif­ic views on a com­mon sub­ject, which, in Dr. Lee's case, had been con­firmed by mul­ti­ple oth­er labs (in­clud­ing, as it turns out, Dr. Cech's lab).
To fur­ther un­der­stand Lee's shock, one needn't go fur­ther than HH­MI's own words from 2011, her last re­new­al. Writ­ing in a cov­er let­ter for her eval­u­a­tion, then-CSO Jack Dixon not­ed: "Dr. Lee re­mains the sin­gle most in­flu­en­tial leader in the field of X-in­ac­ti­va­tion and one of half dozen or so in the broad­er field of mam­malian epi­ge­net­ics."
Af­ter ini­tial­ly fil­ing her case with the Suf­folk Su­pe­ri­or Court, Lee has now tak­en it to the U.S. Dis­trict Court in Mass­a­chu­setts, where the two sides are still de­bat­ing HH­MI's mo­tion to dis­miss parts of Lee's claim.
For Che­ung, a 52-year-old RNA bi­ol­o­gist at the Uni­ver­si­ty of Michi­gan in Ann Ar­bor, there was no per­son to com­pare to. Rather, she claimed that her re­la­tion­ship with HH­MI (be­gin­ning in 2008) turned sour when she in­formed them that she was di­ag­nosed with a rare ge­net­ic dis­or­der caus­ing pro­gres­sive vi­sion loss. HH­MI re­spond­ed by turn­ing down her re­quests for ac­com­mo­da­tions and threat­ened to ter­mi­nate her con­tract.
HH­MI of­fi­cials then pres­sured her to ac­cept a 5-year phase­out award, she told Sci­ence. She re­fused, and in 2018 she too was de­nied a re­new­al.
Af­ter re­ceiv­ing a no­tice from the Equal Em­ploy­ment Op­por­tu­ni­ty Com­mis­sion giv­ing her the right to sue for dis­crim­i­na­tion based on sex, age and dis­abil­i­ty this month, Che­ung plans to press her case in court soon.
HH­MI Pres­i­dent Erin O'Shea, who was pro­mot­ed to the top in Sep­tem­ber 2016, wrote to Sci­ence that they are "ful­ly con­fi­dent in the in­tegri­ty of our re­view process."
"We re­spect Drs. Lee and Che­ung and val­ue their con­tri­bu­tions dur­ing their tenures as HH­MI In­ves­ti­ga­tors," she added. "While we can­not pro­vide de­tails of per­son­nel mat­ters, par­tic­u­lar­ly in cas­es of lit­i­ga­tion, we have in­ves­ti­gat­ed these claims and be­lieve they have no mer­it."