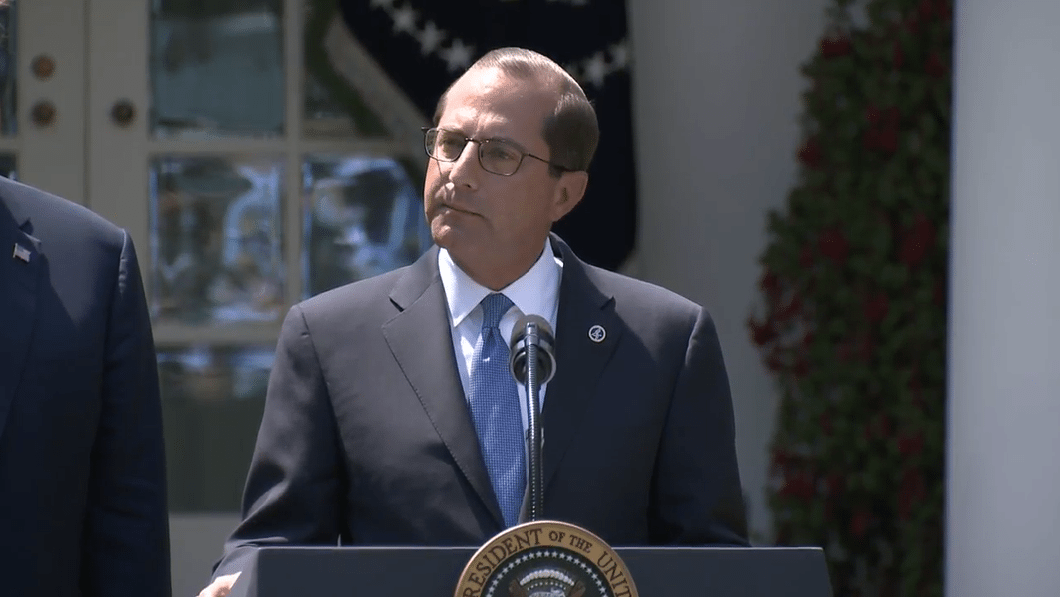 HHS Sec­re­tary Azar pitch­es nam­ing and sham­ing tac­tics on drug price cam­paign, sin­gling out Cel­gene's Revlim­id
Cel­gene $CELG wasn't sin­gled out by name in a speech by HHS Sec­re­tary Alex Azar Mon­day, but the big biotech got cast in the role of main vil­lain in his out­line of what ails Medicare — and how that should be fixed.
The price on Cel­gene's wide­ly used Revlim­id — Ever­core ISI's Umer Raf­fat made the con­nec­tion to Azar's speech in a note Mon­day af­ter­noon — was jacked by 20% over the last year, which means that Medicare pa­tients pay an ex­tra $115 month, mov­ing from $575 to $690 per month, for their share of a drug that had cost $11,500 a month in 2015.
Be­cause it's a can­cer drug, Azar adds, its one of six pro­tect­ed class­es of ther­a­pies that Medicare is re­quired to cov­er. And as a re­sult, the fed­er­al gov­ern­ment is pay­ing an av­er­age 6% dis­count on these drugs, while pri­vate pay­ers are able to gain dis­counts of 20% to 30%.
"A 6 per­cent dis­count — I'm sor­ry, that is not ne­go­ti­at­ing," said the HHS Sec­re­tary.
Azar went to some length on Mon­day to ex­pand on the drug price plan that he and Pres­i­dent Don­ald Trump pre­sent­ed on Fri­day — amid con­sid­er­able re­lief by Big Phar­ma play­ers and their in­vestors who quick­ly shrugged it off as large­ly a non-event.
In the speech to­day, Azar at­tacked two of the big weapons that have been sug­gest­ed for rein­ing in prices, but al­so said they would like­ly re­main on the ta­ble un­less the in­dus­try played ball in ne­go­ti­at­ing bet­ter terms for drugs like Revlim­id. And he broached the is­sue of merg­ing Part B drugs in­to Part D, so they could use bet­ter ne­go­ti­at­ing pow­ers to bring down their cost.
Di­rect Medicare ne­go­ti­a­tions, lever­ag­ing the buy­ing pow­er of the fed­er­al pro­gram, wouldn't ac­tu­al­ly lead to sig­nif­i­cant sav­ings, Azar point­ed out, cit­ing a CBO re­port. What would, he added by im­pli­ca­tion, is a for­mu­la­ry ap­proach adopt­ed by pri­vate pay­ers, threat­en­ing to drop drugs or pro­vide ex­clu­sive po­si­tions in ex­change for dis­counts. The sin­gle pay­ers' so­lu­tion in set­ting prices, he added, was a non-starter.
Nev­er­the­less, he held those mea­sures out as a threat the in­dus­try has to deal with now by of­fer­ing bet­ter prices on drugs used by the fed­er­al pro­gram. From his pre­pared re­marks:
We don't be­lieve ei­ther of these pro­pos­als would put Amer­i­can pa­tients first. They would move us to­ward the kind of so­cial­ized med­i­cine sys­tems that have such a no­to­ri­ous rep­u­ta­tion for poor qual­i­ty and ac­cess. This stacks right up there with the false promis­es of Oba­macare: that if you like your plan, you can keep it, and if you like your doc­tor, you can keep see­ing him.

But I don't ex­pect these ideas to go away, no mat­ter how un­like­ly they are to work. If the phar­ma­ceu­ti­cal in­dus­try wants this idea off the ta­ble en­tire­ly, the on­ly way is to come to the ta­ble with us, to en­gage in mean­ing­ful ne­go­ti­a­tion with Medicare Part D plans, and to stop the price hikes.
For­get about reim­por­ta­tion, said Azar.
Cana­da sim­ply doesn't have enough drugs to sell them to us for less mon­ey, and drug com­pa­nies won't sell Cana­da or Eu­rope more just to have them im­port­ed here.
And un­safe drugs from un­re­li­able man­u­fac­tur­ers could be used to plug the gap.
Azar's list of pro­pos­als, which will like­ly be the sub­ject of con­sid­er­able lob­by­ing with Con­gress, in­cludes over­turn­ing the cap law­mak­ers put in place on penal­ties for rais­ing drug prices be­yond the rate of in­fla­tion — a com­mon in­dus­try prac­tice for years. And he wants to in­cor­po­rate pri­vate dis­counts in­to the av­er­age man­u­fac­tur­er price — or AMP — used to set Med­ic­aid prices.
HHS al­so plans to use sham­ing tac­tics against any drug mak­ers that refuse to make sam­ples avail­able for gener­ic man­u­fac­tur­ers to use for their de­vel­op­ment work, call­ing them out on any abus­es they find. In a sense, Azar — a for­mer top ex­ec at Eli Lil­ly — is muscling the en­tire in­dus­try to back off some fa­vorite talk­ing points he once used him­self and get re­al with their pric­ing strate­gies.
For too long, there's been a lot of talk on drug prices and no ac­tion. Drug com­pa­nies have in­sist­ed we can have new cures or af­ford­able prices, but not both.

I've been a drug com­pa­ny ex­ec­u­tive—I know the tired talk­ing points: the idea that if one pen­ny dis­ap­pears from phar­ma prof­it mar­gins, Amer­i­can in­no­va­tion will grind to a halt.

I'm not in­ter­est­ed in hear­ing those talk­ing points any­more, and nei­ther is the Pres­i­dent.
Af­ter the phar­ma ral­ly on Fri­day af­ter­noon, the Trump ad­min­is­tra­tion still seems set on il­lus­trat­ing its get-tough ap­proach to rein­ing in drug prices in the US, which far out­strip the prices al­lowed in any oth­er in­dus­tri­al­ized na­tion. Giv­en the lat­est fluc­tu­a­tions on the mar­ket, though, Trump and Azar have a con­sid­er­able dis­tance to go.
Cel­gene's stock is up 1% to­day.
---
Im­age: HHS Sec­re­tary Alex Azar at the May 11 speech. WHITE HOUSE via YOUTUBE