Hold the ap­plause: Big Phar­ma has lit­tle to brag about re­gard­ing 2016 R&D pro­duc­tiv­i­ty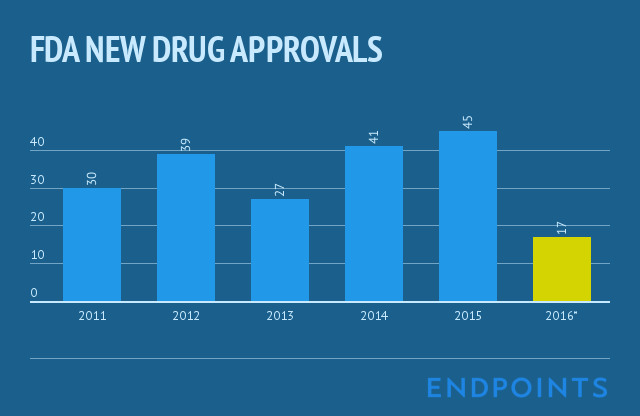 ---
Ex­ondys 51 stands out for more rea­sons than its unique and con­tro­ver­sial sta­tus as the on­ly Duchenne mus­cu­lar dy­s­tro­phy drug to make it through the reg­u­la­to­ry gamut this year.
It was one of on­ly three new drugs ap­proved by the FDA in the last quar­ter, bring­ing the agency's an­nu­al tal­ly year-to-date to a mere 17. By this time last year, the agency had OK'd a ros­ter of 28 new drugs, on its way to a gen­er­a­tional high of 45 for the year.
But even with a 4th-quar­ter burst of ap­provals, it will be hard for the FDA to avoid see­ing a sharp drop in the over­all num­ber of mar­ket ap­provals by end of the year, re­vers­ing a trend of ris­ing mar­ket launch­es.
To be sure, there have been some big ap­provals this year, in ad­di­tion to Ex­ondys 51 from lit­tle Sarep­ta $SRPT. Eli Lil­ly $LLY got Taltz past the fin­ish line, scor­ing a cru­cial OK for one of its big new prospects. Genen­tech has had a stand­out with the first PD-L1 check­point Tecen­triq.
But those are the ex­cep­tions that proved a fair­ly grim mes­sage on a stall in R&D pro­duc­tiv­i­ty. The top 15 bio­phar­ma com­pa­nies in the world spend $87 bil­lion on re­search. And most aren't even on the an­nu­al list yet.
Aside from Roche's tro­phy OKs — where Genen­tech con­tin­ues to de­liv­er and the Basel team seems MIA — and added ev­i­dence that the long R&D drought at Lil­ly is over, there aren't many re­al brag­ging rights left on this list for Big Phar­ma. You can ex­pect that to add to the pres­sure for R&D down­siz­ing and out­sourc­ing while keep­ing the spot­light on M&A and li­cens­ing.