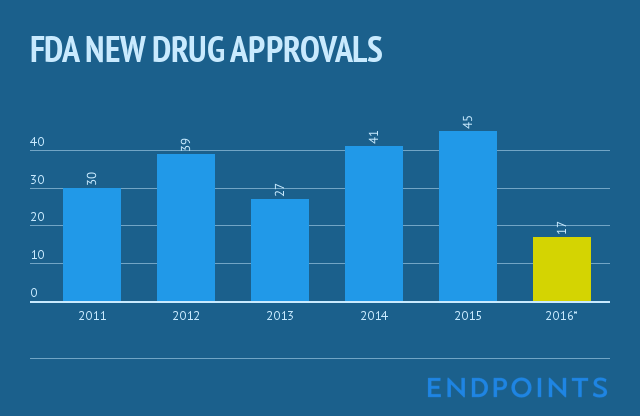 ---
Exondys 51 stands out for more reasons than its unique and controversial status as the only Duchenne muscular dystrophy drug to make it through the regulatory gamut this year.
It was one of only three new drugs approved by the FDA in the last quarter, bringing the agency's annual tally year-to-date to a mere 17. By this time last year, the agency had OK'd a roster of 28 new drugs, on its way to a generational high of 45 for the year.
But even with a 4th-quarter burst of approvals, it will be hard for the FDA to avoid seeing a sharp drop in the overall number of market approvals by end of the year, reversing a trend of rising market launches.
To be sure, there have been some big approvals this year, in addition to Exondys 51 from little Sarepta $SRPT. Eli Lilly $LLY got Taltz past the finish line, scoring a crucial OK for one of its big new prospects. Genentech has had a standout with the first PD-L1 checkpoint Tecentriq.
But those are the exceptions that proved a fairly grim message on a stall in R&D productivity. The top 15 biopharma companies in the world spend $87 billion on research. And most aren't even on the annual list yet.
Aside from Roche's trophy OKs — where Genentech continues to deliver and the Basel team seems MIA — and added evidence that the long R&D drought at Lilly is over, there aren't many real bragging rights left on this list for Big Pharma. You can expect that to add to the pressure for R&D downsizing and outsourcing while keeping the spotlight on M&A and licensing.
---
The best place to read
Endpoints News

? In your inbox.

Comprehensive daily news report for those who discover, develop, and market drugs. Join 47,900+ biopharma pros who read Endpoints News by email every day.

Free Subscription
---
---
---