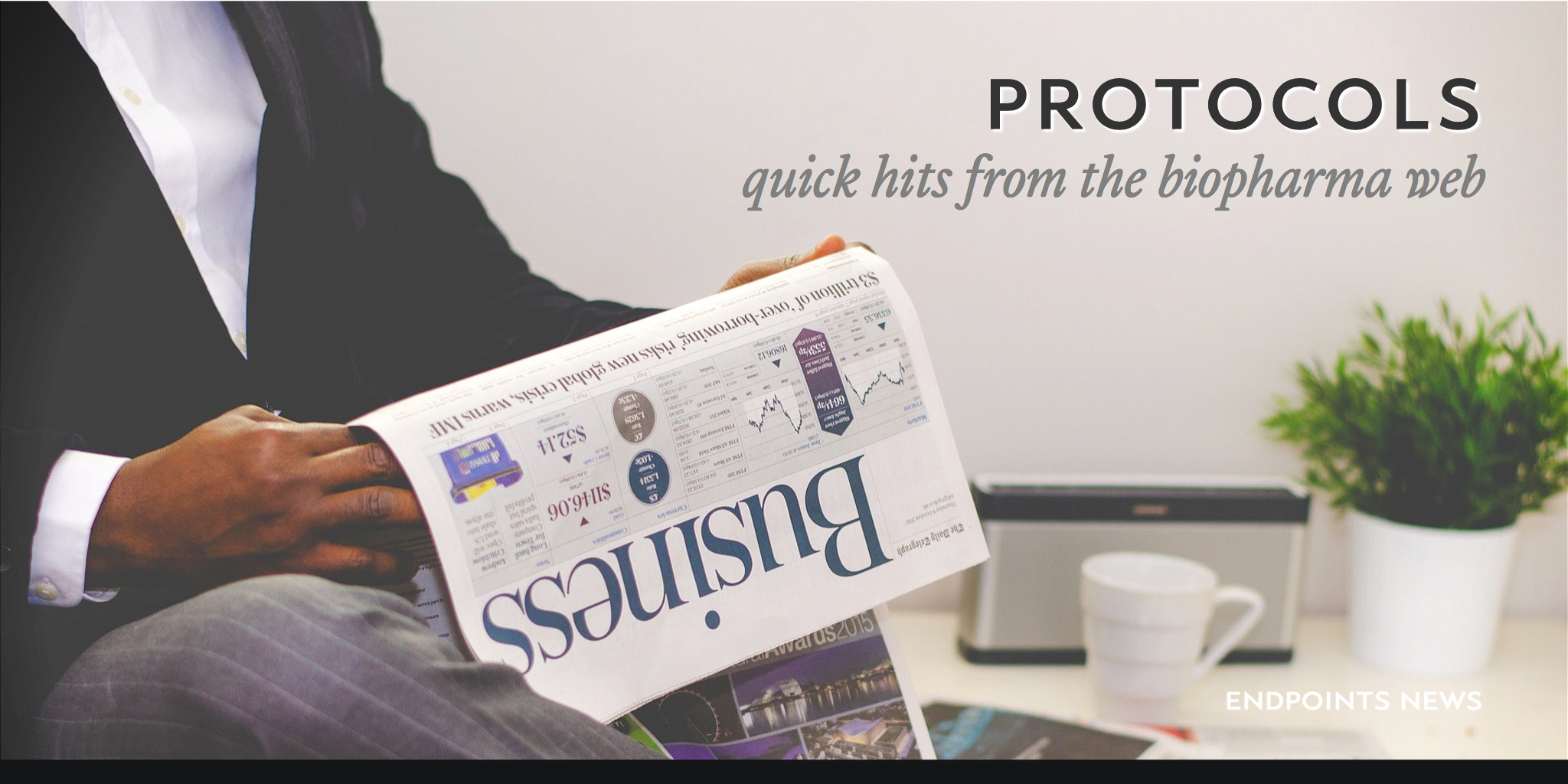 Hookipa rais­es $60M to fund im­munother­a­py R&D; Roche bags Io­n­is op­tion for $45M; Re­gen­eron fights back against No­var­tis' Eylea ri­val
→ Hookipa Biotech has raised $60 mil­lion (€50 mil­lion) in an over­sub­scribed Se­ries C round to help push its lead pro­gram, a vac­cine for in­fec­tions caused by a genus of virus­es called cy­tomegalovirus, through Phase II clin­i­cal tri­als. The new round was led by an un­named blue chip U.S. pub­lic in­ven­st­ment fund, and was joined by Gilead as a strate­gic in­vestor. Oth­er new in­vestors in­clude HBM Part­ners, Hill­house Cap­i­tal, and Sirona Cap­i­tal. Hookipa al­ready had sev­er­al ex­ist­ing in­vestors on board in­clud­ing Boehringer In­gel­heim's ven­ture arm and Take­da Ven­tures, which par­tic­i­pat­ed in the round. Oth­er than the cy­tomegalovirus pro­gram (called HB-101), the Vi­en­na-based com­pa­ny is al­so hop­ing to take its ther­a­py for head and neck squa­mous cell car­ci­no­ma to Phase I tri­als. Hookipa plans to ex­pand its tech plat­form in­to oth­er dis­ease ar­eas, in­clud­ing prostate can­cer.
→ Io­n­is start­ed the day with the news that its part­ner Roche has ex­er­cised the op­tion to li­cense IO­N­IS-HT­TRx for Hunt­ing­ton's dis­ease, hand­ing the com­pa­ny $IONS $45 mil­lion in cash. Roche made the de­ci­sion — which makes the gi­ant $RHH­BY re­spon­si­ble for all de­vel­op­ment and com­mer­cial ac­tiv­i­ties of the drug — in light of re­sults from a Phase I/IIa place­bo-con­trolled, dose es­ca­la­tion study. A deal years in the mak­ing, the pact with Roche dates back to 2013, when Io­n­is was still known as Isis. To be sure, HD is not at the top of Io­n­is ex­ecs' minds, who are busy in bat­tle with their hered­i­tary AT­TR amy­loi­do­sis block­buster con­tender in­ot­ersen. But they didn't mind tout­ing the da­ta from this deal-seal­ing study, ei­ther: "For the first time, a drug has low­ered the lev­el of the tox­ic dis­ease-caus­ing pro­tein in the ner­vous sys­tem, and the drug was safe and well tol­er­at­ed," said lead in­ves­ti­ga­tor Sarah Tabrizi in a state­ment.
→ The FDA has ac­cept­ed Re­gen­eron's ap­pli­ca­tion for a 12-week reg­i­men of wet AMD drug Eylea and set a PDU­FA date for Au­gust 2018. The progress puts the com­pa­ny in a bet­ter po­si­tion to com­pete with No­var­tis' fast-ap­proach­ing Eylea ri­val RTH258 (brolu­cizum­ab), should the dos­ing sched­ule be ap­proved. No­var­tis $NVS is large­ly bank­ing on RTH258's 12-week reg­i­men will win over a big slice of the Wet AMD mar­ket, as Re­gen­eron's flag­ship ther­a­py Eylea is cur­rent­ly an 8-week reg­i­men. There's a lot at stake, with Re­gen­eron $REGN tak­ing in $953 mil­lion in US Eylea sales in Q3 this year. The news is like­ly a re­lief for Re­gen­eron, which has un­der­gone two back-to-back com­bo tri­al flops with Eylea. Ear­li­er this year, the drug in com­bi­na­tion with nes­vacum­ab failed to beat a so­lo ver­sion of Eylea. And more than a year ago, its an­ti-PDFG an­ti­body rin­u­cum­ab com­bined with Eylea failed a Phase II tri­al for age-re­lat­ed mac­u­lar de­gen­er­a­tion.
→ In an­oth­er at­tempt to run ahead of ri­vals Iron­wood and Syn­er­gy, Arde­lyx an­nounced to­day that it has out-li­censed tena­panor for $12 mil­lion up­front to Shang­hai-based Fo­s­un Phar­ma, which has bought the ex­clu­sive rights to de­vel­op and com­mer­cial­ize the lead prod­uct in Chi­na. Ad­di­tion­al mile­stones to­tal up to $113 mil­lion; the agree­ment al­so cov­ers tiered roy­al­ty pay­ments on net sales rang­ing from the mid-teens to 20%. Where­as the fo­cus is on the hot­ly con­test­ed field of ir­ri­ta­ble bow­el syn­drome with con­sti­pa­tion (IBS-C) and hy­per­phos­phatemia re­lat­ed to chron­ic kid­ney dis­ease, Fo­s­un has al­so ac­quired the rights to com­mer­cial­ize tenepanor for oth­er in­di­ca­tions ap­proved in the US. The Fre­mont, CA-based biotech came out in Oc­to­ber with new PhI­II da­ta that proved more im­pres­sive than the round re­leased in May. Clear­ly, Fo­s­un shared the en­thu­si­asm of US in­vestors. "Tena­panor's po­ten­tial as a dif­fer­en­ti­at­ed treat­ment for both car­diore­nal and GI dis­eases is im­pres­sive," said Yi­fang Wu, pres­i­dent and CEO of Fo­s­un's epony­mous par­ent com­pa­ny. "The da­ta gen­er­at­ed by Arde­lyx to-date gives us con­fi­dence that tena­panor could be a lead­ing treat­ment op­tion for both ther­a­peu­tic ar­eas, of­fer­ing unique ad­van­tages to pa­tients."
With ad­di­tion­al re­port­ing by Brit­tany Meil­ing.