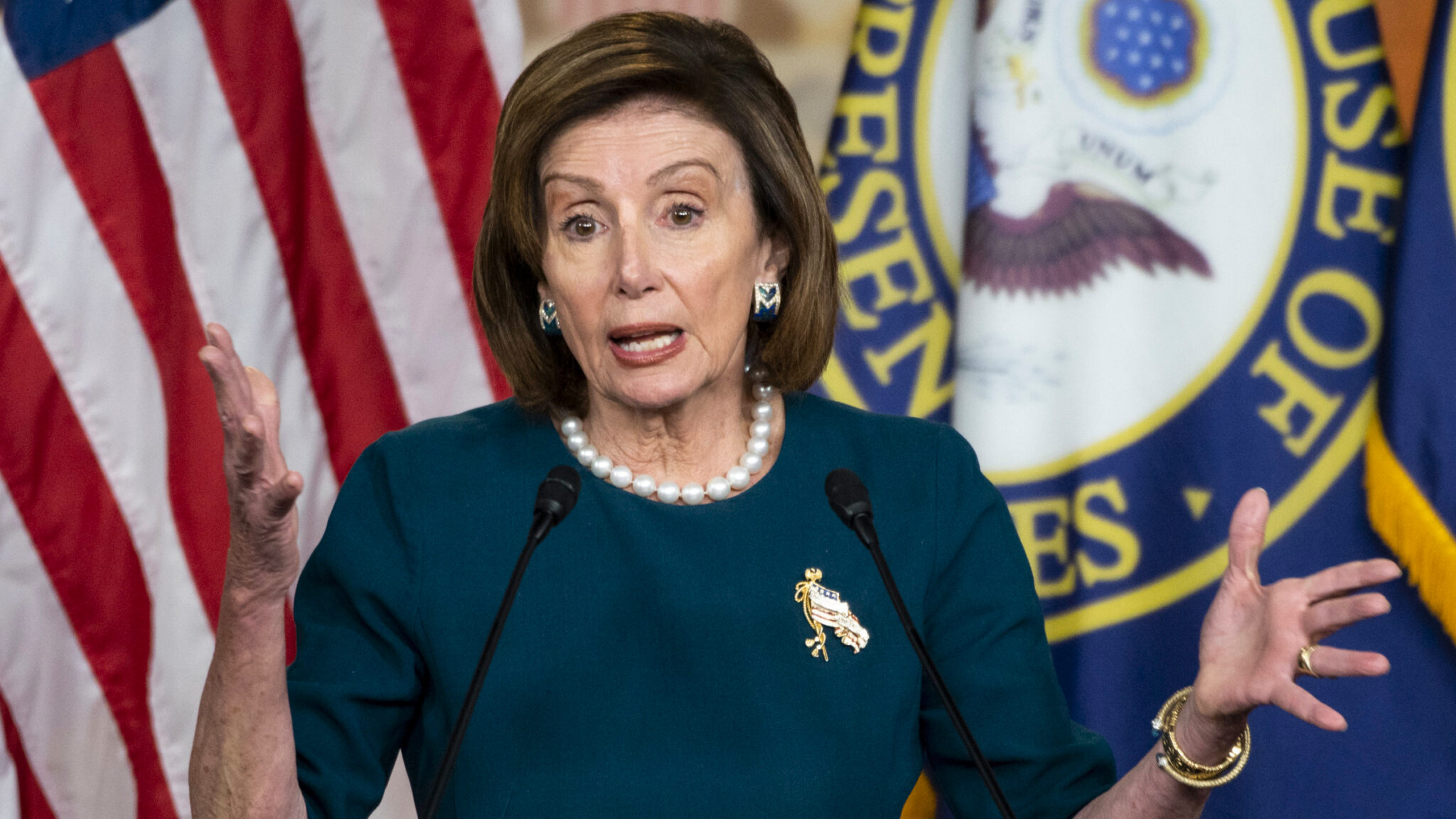 Speaker of the House Nancy Pelosi (D-CA)(Photo by Bill Clark/CQ Roll Call via AP Images)
House pass­es $35 month­ly in­sulin caps, but Sen­ate re­mains a ques­tion mark
De­moc­rats and Re­pub­li­cans re­mained di­vid­ed over how to low­er the price of in­sulin, and on the House floor Thurs­day, Dems vot­ed to­geth­er with 12 Re­pub­li­cans to pass a bill to cap in­sulin prices at $35 per month, by a vote of 232-193 (and 6 didn't vote). In the Sen­ate, the pic­ture isn't so clear.
House Speak­er Nan­cy Pelosi (D-CA) took to the floor on Thurs­day, ex­plain­ing how the price of in­sulin has sky­rock­et­ed in re­cent years, with the top man­u­fac­tur­ers pulling in record-break­ing prof­its by charg­ing the US sig­nif­i­cant­ly more than oth­er coun­tries.
Work­ing par­ents on in­sulin are re­port­ing of­ten hav­ing to choose be­tween pay­ing the bills and pro­tect­ing the health of a loved one, Pelosi said. And while the bill ef­fec­tive­ly cuts what many of those who re­ly on in­sulin will pay at the phar­ma­cy counter, it doesn't hit the prices set by the phar­ma man­u­fac­tur­ers, nor does it help those who are unin­sured.
The same in­sulin price cap bill passed the House last year but didn't muster the votes in the Sen­ate. How it will fare in the Sen­ate again re­mains un­known, al­though Dems will like­ly need 60 votes, mean­ing Re­pub­li­cans will have to join them, un­less they use a tac­tic known as rec­on­cil­i­a­tion, which al­lows for just a sim­ple ma­jor­i­ty. Re­pub­li­cans pre­vi­ous­ly used rec­on­cil­i­a­tion to get their tax law passed un­der the Trump ad­min­is­tra­tion.
"There is a path for­ward in the Sen­ate to pass the leg­is­la­tion through rec­on­cil­i­a­tion," David Mitchell, a can­cer pa­tient and founder of Pa­tients For Af­ford­able Drugs Now, said in a state­ment. "In or­der to de­liv­er on their promis­es to all pa­tients — in­clud­ing those who de­pend on in­sulin — the Sen­ate must act ur­gent­ly to ap­prove the broad pro­vi­sions al­ready passed by the House."
And al­though Re­pub­li­cans slammed the bill on Thurs­day's floor de­bate as mis­guid­ed, some of the same House Re­pub­li­cans pre­vi­ous­ly backed a Trump ad­min­is­tra­tion move that re­quired more than 1,600 plans to cap in­sulin co­pays at $35 a month.
Rep. Cathy Mc­Mor­ris Rodgers (R-WA), who vot­ed against the in­sulin bill on Thurs­day, called out the PBMs for hid­ing low­er drug costs from pa­tients, say­ing this bill gives these mid­dle­men a pass.
"We should be low­er­ing the cost [of in­sulin] with­out go­ing down the road of price con­trols," she said.
Rep. Vir­ginia Foxx (R-NC) sim­i­lar­ly vot­ed "Nay" and called the bill "one step clos­er to so­cial­ized med­i­cine," say­ing it "sets an ex­treme­ly dan­ger­ous prece­dent." Con­gress shouldn't know­ing­ly raise pre­mi­ums, she said.
But De­moc­rats coun­tered that this bill would pro­vide a lit­er­al life­line to many with di­a­betes.
House Ma­jor­i­ty Leader Ste­ny Hoy­er (D-MD) said the bill is not a form of price con­trol as the com­pa­nies are still go­ing to charge what they charge.
Oth­er De­moc­rats said this should be the first step to even more drug pric­ing re­forms, in­clud­ing al­low­ing Medicare to ne­go­ti­ate on drug prices.
"At the end of the day, I hope that we can still bring for­ward a rec­on­cil­i­a­tion bill with ad­di­tion­al re­forms this year. I know we need to do Medicare drug price ne­go­ti­a­tion," Rep. Ang­ie Craig (D-MN), the lead spon­sor of the in­sulin bill, told Politi­co.
Sen­ate ma­jor­i­ty leader Chuck Schumer has vowed to hold a vote in the Sen­ate on the in­sulin cap bill af­ter the East­er re­cess.
Ed­i­tor's note: Ar­ti­cle up­dat­ed with more de­tails on the vote.