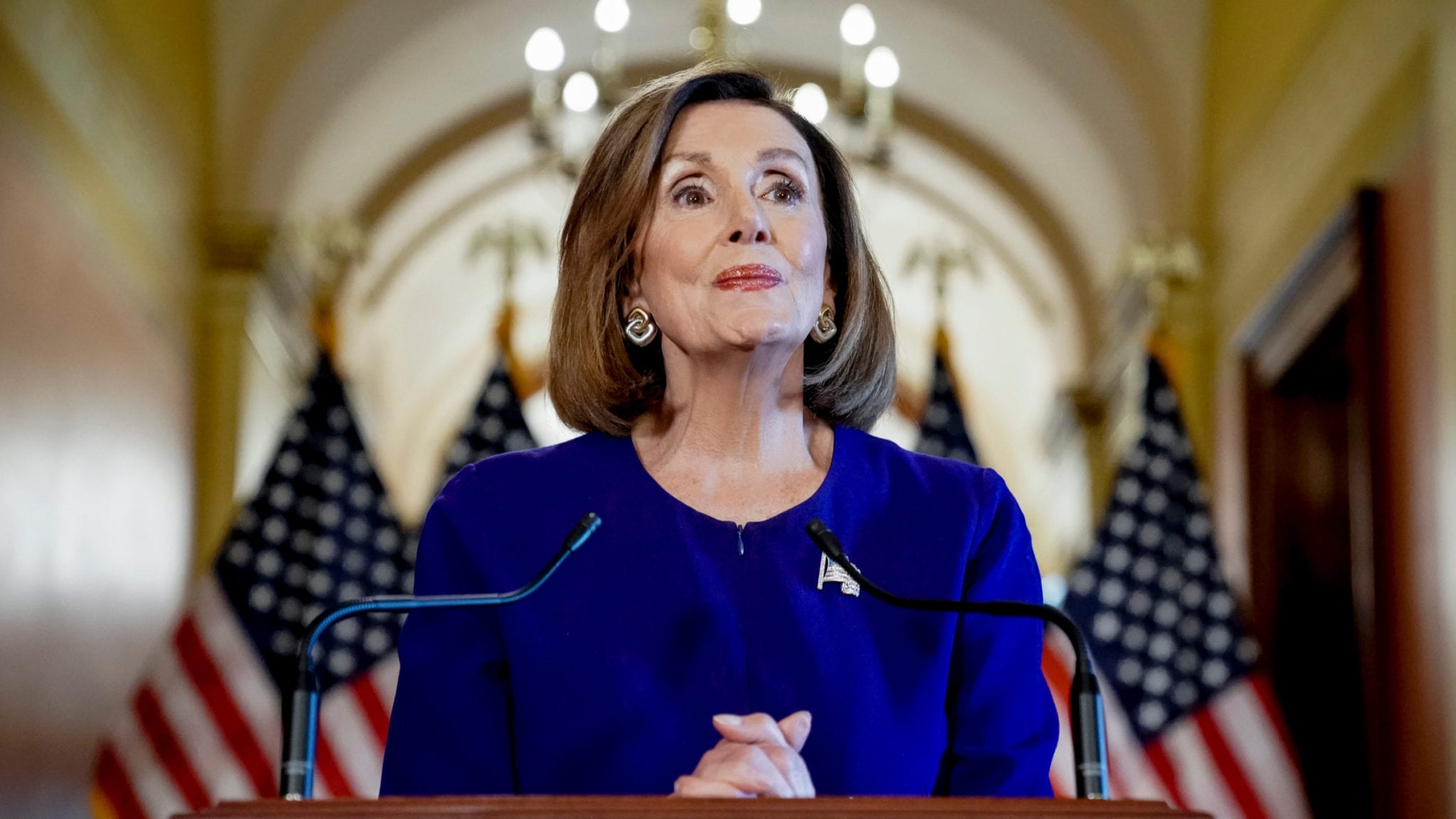 House pass­es Pelosi drug pric­ing bill on par­ty-line vote
House De­moc­rats on Thurs­day fell in line be­hind Speak­er Nan­cy Pelosi's (D-CA) drug pric­ing bill, vot­ing for its pas­sage 230-192, with two Re­pub­li­cans vot­ing for it. The bill is not like­ly to be tak­en up in the Sen­ate, and was de­rid­ed by House Re­pub­li­cans as be­ing too par­ti­san and putting the de­vel­op­ment of many new treat­ments at risk.
Pres­i­dent Don­ald Trump, who praised the Pelosi ef­fort when it was first re­leased, lat­er turned against the bill, fur­ther en­sur­ing its de­feat.
Speak­ing on the House floor on Thurs­day, Pelosi praised the bold ur­gency of the bill to take on the "crush­ing bur­den" of pre­scrip­tion drug prices.
"58 mil­lion Amer­i­cans could not fill a pre­scrip­tion last year be­cause of the cost," Pelosi said, not­ing that un­der her bill, the price of some in­sulin prod­ucts could be re­duced to just $400 per year (from more than $5,000 cur­rent­ly).
Amer­i­cans are pay­ing four times as much or more for many drugs when com­pared to oth­er coun­tries, Pelosi added, not­ing, "Ne­go­ti­a­tion is what this bill is about. Ne­go­ti­a­tion is the heart of the mat­ter."
The bill, known as HR 3, would al­low the Sec­re­tary of Health and Hu­man Ser­vices to ne­go­ti­ate be­tween 50 and 250 pre­scrip­tion drug prices both for Medicare and for the pri­vate mar­ket. The CBO es­ti­mates that over a decade, the ne­go­ti­a­tion pro­vi­sion would low­er gov­ern­ment health care spend­ing by $456 bil­lion over a decade, but would al­so lead to a re­duc­tion in new drugs de­vel­oped (for more on a run­down of HR 3 and oth­er drug pric­ing mea­sures, see this Health Af­fairs post).
Re­pub­li­cans pounced on the threat of los­ing new treat­ments and coun­tered that the penal­ties in the bill for com­pa­nies that do not agree to the new ne­go­ti­at­ed prices would be too se­vere. They al­so ex­plained how the Pelosi plan is in­ten­tion­al­ly par­ti­san and would lead to few­er new drugs be­ing de­vel­oped over the next decade.
Rep. Greg Walden (R-OR) said he's "all for low­er­ing prices," and "low­er­ing the gam­ing of the sys­tem," but, "peo­ple will die if we have few­er cures. That is a fact."
Rep. Kevin Mc­Carthy (R-CA) al­so dis­cussed how many more lives would be saved by not turn­ing Pelosi's bill in­to a law. And Rep. Kevin Brady (R-TX) con­ced­ed that "drug prices are too high," but he called the Pelosi plan a "dan­ger­ous trade-off" by low­er­ing drug prices and po­ten­tial­ly los­ing "cures." "When this is done, let's work to­geth­er on things that re­al­ly mat­ter to fam­i­lies back home," Brady added.
But De­moc­rats coun­tered that the Pelosi bill is one of the few pos­si­ble av­enues of bring­ing down the prices of drugs. Rep. Katie Porter (D-CA) called the Re­pub­li­can talk­ing points on re­duced cures "fear mon­ger­ing" and Ann Kirk­patrick (D-AZ) not­ed that many of her con­stituents must de­cide be­tween gro­ceries or gas for their cars and pre­scrip­tion drugs.
---
RAPS: First pub­lished in Reg­u­la­to­ry Fo­cus™ by the Reg­u­la­to­ry Af­fairs Pro­fes­sion­als So­ci­ety, the largest glob­al or­ga­ni­za­tion of and for those in­volved with the reg­u­la­tion of health­care prod­ucts. Click here for more in­for­ma­tion.