As the lead developer on the Endpoints News team, I work to make sure technology is working both for the employees at our company and the readers we serve. And like many companies, Slack is a daily part of our lives. It's a good tool to keep a virtual team — some who are good with tech, while others, not so much — organized and working towards a common purpose. So when we developed Enterprise — our corporate subscription product — we naturally wanted to offer our content to clients who use Slack too.
I've prepared a guide below to help you get started. This benefit is available to all Enterprise customers.
Subscribers can access the reader center and get help quickly using the blue intercom button. We're happy to assist. (If you've never logged in to Endpoints before, but you get our email newsletters, just use the I forgot my password link.)
We're working hard to make the site better for you and can't wait to share even more updates coming online later in the year.
---
endpoints news slack integration guide
1. Creating a new custom integration
To be able to send notifications to your Slack team, Endpoints News needs to have access to a custom integration bot specifically in your team.
To create one, you have to go to https://my.slack.com/services/new/bot. You will see a screen, as shown on the picture below.
Fill in the Username field. It can be anything but we recommend you set it to endpoints, so that you will easily know what it's for. You can also change it at a later time.
Press "Add bot integration" button.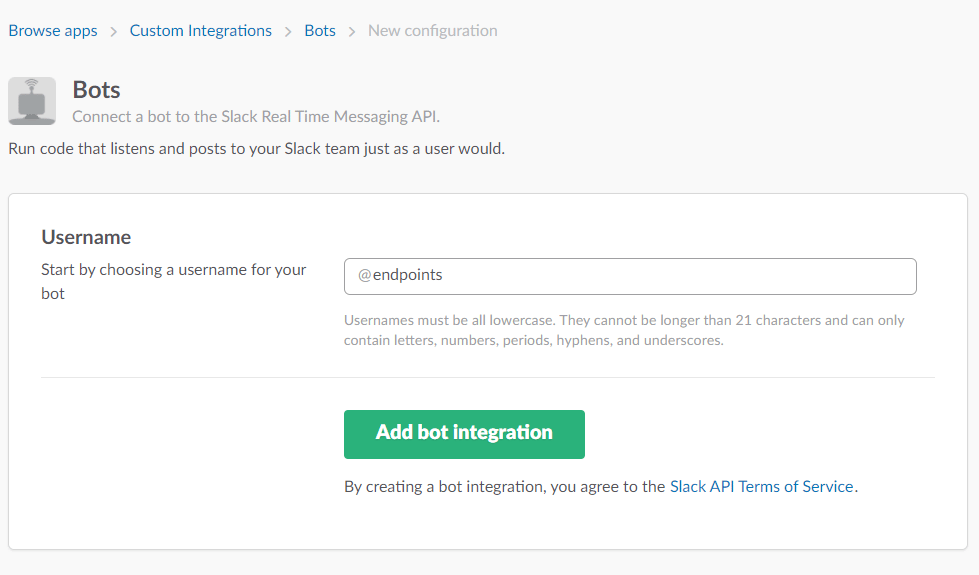 You will be taken to the next screen as shown below.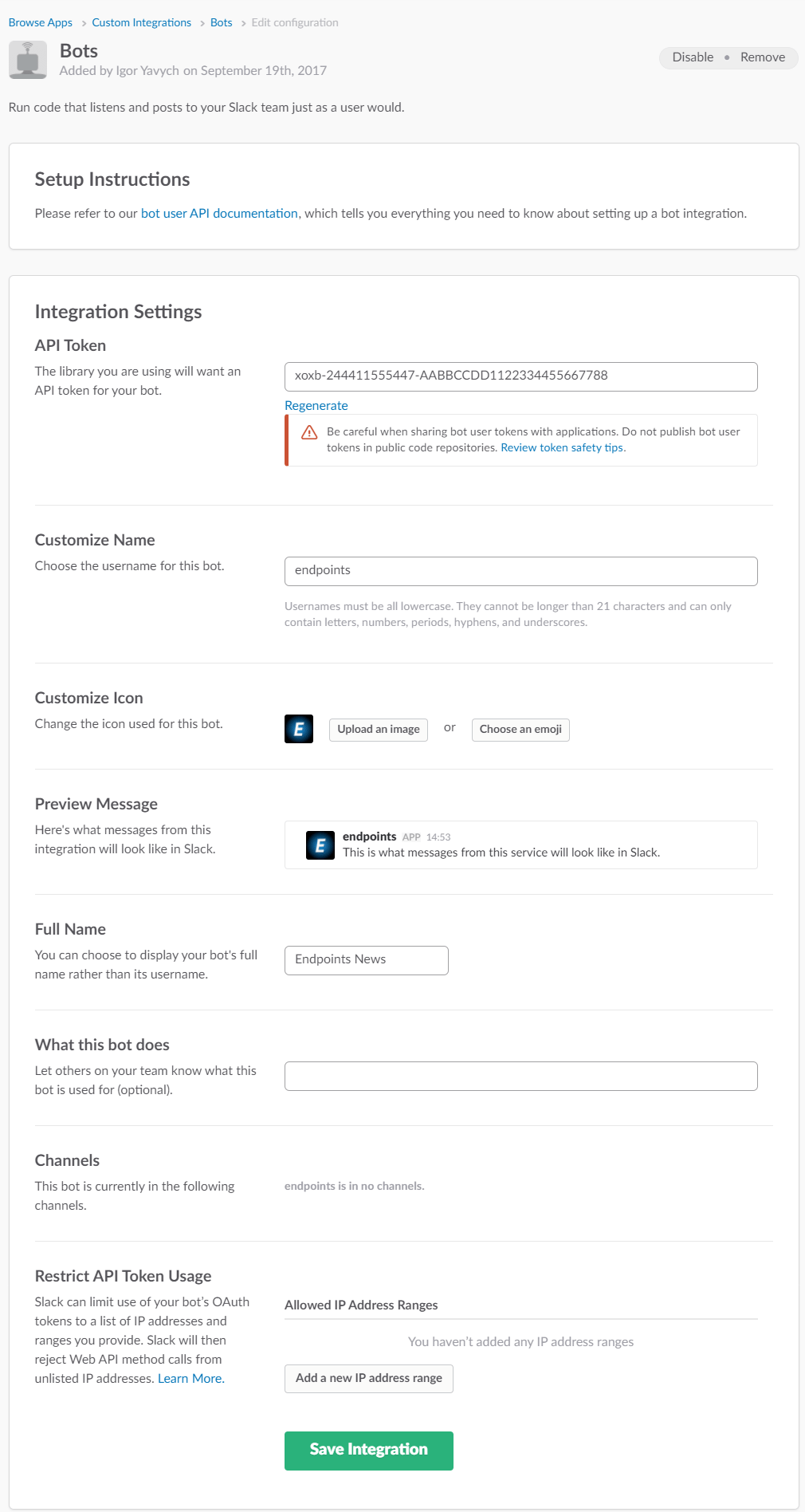 Quick rundown on the fields:
API Token – this is automatically generated. We require this to be able to send messages to your Slack channel.
Customize name – Same as username on the previous screen.
Customize icon – Icon of the bot which will be displayed next to messages posted by it. Here is a link to a square logo of Endpoints News you could use.
Full name – Set it to 'Endpoints News'.
You can leave the rest of the fields empty, as they are irrelevant in this setup.
Once you've filled in all the fields, press "Save Integration" button.
2. Selecting a Slack channel to get Endpoints News
You can either create a separate channel or use an existing one. Pick whatever is more convenient for you.
Once you decide on a channel you would like notifications to be posted to, you will need to get its ID. To do so, copy its link (right click on the channel name → copy link). The link, which looks like
https://yourteamname.com/messages/C04AS6SF5 (not the actual link)
will be copied to your clipboard. Take note of the string of letters and numbers, as emphasized in bold above, as it is another piece of information which we will require to be able to post notifications.
3. Letting the bot post to the selected channel
Now you need to invite the bot to the selected channel. To do so, go to the said channel, click on the gear icon, and select Invite new members to join. Find the bot by the name you set in the Full name field mentioned in step 1 of this guide and invite it to the channel.
4. Send us the required details
You're nearly done. All you need to do now is to send us an API Token (mentioned in step 1 of this guide) and the Channel ID (mentioned in step 2 of this guide along with the name of your company).
E-mail them to igor@endpointsnews.com with the subject: "Slack integration"
5. Testing
To ensure that everything works as intended, I will need an account (please use igor@endpointsnews.com as an e-mail address for it) which has access to the channel you would like notifications sent to.
It can be a guest account with a single channel access and you can deactivate/remove it after testing has concluded.
To create a guest account, go to https://my.slack.com/admin/invites. You will see a screen, as shown on the picture below.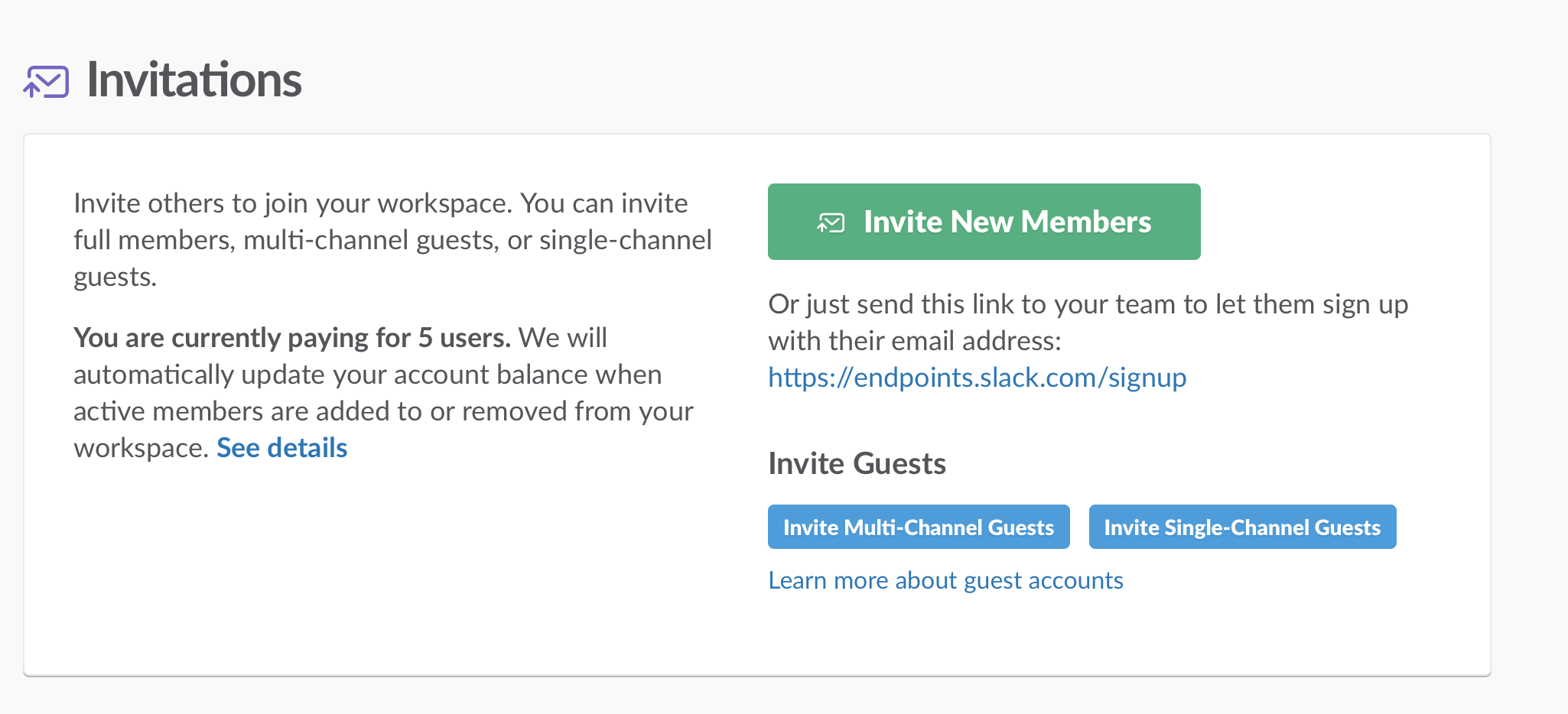 Simply click on the "Invite Single-Channel Guests" button and it will take you to the following screen: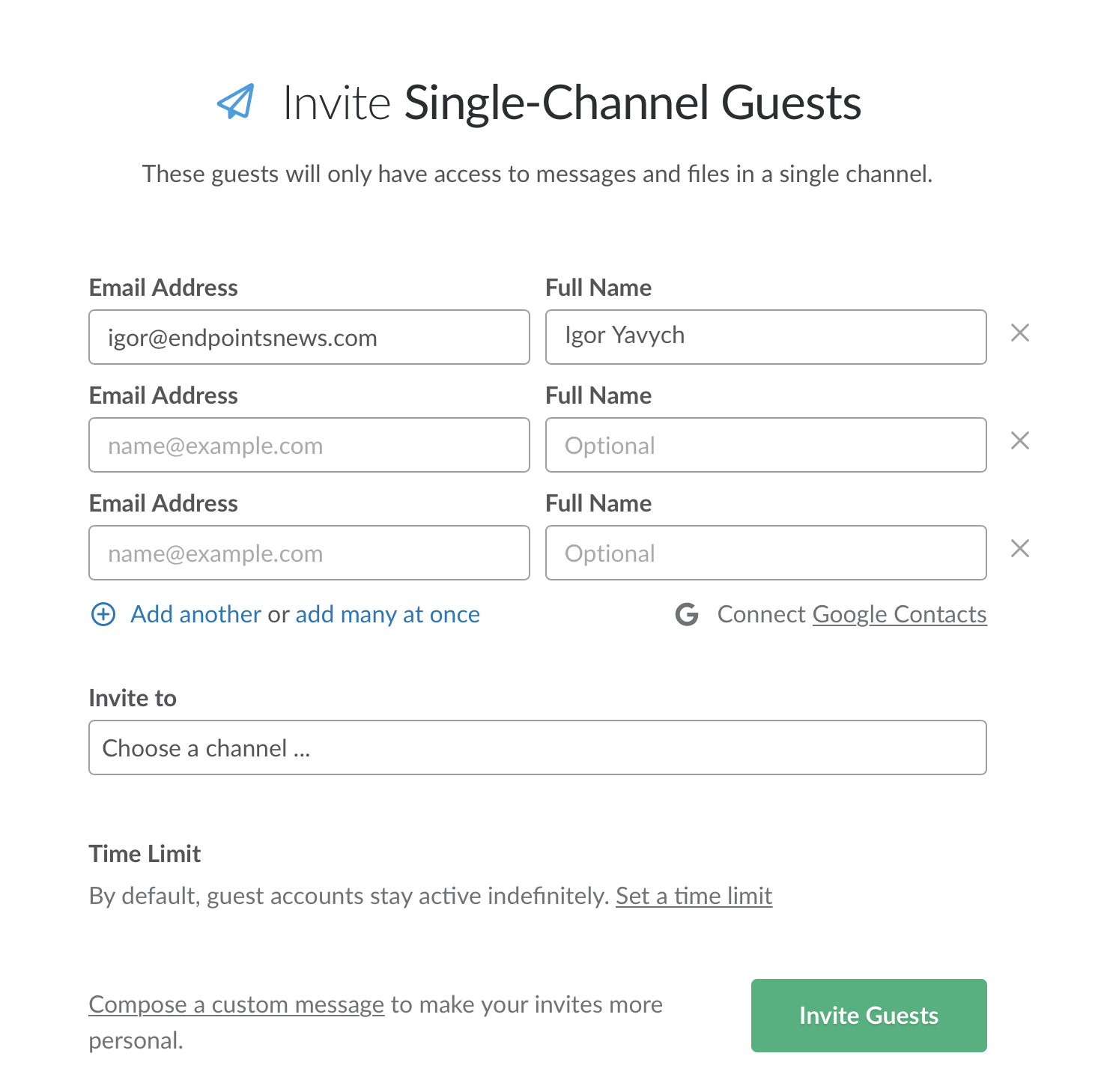 Fill in "Email Address" and "Full name" fields as shown on the picture above.
Next, you have to invite me to the same channel you've picked in the second step of this guide. To do so, click on "Choose a channel" under "Invite to" and select the correct channel.
That's it, click on "Invite Guests" button and you're done.
---
The best place to read
Endpoints News

? In your inbox.

Comprehensive daily news report for those who discover, develop, and market drugs. Join 47,200+ biopharma pros who read Endpoints News by email every day.

Free Subscription
---
---
---