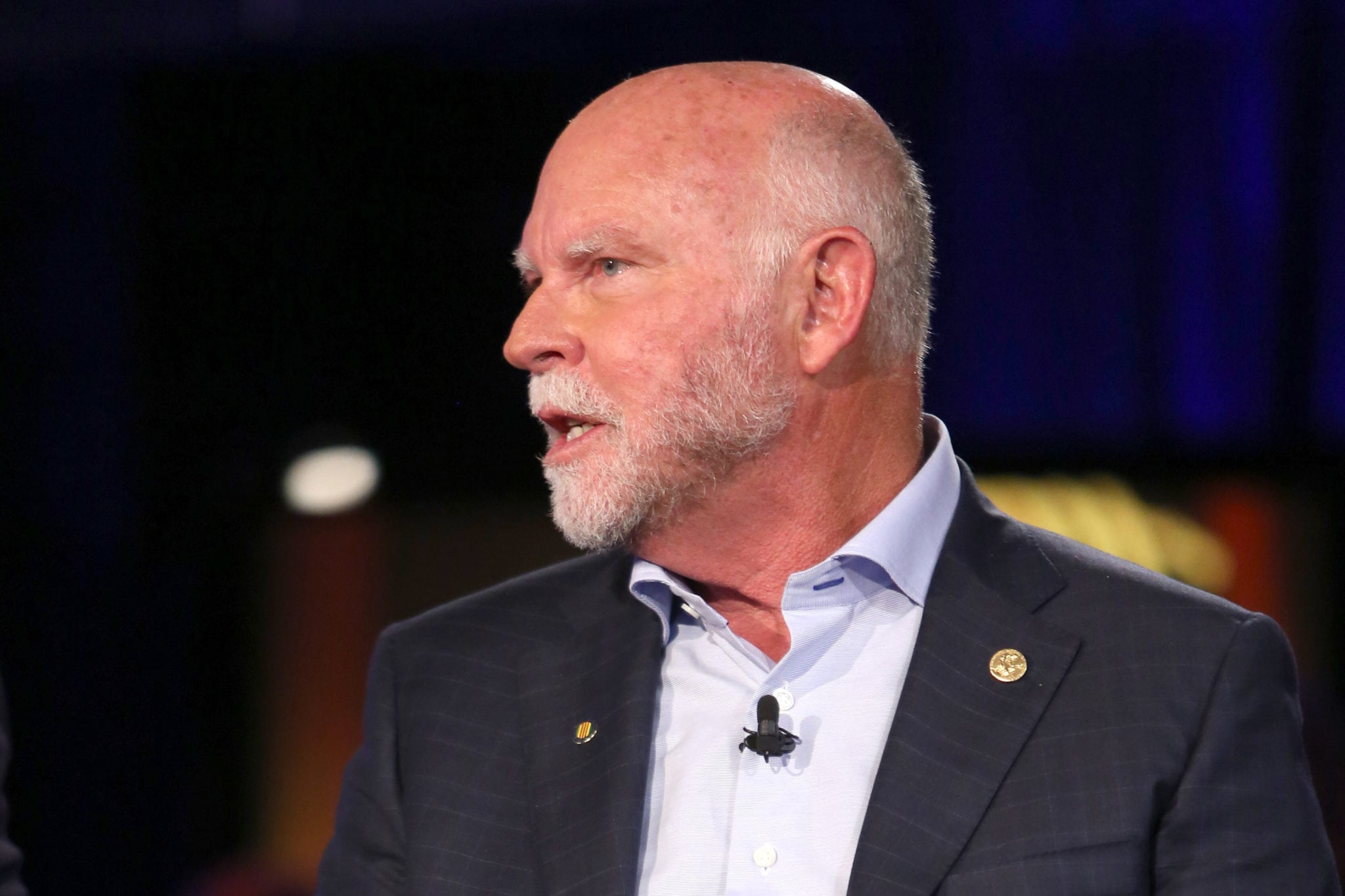 Craig Venter (Adam Jeffery/CNBC/NBCU Photo Bank via Getty Images)
Hu­man Longevi­ty makes a move to­ward Nas­daq with po­ten­tial SPAC deal, but noth­ing's fi­nal yet
An­ti-ag­ing com­pa­ny Hu­man Longevi­ty, found­ed by pi­o­neer­ing ge­nom­ic re­searcher Craig Ven­ter, is one step clos­er, po­ten­tial­ly, to be­com­ing a pub­lic com­pa­ny.
The start­up put out a press re­lease Mon­day af­ter­noon say­ing it has signed a "let­ter of in­tent" to re­verse merge with a SPAC run by for­mer Cred­it Su­isse CEO Tid­jane Thi­am, known as Free­dom Ac­qui­si­tion I Corp. If none of the SPAC in­vestors re­deem their shares and pull out at the float price of $10, Hu­man Longevi­ty will re­ceive $345 mil­lion.
Ven­ter's for­mer com­pa­ny made sure to em­pha­size that Mon­day's an­nounce­ment was far from a done deal, how­ev­er. Hu­man Longevi­ty made sev­er­al men­tions in its re­lease that there is no "as­sur­ance" the deal will go through. The en­ti­ties al­so did not file an SEC re­port, typ­i­cal­ly the stan­dard when an­nounc­ing a SPAC deal.
If the merg­er does take place, it will like­ly oc­cur in the third quar­ter this year and close in the first quar­ter of 2023, the com­pa­nies said. There was no in­for­ma­tion on a po­ten­tial PIPE fi­nanc­ing.
The Fi­nan­cial Times was the first to re­port that Ven­ter and Thi­am's com­pa­nies were in SPAC merg­er dis­cus­sions.
Hu­man Longevi­ty got start­ed back in 2013 and of­fers ge­nom­ic se­quenc­ing and blood tests to clients, of­fer­ing per­son­al­ized meth­ods to fight ag­ing-re­lat­ed dis­eases. The com­pa­ny soon found it­self in a tu­mul­tuous pe­ri­od as Ven­ter was ac­cused of steal­ing trade se­crets as part of back-and-forth law­suits in 2018.
Though the com­pa­ny is seek­ing to raise $345 mil­lion through the re­verse-merg­er dance to Nas­daq, there's no guar­an­tee it will do so giv­en the cur­rent mar­ket con­di­tions. Be­cause SPAC in­vestors don't know the merg­er tar­get when they sign up, some re­tain the op­tion to take their mon­ey back out, with in­ter­est, at the SPAC's IPO price — known as re­deem­ing shares.
With SPAC ac­tiv­i­ty falling from the pan­dem­ic-fu­eled boom of late 2020 and ear­ly 2021, Thi­am's blank check com­pa­ny may see in­vestors re­deem their shares. Such a move would ring fa­mil­iar with the Sen­ti Bio SPAC con­sum­mat­ed ear­li­er this month, when the Tim Lu-run biotech net­ted on­ly $84.5 mil­lion of the $230 mil­lion avail­able in the SPAC trust, and $140.3 mil­lion over­all.
Ad­di­tion­al­ly, Free­dom Ac­qui­si­tion I Corp. has strug­gled to re­tain spon­sors, re­veal­ing in an SEC fil­ing this month that Pim­co, the world's largest bond man­ag­er, gave up its SPAC stake. Pim­co was re­placed by an ad­vi­so­ry firm, Next G, af­fil­i­at­ed with Chi­nese en­tre­pre­neur Ed­ward Zeng.