Im­munomedics lays out its case for an ac­cel­er­at­ed OK of IM­MU-132 in triple-neg­a­tive breast can­cer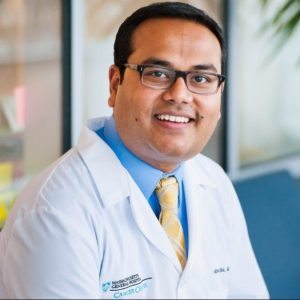 Aditya Bar­dia, Mass­a­chu­setts Gen­er­al Hos­pi­tal Can­cer Cen­ter
A lit­tle over a month af­ter Seat­tle Ge­net­ics $SGEN snapped up the glob­al rights to Im­munomedics lead can­cer drug IM­MU-132 (sac­i­tuzum­ab govite­can) in a $2 bil­lion deal, in­clud­ing $300 mil­lion in cash, the Mor­ris Plains, NJ-based biotech de­tailed the da­ta they plan to hus­tle to the FDA from its pos­i­tive mid-stage study for triple-neg­a­tive breast can­cer.
While the study was a fair­ly small, sin­gle-arm probe of ef­fi­ca­cy and safe­ty, the two part­ners are plan­ning the short­est route pos­si­ble to see if they can get an ac­cel­er­at­ed ap­proval while the ther­a­py nav­i­gates a Phase III piv­otal study.
In­ves­ti­ga­tors in the study tracked a me­di­an over­all sur­vival rate of 16.6 months and a pro­gres­sion-free sur­vival time of six months for the drug, which has the FDA's break­through ther­a­py des­ig­na­tion for TNBC. Al­so, 30% of the 69 heav­i­ly pre­treat­ed pa­tients in the sin­gle-arm study achieved an ob­jec­tive re­sponse — two com­plete and 19 par­tial.
"These re­sults are very en­cour­ag­ing giv­en the im­pres­sive clin­i­cal ac­tiv­i­ty seen in a re­frac­to­ry set­ting, dura­bil­i­ty of re­spons­es, and the safe­ty pro­file," not­ed lead au­thor Aditya Bar­dia, MD, MPH, at­tend­ing physi­cian at Mass­a­chu­setts Gen­er­al Hos­pi­tal Can­cer Cen­ter. "The av­er­age PFS is about 3.5 months for stan­dard agents, in­clud­ing cis­platin, capecitabine, nab-pa­cli­tax­el, and eribu­lin, as re­port­ed in ear­li­er metasta­t­ic TNBC tri­als."
Three out of four of the pa­tients in the study who had pre­vi­ous­ly been treat­ed with a check­point — and failed — al­so achieved a par­tial re­sponse, a snap­shot of pos­si­ble com­bo po­ten­tial the biotech plans to fol­low up on.
These da­ta were laid out in the Jour­nal of Clin­i­cal On­col­o­gy. And Im­munomedics stock bumped up on the re­port, which fol­lows ear­li­er re­ports of the drug's ef­fi­ca­cy.
The drug is an an­ti­body-drug con­ju­gate, or armed an­ti­body, de­signed for pre­cise de­liv­ery of SN-38, the ac­tive metabo­lite of irinote­can. As such, it fits com­fort­ably in Seat­tle Ge­net­ics sphere.
The drug didn't kill any­one, but it's not with­out safe­ty is­sues. Thir­ty-nine per­cent of the pa­tients suf­fered from neu­trope­nia, with 7% ex­pe­ri­enc­ing febrile neu­trope­nia and 13% af­flict­ed by se­vere di­ar­rhea.
Re­marked Im­munomedics CEO Cyn­thia L. Sul­li­van:
"We are work­ing dili­gent­ly with the FDA to make this valu­able prod­uct can­di­date avail­able to this group of pa­tients as soon as pos­si­ble. Blind­ed, in­de­pen­dent ra­di­o­log­i­cal as­sess­ments are on­go­ing, and so far show a high con­cor­dance with lo­cal to­mog­ra­phy find­ings."