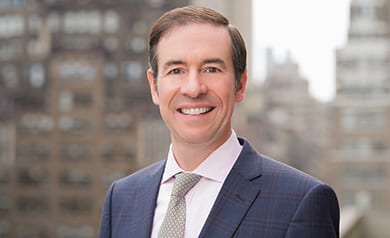 Pete Salzmann, Immunovant
Im­muno­vant flash­es se­cret da­ta be­hind po­ten­tial Roivant buy­out, but in­vestors see a dif­fi­cult fu­ture
The "non-pub­lic in­for­ma­tion" that made Roivant want to ac­quire their trou­bled Im­muno­vant spin­out at a po­ten­tial­ly sub­stan­tial pre­mi­um just be­came pub­lic. But nei­ther in­vestors nor an­a­lysts agreed with Roivant's spin on the da­ta, sell­ing off shares of $IMVT by near­ly 40% Thurs­day
Im­muno­vant an­nounced Tues­day that they saw a path for­ward for bring­ing their lead and on­ly drug back in­to de­vel­op­ment, af­ter safe­ty is­sues forced the com­pa­ny to pause its on­ly two ac­tive tri­als over the win­ter. They now plan to launch a piv­otal tri­al for the rare dis­ease myas­the­nia gravis by ear­ly 2022, while adding three mid-stage stud­ies for oth­er au­toim­mune dis­or­ders.
Cen­tral to the plan is new da­ta from their tri­al for thy­roid eye dis­ease, one of two that was cut short af­ter it ap­peared that pa­tients on the high dose of their drug saw their LDL cho­les­terol lev­els rise 60%. Im­muno­vant now says that at a low dose, pa­tients saw sim­i­lar ben­e­fits but with on­ly "min­i­mal" el­e­vat­ed LDL.
A Roivant spokesper­son con­firmed that these were the da­ta that prompt­ed the com­pa­ny to, in an SEC fil­ing on March 8, that, as the con­trol­ling share­hold­er, they had ac­cess to con­fi­den­tial in­for­ma­tion and were con­sid­er­ing buy­ing out the re­main­ing shares of their for­mer sub­sidiary at a pre­mi­um. Baird's Bri­an Sko­r­ney lat­er es­ti­mat­ed the pre­mi­um could be as high as 70% — or $2.6 bil­lion for a com­pa­ny that, af­ter its stock cratered over the win­ter, had a mar­ket cap of around $1.5 bil­lion.
Roivant's fil­ing tipped off in­vestors that the com­pa­ny was plan­ning to go pub­lic, pre­sag­ing a $7.3 bil­lion SPAC merg­er last month and prompt­ing spec­u­la­tion over what, pre­cise­ly, the large biotech saw in its spin­out.
Im­muno­vant is com­pet­ing against a small hand­ful of biotechs to de­vel­op an an­ti-FcRn an­ti­body, de­signed to clean up so-called au­to-an­ti­bod­ies that can dri­ve the im­mune sys­tem to at­tack healthy tis­sue. Al­though the thy­roid eye dis­ease tri­al was abort­ed too ear­ly to reach sta­tis­ti­cal sig­nif­i­cance, Im­muno­vant says they saw a 62% re­duc­tion in an­ti­bod­ies in the low dose, com­pared to 80% in the high dose.
"Our view is that makes us com­pet­i­tive in every in­di­ca­tion," a Roivant spokesper­son said of Im­muno­vant's low-dose da­ta.
Yet many in­vestors came to the op­po­site con­clu­sion. Af­ter Im­muno­vant re­leased their up­date, shares of $IMVT fell 37%, from $15.16 to $9.40.
Al­though Roivant saw po­ten­tial in the low dose, the new up­date re­vealed that Im­muno­vant con­duct­ed an analy­sis across their var­i­ous tri­als and con­firmed what had pre­vi­ous­ly on­ly been a sus­pi­cion: That the com­pa­ny's drug led to in­creased cho­les­terol lev­els. They al­so ac­knowl­edged that the drug ap­peared less ef­fec­tive in the thy­roid eye dis­ease than they had hoped.
Ar­genx, de­vel­op­ing a ri­val an­ti-FcRn ap­proach, has not­ed that they've seen no such cho­les­terol-el­e­vat­ing ef­fects.
"All con­sid­ered, we do think this dos­ing con­sid­er­a­tion will make it some­what more dif­fi­cult for IMVT-1401 to com­pete with ar­genx's ef­gar­tigi­mod and oth­er FcRn as­sets, cloud­ing the pic­ture," Baird's Bri­an Sko­r­ney wrote in a note to in­vestors.
SVB Leerink's Thomas J. Smith sim­i­lar­ly dropped their price tar­get for Im­muno­vant from $38 to $17. He said the safe­ty da­ta add new risks, but ar­gued they were off­set by the like­li­hood that Roivant steps up for a buy­out.
" While no fi­nan­cial de­tails have been dis­closed, we ex­pect in­vestors will con­tin­ue to weigh the like­li­hood and na­ture of any po­ten­tial trans­ac­tion be­tween Roivant and IMVT," he said. (SVB Leerink has been hired by Roivant to ad­vise on a po­ten­tial Im­muno­vant buy­out).
Im­muno­vant said in a state­ment that they be­lieve that with cre­ative dos­ing and pa­tient mon­i­tor­ing they can man­age the ef­fects. "These re­sults present an op­por­tu­ni­ty for flex­i­bil­i­ty in dos­ing, dose in­ter­vals, and a low­er-vol­ume in­jec­tion to ex­plore in our fu­ture clin­i­cal tri­als," CEO Pe­te Salz­mann said in a state­ment.
They will plan those tri­als, though, with­out the CMO they hired just five months ago, Ri­ta Jain. In ad­di­tion to the IMVT-401 news, Im­muno­vant al­so an­nounced that Jain had de­part­ed and will be re­placed by long­time Eli Lil­ly ex­ec­u­tive William Ma­cias.