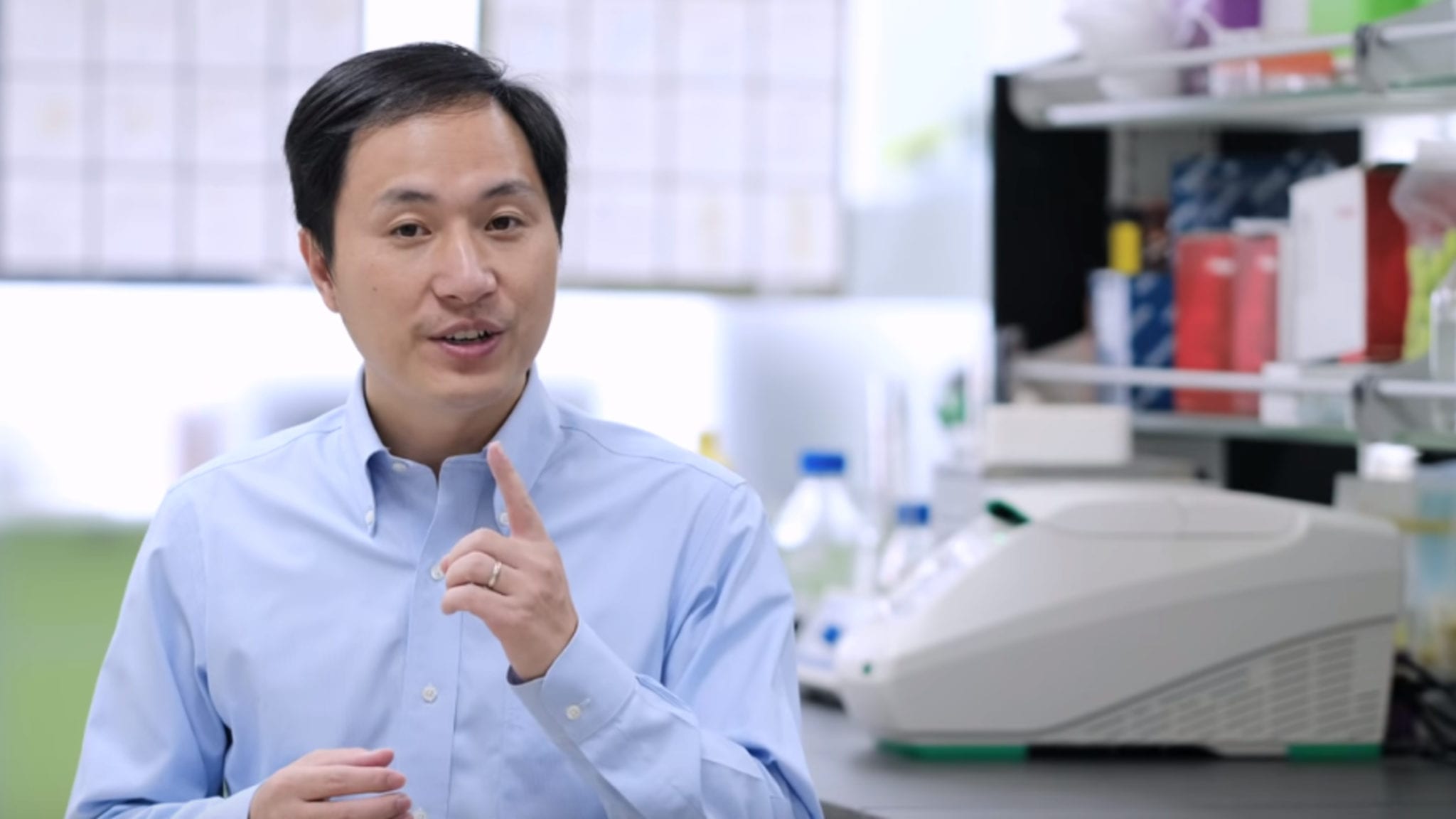 In a land­mark first, Chi­nese sci­en­tist claims birth of ge­net­i­cal­ly mod­i­fied ba­bies — and all hell breaks loose
A Chi­nese re­searcher is claim­ing that he cre­at­ed the first-ever ge­net­i­cal­ly edit­ed ba­bies us­ing CRISPR/Cas9 tools that have now be­come a com­mon fea­ture in labs around the world. And the news trig­gered a tem­pest in sci­en­tif­ic cir­cles the world over as re­searchers who have been us­ing gene-edit­ing tech to re­fine plants and forge new ther­a­pies try to puz­zle out the stun­ning —if true — de­vel­op­ment fea­tured on YouTube.
Sev­er­al ex­perts — in­clud­ing co-in­ven­tor Feng Zhang — crit­i­cized the ex­per­i­ment, rais­ing po­ten­tial safe­ty is­sues that could arise as a re­sult of the ge­net­ic tin­ker­ing. And Rice Uni­ver­si­ty, where a pro­fes­sor was re­port­ed­ly in­volved, is in­ves­ti­gat­ing.
The sci­en­tist who claimed cred­it for the work, though, of­fered a sun­ny per­spec­tive on YouTube.
"Two beau­ti­ful Chi­nese girls named Lu­lu and Nana came cry­ing in­to the world as healthy as any oth­er ba­bies a few weeks ago," said Shen­zhen-based re­searcher Jiankui He in the YouTube video and WeChat post. But this was no av­er­age birth. The re­searcher's un­ver­i­fied claim is that the twins' em­bryos have been ge­net­i­cal­ly en­gi­neered with CRISPR to de­com­mis­sion CCR5, a gene used by HIV as a back door in­to a cell.
Ahead of an in­ter­na­tion­al con­fer­ence on gene edit­ing ex­pect­ed to com­mence on Tues­day in Hong Kong, He said he had al­tered em­bryos for sev­en cou­ples dur­ing fer­til­i­ty treat­ments, with one preg­nan­cy re­sult­ing thus far. But the le­git­i­ma­cy of the project is be­ing in­ves­ti­gat­ed. The South­ern Uni­ver­si­ty of Sci­ence and Tech­nol­o­gy in Shen­zhen, with which He is af­fil­i­at­ed, is­sued a state­ment say­ing it was "deeply shocked" and un­aware of his re­search project which they con­sid­er a "se­ri­ous vi­o­la­tion of aca­d­e­m­ic ethics and stan­dards." The uni­ver­si­ty added He has been on leave with­out pay since Feb­ru­ary.
He has claimed his aim was not to cure or pre­vent an in­her­it­ed dis­ease, but to con­fer a trait that is nat­u­ral­ly com­mon in parts of North­ern Eu­rope — an abil­i­ty to re­sist an HIV in­fec­tion from the AIDS virus. But the choice to ed­it this CCR5 gene, the block­ade of which may al­so be ef­fec­tive in thwart­ing cholera and small­pox, im­me­di­ate­ly trig­gered an on­line up­roar over the use of CRISPR to al­ter DNA in a way that could be passed down for gen­er­a­tions to come.
MIT Tech­nol­o­gy Re­view's An­to­nio Re­gal­a­do point­ed out this could be par­tic­u­lar­ly con­tro­ver­sial be­cause there are eas­i­er and cheap­er ways to pre­vent HIV in­fec­tion, or in­deed sup­press it. Edit­ing em­bryos dur­ing IVF will al­so be ex­pen­sive and in­volve tech­nol­o­gy out of reach for poor­er pock­ets of the world where HIV is ubiq­ui­tous.
Some are al­so sug­gest­ing the sto­ry rais­es oth­er thorny ques­tions. Im­pe­r­i­al Col­lege in­ves­ti­ga­tor Tom El­lis not­ed:
I'd add that my col­lab­o­ra­tors from Shen­zhen were pret­ty sur­prised by this new to­day. Jiankui He is sup­posed to be work­ing on new sin­gle-mol­e­cule DNA se­quenc­ing tech­nolo­gies. He does­n't have a ge­net­ics or hu­man health back­ground at all. This sto­ry is­n't adding up at all. https://t.co/SkVbx­AnXv8

— Tom El­lis (@Dr­TomEl­lis) No­vem­ber 26, 2018
Al­though there is sci­en­tif­ic con­sen­sus that gene edit­ing should not be em­ployed to make "de­sign­er ba­bies" en­dowed with en­hanced phys­i­cal fea­tures or in­tel­lec­tu­al traits, the ju­ry is out on to what de­gree sci­ence should in­ter­fere with na­ture to pre­vent, treat or cure dis­ease.
In ad­di­tion to Chi­na, lab­o­ra­to­ry re­search is un­der­way in Swe­den and the UK, in­ves­ti­gat­ing the po­ten­tial of gene-edit­ing in hu­man em­bryos. But in the Unit­ed States it's a po­lit­i­cal­ly charged propo­si­tion that has won the nar­row en­dorse­ment of the Na­tion­al Acad­e­my of Sci­ences, which last year rec­om­mend­ed that germ-line mod­i­fi­ca­tion of hu­mans was jus­ti­fied in some cir­cum­stances, such as pre­vent­ing the birth of chil­dren with se­ri­ous dis­eases. This rec­om­men­da­tion will like­ly fall on deaf ears, as sec­tions of the pub­lic ve­he­ment­ly op­pose such in­ter­fer­ence on re­li­gious grounds. In fact such mod­i­fi­ca­tions are prac­ti­cal­ly out of the ques­tion — with laws in place pro­hibit­ing the FDA from even con­sid­er­ing pro­pos­als to cre­ate ge­net­i­cal­ly-edit­ed off­spring.
The promise of CRISPR/Cas9 edit­ing has long been her­ald­ed. How­ev­er, ex­per­i­men­ta­tion with the pro­ce­dure has yield­ed sig­nif­i­cant safe­ty con­cerns. Da­ta pre­sent­ed ear­li­er this year sug­gest that the tool, which is es­sen­tial­ly a pair of mol­e­c­u­lar scis­sors, may in­ad­ver­tent­ly in­crease can­cer risk in some cells, or in­tro­duce ac­ci­den­tal mu­ta­tions — is­sues that could ham­per the de­vel­op­ment of gene-edit­ing ther­a­pies cham­pi­oned by com­pa­nies such as CRISPR Ther­a­peu­tics $CR­SP, Ed­i­tas Med­i­cine $ED­IT and In­tel­lia Ther­a­peu­tics $NT­LA.
"The ge­net­ic edit­ing of a speck-size hu­man em­bryo car­ries sig­nif­i­cant risks, in­clud­ing the risks of in­tro­duc­ing un­want­ed mu­ta­tions or yield­ing a ba­by whose body is com­posed of some edit­ed and some unedit­ed cells. Da­ta on the Chi­nese tri­al site in­di­cate that one of the fe­tus­es is a 'mo­sa­ic' of cells that had been edit­ed in dif­fer­ent ways," Re­gal­a­do un­der­scored in his ar­ti­cle.
a @YouTube video by the re­searcher w/ "the gene surgery was safe and "no oth­er gene was changed" [with­out any da­ta] https://t.co/lf6nStrqxD via @Ai­ims1742
A bit dis­pro­por­tion­ate, in light of po­ten­tial his­toric sig­nif­i­cance 2/2

— Er­ic Topol (@Er­ic­Topol) No­vem­ber 26, 2018
He's project in­volved cou­ples in which the men had HIV but the women did not, and the goal was to pre­vent their chil­dren from suf­fer­ing the same fate.
Ac­cord­ing to the AP re­port, He said that in one twin, both copies of the in­tend­ed gene had been al­tered, while in the oth­er twin, just one copy had been dis­abled — and that there was no ev­i­dence of harm to any oth­er genes. Hu­mans with one copy of the gene can still be in­fect­ed with HIV.
The edit­ing oc­curred dur­ing IVF — first, the sperm was sep­a­rat­ed from the se­men where HIV is known to linger. Then, a sin­gle sperm was placed in­to a soli­tary egg to cre­ate an em­bryo when the gene-edit­ing tool was em­ployed. Cou­ples re­cruit­ed to the study were giv­en free fer­til­i­ty treat­ment in re­turn for their par­tic­i­pa­tion and of­fered the choice to use ei­ther edit­ed or non-edit­ed em­bryos for preg­nan­cy at­tempts. Over­all, 16 of 22 em­bryos were edit­ed, and 11 em­bryos were used in 6 im­plant at­tempts be­fore the twin preg­nan­cy was re­al­ized, He told the AP.
He, who is al­so a founder of a DNA se­quenc­ing com­pa­ny Di­rect Ge­nomics, ob­tained in­formed con­sent from par­tic­i­pants call­ing the study an "AIDS vac­cine de­vel­op­ment project." How­ev­er, in his ap­pli­ca­tion form seek­ing eth­i­cal ap­proval, he dubbed it a CCR5 gene edit­ing project.
Press re­ports tied his work to Rice Uni­ver­si­ty's Michael Deem, who now will have to an­swer for what, ex­act­ly, they did. Rice Uni­ver­si­ty was quick to launch its own probe. They not­ed:
Re­cent press re­ports de­scribe a case of ge­nom­ic edit­ing of hu­man em­bryos in Chi­na. These re­ports in­clude a de­scrip­tion of in­volve­ment by Dr. Michael Deem, a pro­fes­sor of bio­engi­neer­ing at Rice Uni­ver­si­ty. This re­search rais­es trou­bling sci­en­tif­ic, le­gal and eth­i­cal ques­tions. Rice of­fers the fol­low­ing state­ment:
Rice had no knowl­edge of this work.

To Rice's knowl­edge, none of the clin­i­cal work was per­formed in the Unit­ed States.

Re­gard­less of where it was con­duct­ed, this work as de­scribed in press re­ports, vi­o­lates sci­en­tif­ic con­duct guide­lines and is in­con­sis­tent with eth­i­cal norms of the sci­en­tif­ic com­mu­ni­ty and Rice Uni­ver­si­ty.

We have be­gun a full in­ves­ti­ga­tion of Dr. Deem's in­volve­ment in this re­search.
And two founders of CRISPR were al­so quick to note their own prob­lems with the Chi­na em­bryo project.
The Broad In­sti­tute's Feng Zhang, a co-in­ven­tor of the tech­nol­o­gy, had this to say:
Al­though I ap­pre­ci­ate the glob­al threat posed by HIV, at this stage, the risks of edit­ing em­bryos to knock out CCR5 seem to out­weigh the po­ten­tial ben­e­fits, not to men­tion that knock­ing out of CCR5 will like­ly ren­der a per­son much more sus­cep­ti­ble for West Nile Virus. Just as im­por­tant, there are al­ready com­mon and high­ly-ef­fec­tive meth­ods to pre­vent trans­mis­sion of HIV from a par­ent to an un­born child.

Giv­en the cur­rent ear­ly state of genome edit­ing tech­nol­o­gy, I'm in fa­vor of a mora­to­ri­um on im­plan­ta­tion of edit­ed em­bryos, which seems to be the in­ten­tion of the CCR5 tri­al, un­til we have come up with a thought­ful set of safe­ty re­quire­ments first.

Not on­ly do I see this as risky, but I am al­so deeply con­cerned about the lack of trans­paren­cy sur­round­ing this tri­al.
Gene edit­ing of hu­man ba­bies in Chi­na is ap­par­ent­ly hap­pen­ing.

Ma­jor sci­en­tif­ic break­through but al­so ma­jor safe­ty con­cerns and eth­i­cal con­sid­er­a­tions to the en­tire hu­man race.

*NOT* worth com­pet­ing to be the first to do!! https://t.co/pN3z338cpP

— Akl Fa­hed (@akl­fa­hed) No­vem­ber 26, 2018
---
Im­age: Jiankui He. THE HE LAB via YOUTUBE