In an up­date, Gilead spot­lights top-line hits amid a mixed set of PhII da­ta for its $600M NASH drug
Six months af­ter putting out some stel­lar ear­ly-stage da­ta from a study of its NASH drug GS-0976, Gilead has come back with the full slate of re­sults, un­der­scor­ing the po­ten­tial here as well as the chal­lenge ahead for re­searchers.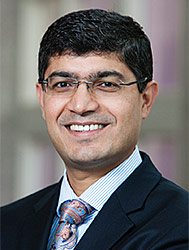 Ro­hit Loom­ba
In the break­down, in­ves­ti­ga­tors point­ed to a dose-de­pen­dent re­sponse on two key mea­sures of the dis­ease, re­peat­ing a 43% re­duc­tion in liv­er fat among a small group of pa­tients tak­ing the high dose of the drug, in-li­censed from Nim­bus for a jaw-drop­ping $600 mil­lion in quick cash.
The full set of scores al­so high­lights a fail­ure for the low, 5 mg dose, as well as a short­fall for a whole range of sec­on­daries, in­clud­ing: liv­er stiff­ness by Fi­broScan, liv­er stiff­ness by MRE, serum ALT and PI­II-NP, a serum mark­er of fi­bro­ge­n­e­sis.
Nev­er­the­less, Gilead re­mains a staunch ad­vo­cate of this drug, with big plans to dom­i­nate the late-stage field of NASH drugs.
"In pa­tients with ad­vanced fi­bro­sis, NASH may lead to se­vere com­pli­ca­tions in­clud­ing end-stage liv­er dis­ease, he­pa­to­cel­lu­lar car­ci­no­ma and the re­quire­ment for liv­er trans­plan­ta­tion," said Ro­hit Loom­ba, the lead study au­thor and vice chief of the Di­vi­sion of Gas­troen­terol­o­gy at the UC San Diego School of Med­i­cine. "Un­for­tu­nate­ly, there are no treat­ments avail­able for these pa­tients. In this first ran­dom­ized, place­bo-con­trolled, Phase 2 study of an ACC in­hibitor in NASH, the da­ta sug­gest that GS-0976 has the po­ten­tial to play an im­por­tant role in treat­ing pa­tients with this dis­ease."