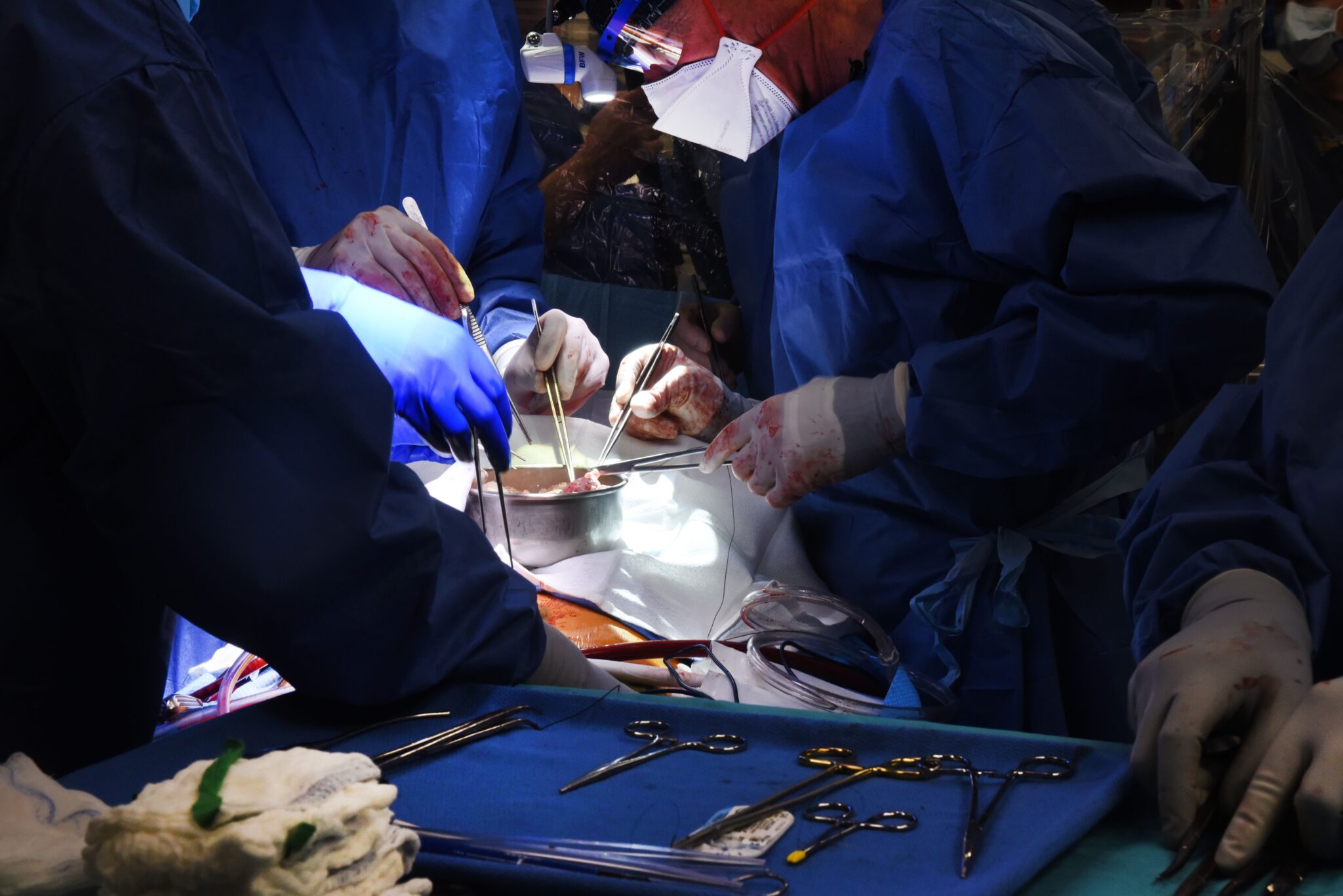 Surgeons at University of Maryland Medical Center performing the first pig-to-human transplant (University of Maryland School of Medicine)
In his­toric first, sur­geons trans­plant a ge­net­i­cal­ly mod­i­fied pig heart in­to a dy­ing pa­tient
Two and a half months af­ter an NYU team du­bi­ous­ly claimed to have per­formed the first ever pig-to-hu­man or­gan trans­plant, a team at the Uni­ver­si­ty of Mary­land Med­ical Cen­ter ap­pears to have ac­tu­al­ly done it.
The cen­ter an­nounced Mon­day evening that sur­geons there suc­cess­ful­ly trans­plant­ed a ge­net­i­cal­ly mod­i­fied pig heart in­to a 57-year-old pa­tient with ter­mi­nal heart dis­ease. The pa­tient, David Ben­nett, was too sick to qual­i­fy for a hu­man donor and had run out of oth­er op­tions.
"I con­sid­er this a tremen­dous break­through for the field," Jim Mark­mann, head of trans­plant surgery at MGH and a xeno­trans­plant ex­pert not in­volved in the UMD case, said in an email.
In the decades-long ef­fort to make xeno­trans­plan­ta­tion a re­al­i­ty, the new re­port dif­fered from Oc­to­ber's in key re­spects. Most glar­ing­ly, the pa­tient at NYU was al­ready brain-dead. Doc­tors su­tured a porcine kid­ney to the out­side of her body and could on­ly track whether the pa­tient im­me­di­ate­ly re­ject­ed the for­eign or­gan. As pre­dict­ed by years of mon­key ex­per­i­ments, she didn't.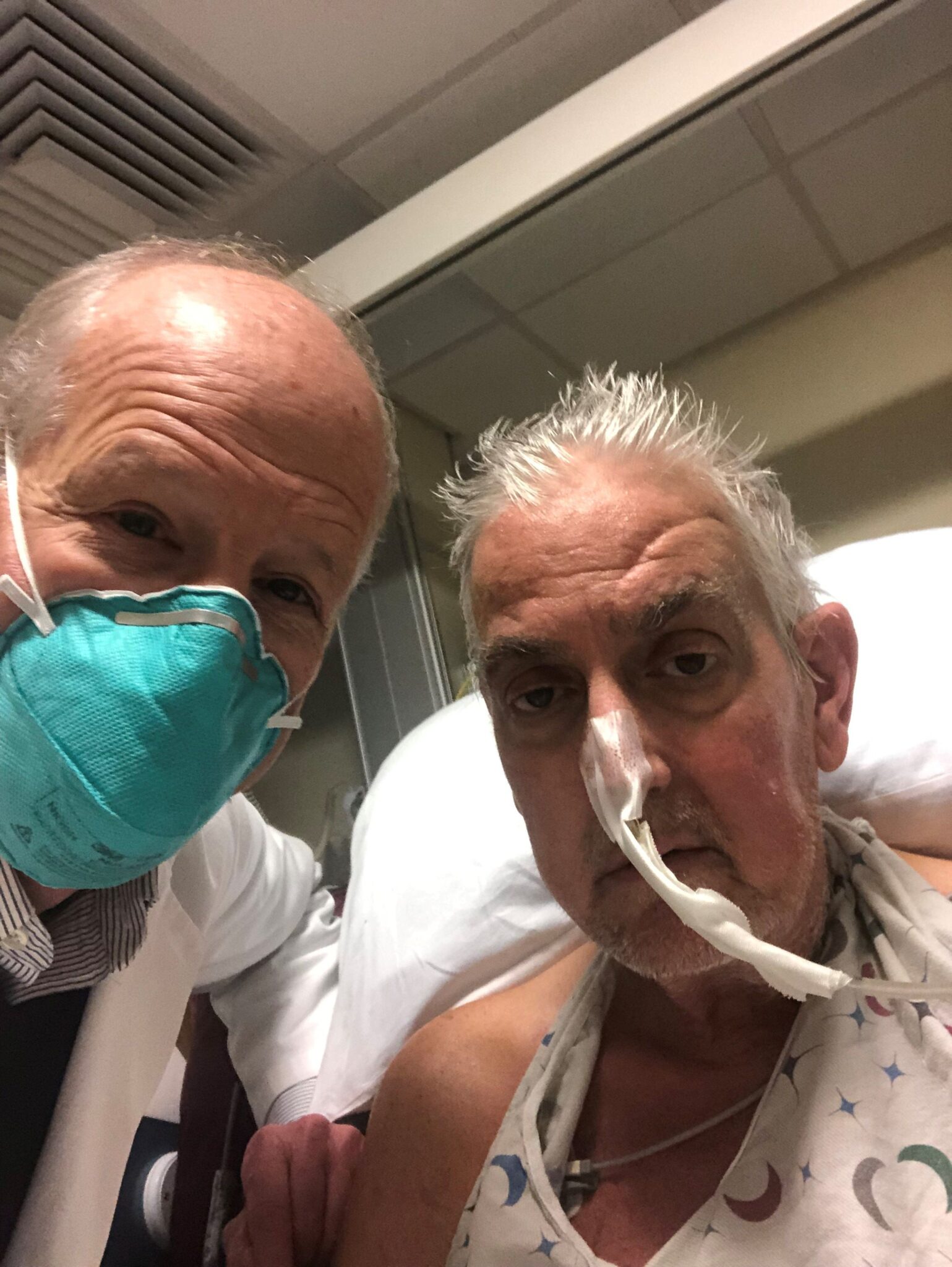 Ben­nett, with the doc­tor who per­formed the surgery, Bart­ley Grif­fith
The new pro­ce­dure may of­fer the first test of whether porcine or­gans, when bred with the right bat­tery of ge­net­ic ed­its, can ac­tu­al­ly serve as a re­place­ment or sup­ple­ment to hu­man or­gan do­na­tion and al­low pa­tients to live func­tion­al lives.
So far, so good, ac­cord­ing to UMD, al­though doc­tors cau­tioned that it's still ear­ly. Ben­nett is do­ing well three days af­ter the pro­ce­dure, the cen­ter said. The New York Times re­port­ed he was still on a heart-lung by­pass ma­chine, but that is com­mon for any new heart trans­plant re­cip­i­ent.
"It was ei­ther die or do this trans­plant. I want to live. I know it's a shot in the dark, but it's my last choice," Ben­nett said, in a state­ment pro­vid­ed by UMD. "I look for­ward to get­ting out of bed af­ter I re­cov­er."
The news comes as xeno­trans­plan­ta­tion, af­ter years on the med­ical mar­gin, ap­peared to be inch­ing clos­er to re­al­i­ty, po­ten­tial­ly of­fer­ing an al­ter­na­tive to the hun­dreds of thou­sands of pa­tients in the US and around the world wait­ing for or­gans. Af­ter a high-pro­file at­tempt to trans­plant a ba­boon heart in­to a ba­by with a con­gen­i­tal heart de­fect failed in 1983, re­searchers and sev­er­al com­pa­nies tried to use re­com­bi­nant DNA tech­niques to make pigs with or­gans that hu­mans can ac­cept.
Those ef­forts dis­in­te­grat­ed vir­tu­al­ly overnight af­ter the dis­cov­ery of a retro­virus com­mon to pigs, ter­ri­fy­ing health of­fi­cials then deal­ing with the height of the US's HIV cri­sis. But in the last decade, as fur­ther re­search low­ered con­cerns that porcine en­doge­nous retro­virus, or PERV as the retro­virus is known, can trans­mit to hu­mans and as new genome-en­gi­neer­ing tools be­came avail­able, the field has re­vived it­self.
Ben­nett's new heart came from Re­vivi­cor, a sub­sidiary of the $9 bil­lion rare dis­ease biotech Unit­ed Ther­a­peu­tics. It's the same com­pa­ny that pro­vid­ed the NYU kid­ney, but Ben­nett's heart came from pigs with far more ge­net­ic ed­its: 10 in to­tal — four pig genes knocked out to pre­vent re­jec­tion, six hu­man genes knocked in to pro­mote tol­er­ance, and one ad­di­tion­al pig gene knocked out to pre­vent ex­ces­sive tis­sue growth.
Sci­en­tists are di­vid­ed on the ex­act num­ber of ed­its need­ed to pre­vent re­jec­tion. Re­vivi­cor has been com­pet­ing with a cou­ple aca­d­e­m­ic labs and eGe­n­e­sis, the ven­ture cap­i­tal fa­vorite, to make xeno­trans­plan­ta­tion a re­al­i­ty. eGe­n­e­sis, found­ed by ge­net­ic en­gi­neer Luhan Yang and backed with over $260 mil­lion from pri­vate in­vestors, makes an even high­er num­ber of ed­its — they've nev­er said quite how many — as they try to elim­i­nate PERV en­tire­ly.
To be clear, though, Ben­nett's surgery is still a re­mark­ably ear­ly step by the stan­dard process of drug de­vel­op­ment. The FDA OK'd the pro­ce­dure un­der com­pas­sion­ate use, an emer­gency mea­sure to make ex­per­i­men­tal ther­a­pies avail­able to pa­tients with no oth­er op­tions.
For xeno­trans­plan­ta­tion to ac­tu­al­ly be­come a med­ical­ly ap­proved prod­uct, one com­pa­ny or aca­d­e­m­ic team will have to show the mod­i­fied porcine or­gans are safe and ef­fec­tive in a clin­i­cal tri­al.
Re­vivi­cor, eGe­n­e­sis and oth­ers are try­ing to com­plete the mon­key stud­ies nec­es­sary to re­ceive clear­ance for such a tri­al. They will like­ly need to show the non-hu­man pri­mates have con­sis­tent sur­vival af­ter trans­plant. Ex­perts sug­gest one could be­gin in 2023.