In the glare of an in­tense gene ther­a­py spot­light, blue­bird con­tin­ues to tout each small step for­ward for its pi­o­neer­ing Lenti­Glo­bin
As one of the pi­o­neers in the new wave of gene ther­a­py de­vel­op­ers, blue­bird bio $blue has spent con­sid­er­able time pro­vid­ing in­cre­men­tal ev­i­dence that it can step up re­sults for Lenti­Glo­bin, im­prov­ing the man­u­fac­tur­ing process and beef­ing up pos­i­tive out­comes for a ther­a­py that's had its prob­lems along the way.
To­day, the re­search team has two new up­dates to of­fer on a hand­ful of pa­tients af­flict­ed by an in­abil­i­ty to pro­duce suf­fi­cient quan­ti­ties of healthy he­mo­glo­bin, couched in the re­lent­less­ly op­ti­mistic terms that has helped CEO Nick Leschly build their mar­ket cap to close to $10 bil­lion. Prepar­ing for an up­date this week­end at the 23rd Con­gress of the Eu­ro­pean Hema­tol­ogy As­so­ci­a­tion, they need to im­press an­a­lysts in the lead-up to a cru­cial mar­ket­ing ap­pli­ca­tion.
Blue­bird's shares inched up to the $200 mark in ear­ly trad­ing Fri­day, with a gen­er­al­ly pos­i­tive spin on the lat­est da­ta. But they couldn't hold on in the short run. By mid-morn­ing the stock was down 4% as the EHA gen­er­at­ed a touch crowd of ob­servers.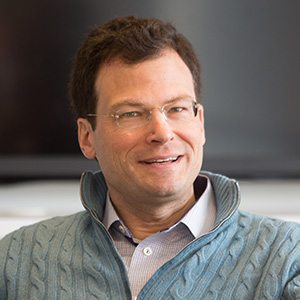 David David­son
In sick­le cell dis­ease, their fo­cus is on Group C, where 4 pa­tients past the 3-month fol­lowup stage are mak­ing more than 30% of an­ti-sick­ling HbAT87Q — their de­f­i­n­i­tion of suc­cess. And one of those pa­tients who's gone past 6 months has a nor­mal to­tal he­mo­glo­bin lev­el of 14.2 g/dL with 60%-plus pro­duc­tion.
These pa­tients are get­ting the new and im­proved ver­sion of the gene ther­a­py af­ter the orig­i­nal fell well short of a cure, and in­ves­ti­ga­tors are stay­ing on each pa­tient as blue­bird builds its case for the steep price they have in mind for Lenti­Glo­bin.
Dura­bil­i­ty is key here.
Blue­bird has made enough progress with its two stud­ies for trans­fu­sion-de­pen­dent β-tha­lassemia that CMO David David­son says to­day that they are on track to file for Eu­ro­pean ap­proval lat­er this year — even though it isn't per­fect.
The key da­ta point here: Sev­en of 8 pa­tients are pro­duc­ing ≥ 7.6 g/dL of HbAT87Q and are main­tain­ing to­tal he­mo­glo­bin lev­els of 11.1 – 13.3 g/dL by 6 months.
Blue­bird has be­come a fa­vorite tar­get for some ob­servers, ready to catch them out for hyp­ing less-than-per­fect num­bers in a field try­ing to achieve a near-per­fect record for a once-and-done ther­a­py. Their lat­est round of da­ta on the lead­ing BC­MA-tar­get­ing CAR-T caught some ear­ly flak at AS­CO a few days ago, ding­ing the stock. But the un­der­ly­ing pos­i­tives turned it around with in­vestors who re­main be­liev­ers.
"Con­sis­tent­ly high­er in vi­vo vec­tor copy num­bers and HbAT87Q he­mo­glo­bin lev­els in pa­tients in­di­cate that Lenti­Glo­bin man­u­fac­tur­ing re­fine­ments have re­sult­ed in im­proved gene ther­a­py char­ac­ter­is­tics and may en­able sus­tained trans­fu­sion in­de­pen­dence for a great ma­jor­i­ty of pa­tients," said Pro­fes­sor Fran­co Lo­catel­li, the lead in­ves­ti­ga­tor of the North­star-2 study.