In the wake of a drub­bing, Vivek Ra­maswamy gam­bles $116M on Ar­bu­tus' hep B work
Over the last few weeks Ar­bu­tus $ABUS has shared a pos­i­tive snap­shot of da­ta from a mid-stage study of its he­pati­tis B ther­a­py and en­joyed a boost from Al­ny­lam's big suc­cess with its late-stage study of patisir­an, an RNAi drug that us­es its de­liv­ery tech­nol­o­gy and may well spawn a roy­al­ty flow for the biotech. And to­day it's adding to the streak of good news with the an­nounce­ment that Roivant's Vivek Ra­maswamy — al­ready an in­vestor — is buy­ing deep­er in­to the com­pa­ny, in­vest­ing $116.4 mil­lion at a pre­mi­um rate to ac­quire pre­ferred shares in Ar­bu­tus.
The way Roivant makes this buy-in sound, the two com­pa­nies have been ham­mer­ing out a part­ner­ship in which Ra­maswamy's com­pa­ny will col­lab­o­rate on the de­vel­op­ment of the he­pati­tis B pro­gram. But it's still a bit vague what all that may en­tail.
The 32-year-old Ra­maswamy said in a state­ment that the al­liance leaves Roivant "pro­vid­ing strate­gic and op­er­a­tional sup­port to Ar­bu­tus, while al­so max­i­miz­ing the val­ue of Ar­bu­tus' oth­er as­sets, in­clud­ing through po­ten­tial ad­di­tion­al in­vest­ment where re­quired."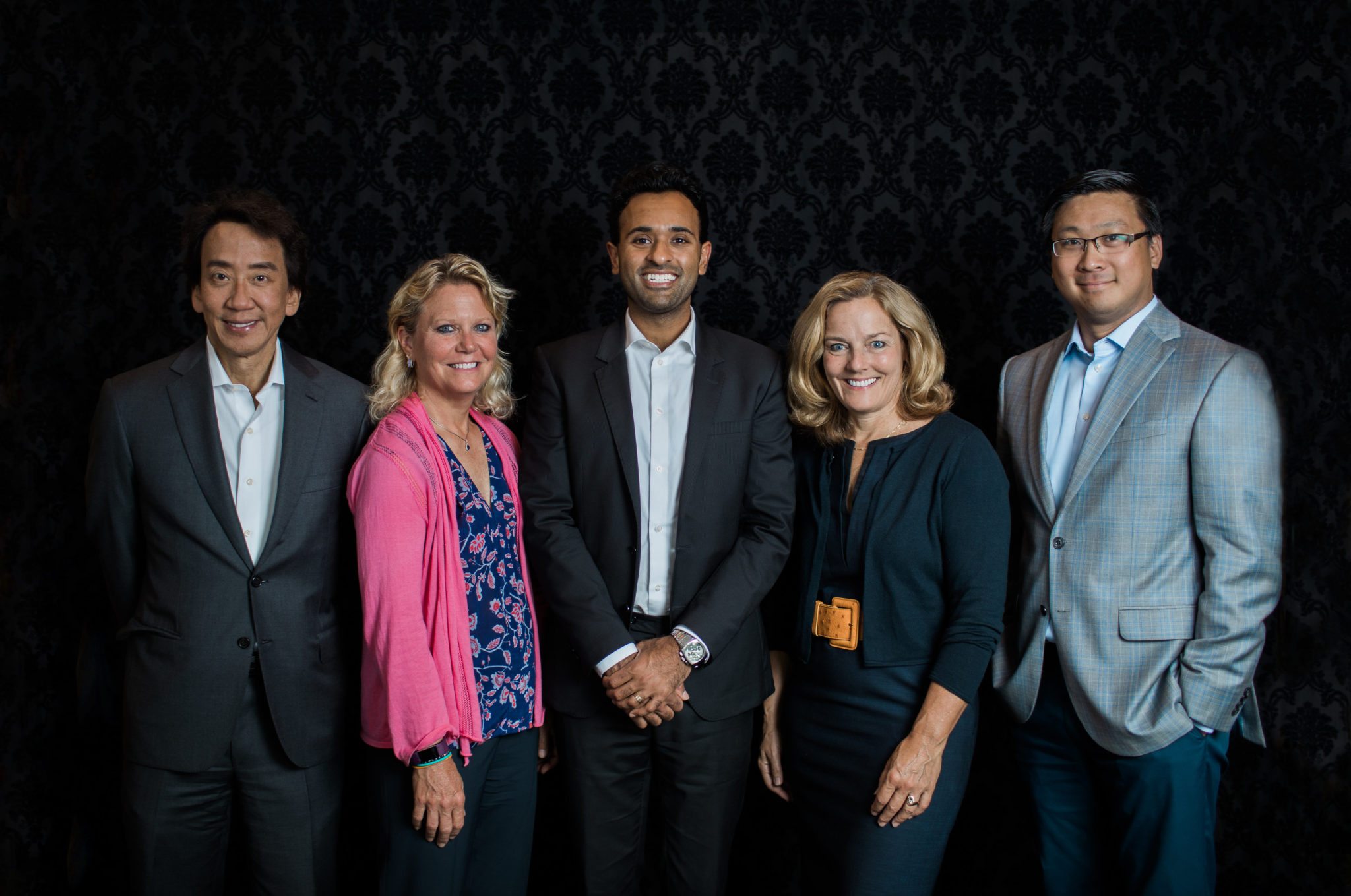 The "Vant" Squad from left to right: David Hung, Jack­ie Fouse, Vivek Ra­maswamy, Lynn Seely, and Alvin Shih.
File Pho­to
Ra­maswamy is pay­ing $7.13 a share, a 15% pre­mi­um from Fri­day's close, for the new stake.
In­vestors loved it, dri­ving up the stock by 16%.
Ra­maswamy — who saw the stock in his orig­i­nal port­fo­lio com­pa­ny Ax­o­vant $AX­ON crushed days ago on the de­ci­sive fail­ure of its Phase III Alzheimer's drug — has raised close to $2 bil­lion. Most of that cash has been re­served for its sub­sidiary com­pa­nies, a grow­ing mix of pub­lic and pri­vate biotech ven­tures with a broad ar­ray of drugs and dis­ease tar­gets.
Ar­bu­tus — for­mer­ly called Tek­mi­ra, which piv­ot­ed away from Ebo­la and in­to hep B two years ago with the ac­qui­si­tion of On­Core from a group of Phar­mas­set vets — picked up a pos­i­tive snap­shot of bio­mark­er ac­tiv­i­ty for ARB-1467, re­port­ing a week ago that one co­hort of 12 pa­tients demon­strat­ed a sig­nif­i­cant re­duc­tion in serum HB­sAg lev­els for sev­er­al of those pa­tients giv­en bi-week­ly dos­ing. Re­searchers plan to use that de­sign in a pos­si­bly piv­otal study to launch in Q4.
Both ARB-1467 and Al­ny­lam's patisir­an — the first RNAi ther­a­py to pass a Phase III test — use Ar­bu­tus' nanopar­ti­cle de­liv­ery tech.
This is not one of Ra­maswamy's clas­sic plays. His whole strat­e­gy cen­ters on res­cu­ing clin­i­cal-stage as­sets lan­guish­ing in the pipelines of the world's biggest bio­phar­ma com­pa­nies and putting them through an ef­fi­cient late-stage ef­fort, ramp­ing up new drug prod­ucts bet­ter than any of the ma­jors. His first ef­fort at that, with a 5HT6 Alzheimer's drug, proved a com­plete fail­ure.
The re­la­tion­ship be­tween Ra­maswamy and Ar­bu­tus goes back some time. Forbes' Matthew Her­p­er and Nathan Var­di re­port­ed two years ago — as Ra­maswamy was just get­ting start­ed in biotech in a big way — that the for­mer hedge fund play­er had "turned an $8 mil­lion pur­chase of sev­er­al drugs to treat the liv­er virus he­pati­tis B in­to a $110 mil­lion stake in Ar­bu­tus Bio­Phar­ma, a 1,275% pa­per re­turn."