In the wake of deep R&D cuts, Bay­er flags safe­ty con­cerns for a top PhI­II drug
Less than a week af­ter Bay­er an­nounced plans to carve down its in­ter­nal R&D group, lay­ing off 900 R&D staffers, the Ger­man com­pa­ny has tipped the mar­ket that one of its cru­cial late-stage de­vel­op­ment ef­forts has run in­to se­ri­ous trou­ble.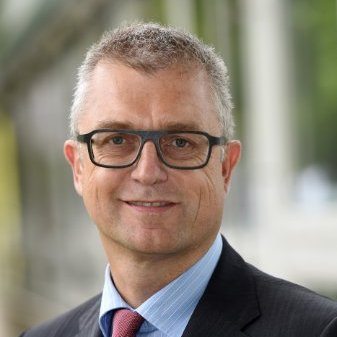 Jo­erg Moeller
R&D chief Jo­erg Moeller, who gath­ered the reins in re­search af­ter the de­par­ture of An­dreas Busch in late 2017, told an in­vest­ment group in Lon­don Mon­day that the com­pa­ny was halt­ing its de­vel­op­ment work on vi­laprisan, a uter­ine fi­broid drug that has been billed as a top block­buster prospect at the com­pa­ny.
"For vi­laprisan we have just some days ago put clin­i­cal de­vel­op­ment of our on­go­ing tri­als on hold," he not­ed, ac­cord­ing to a re­port in Reuters. "That is due to very re­cent safe­ty find­ings in long-term tox­i­col­o­gy stud­ies … We have there­fore de­cid­ed as a pre­cau­tion­ary mea­sure to stop en­roll­ment in­to our on­go­ing pro­gram and eval­u­ate the da­ta."
I queried Bay­er about the is­sue, and got this back mid-morn­ing:
We re­cent­ly ob­served safe­ty sig­nals in pre-clin­i­cal tox­i­co­log­i­cal stud­ies in ro­dents in­ves­ti­gat­ing long term safe­ty of vi­laprisan – a drug can­di­date we de­vel­op for the treat­ment of uter­ine fi­broids and en­dometrio­sis.

Al­though these are pre­lim­i­nary pre-clin­i­cal find­ings that have not been ob­served in oth­er vi­laprisan stud­ies we de­cid­ed as a pre­cau­tion­ary mea­sure to pause re­cruit­ment in the on­go­ing clin­i­cal stud­ies with vi­laprisan un­til a thor­ough analy­sis of the find­ings has been achieved.

No new pa­tients will be en­rolled in the pro­gram. Pa­tients cur­rent­ly on treat­ment will con­tin­ue their on­go­ing treat­ment course ac­cord­ing to study pro­to­col un­til fur­ther no­tice from Bay­er.
Bay­er went on to note that they had alert­ed the prop­er au­thor­i­ties and will mon­i­tor pa­tients for safe­ty is­sues.
This isn't the first uter­ine fi­broid ef­fort to raise alarms.
The set­back oc­curs as Al­ler­gan is still deal­ing with the FDA's re­jec­tion of its uter­ine fi­broid drug Es­mya af­ter Eu­ro­pean reg­u­la­tors cit­ed it for trig­ger­ing a rare liv­er dis­ease. The EMA ear­li­er this year put re­stric­tions on the use of the drug to pro­tect women on the ther­a­py.
Ab­b­Vie, mean­while, has been rolling out Orilis­sa af­ter that drug was first ap­proved for en­dometrio­sis last Ju­ly. The ther­a­py has passed muster for uter­ine fi­broids in Phase III as well, rais­ing hopes that Ab­b­Vie can gain sig­nif­i­cant rev­enue from this drug as they ex­pand the mar­ket.
Bay­er, mean­while, is tran­si­tion­ing its R&D op­er­a­tions as it works out a glob­al re­struc­tur­ing, with plans to cut back on what it spends on in­ter­nal re­search in fa­vor of more al­liances with out­side bio­phar­ma com­pa­nies. A cou­ple of years ago, though, they in­clud­ed vi­laprisan among a group of drugs they tout­ed as like­ly block­busters able to earn more than $6 bil­lion in peak sales.
What hap­pened with the rest?
Their PI3k can­cer drug Aliqopa was first ap­proved a year ago, go­ing in­to a third-line set­ting against heavy com­pe­ti­tion. They have a high-risk heart drug called veri­ciguat, ane­tum­ab rav­tan­sine failed a mid-stage study for mesothe­lioma and no longer fea­tures on the late-stage end of the pipeline re­port and finerenone is in Phase III for kid­ney dis­ease, along­side daro­lu­tamide for can­cer. Daro­lu­tamide hit its goal in Phase III for non-metasta­t­ic cas­tra­tion-re­sis­tant prostate can­cer a cou­ple of months ago, though they held back all the da­ta for a lat­er con­fer­ence.