INC Re­search and in­Ven­tiv Health come un­der Sy­neos Health brand in clos­ing chap­ter of CRO merg­er
Re­mem­ber the head-turn­ing $7.4 bil­lion merg­er be­tween INC Re­search and in­Ven­tiv Health last May? Scrap those names, be­cause the com­pa­ny just un­veiled their new name to­day: Sy­neos Health.
In their for­mer lives, INC was a clin­i­cal-fo­cused or­ga­ni­za­tion head­quar­tered in Raleigh, NC while Boston-based in­Ven­tiv spe­cial­ized on the com­mer­cial­iza­tion side. Ac­cord­ing to the CRO, their new brand em­bod­ies the "syn­chro­niz­ing" of those ca­pa­bil­i­ties as well as a "new ap­proach to prob­lem-solv­ing."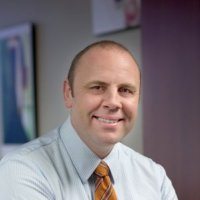 Al­is­tair Mac­don­ald
Sy­neos' (pro­nounced SIN-ee-ohs) re­brand­ing fol­lows that of IQVIA, the leader in the field. It now joins the ranks of in­te­grat­ed CROs that promise not on­ly to be stew­ards of clin­i­cal tasks but ac­tive con­sul­tants in the en­tire process of bring­ing ther­a­pies to mar­ket.
"Sy­neos Health ful­ly ex­press­es our val­ue propo­si­tion — that is, our abil­i­ty to de­liv­er in­te­grat­ed end-to-end so­lu­tions and cre­ate new paths for our cus­tomers to de­vel­op and com­mer­cial­ize their ther­a­pies," said Al­is­tair Mac­don­ald, the for­mer INC CEO now at the helm of Sy­neos.
Nas­daq will see Sy­neos un­der $SYNH start­ing Jan­u­ary 9. Un­til then, it re­mains list­ed un­der $IN­CR, the tick­er for INC Re­search, whose share­hold­ers own 53% of the com­bined com­pa­ny per the merg­er agree­ment. The com­pa­ny's shares have fall­en 5% since the mar­ket opened.